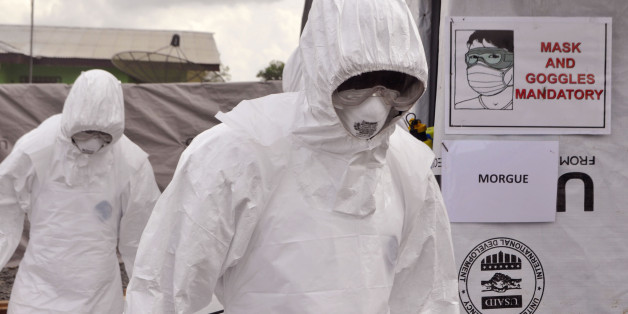 Abbas Dulleh/AP
Free online courses about Ebola organised by British universities will begin early next year.
One more basic programme will be aimed at the general public, and aims to "demystify" the disease, and a second advanced one will be aimed at healthcare workers.
Both two-week courses will look at the origins and history of Ebola and possible ways it could be contained and treated.
Dr Derek Gatherer, the lead educator on Lancaster University's course, which is aimed at the general public, said: "Ebola is a current and very emotive public health emergency, and one of the aims of our course is to demystify the disease for the general public and set out the facts.
"We also want to engage with and encourage new students who think that a career in biology or medicine might be for them."
The courses provided by FutureLearn, an online "social learning platform", are MOOCs, or "massive open online courses", and are open to anyone, with no cap on numbers.
They include practical activities including using software to analyse the virus and understand how difficult it is to diagnose.
They also have a social element, allowing students to discuss the material with each other and with teachers who will have expertise in areas including anthropology and epidemiology.
Participants will not receive any qualifications at the end of the courses.
The more scientific programme will be run by the London School of Hygiene and Tropical Medicine.
Roxanne Escobales, spokeswoman for FutureLearn, said that the company expects NHS workers and even healthcare workers in affected countries to sign up for the course.
She said: "There is potential for people responding on the ground in Liberia to sign up for this and contribute their expertise that way."
Professor Peter Piot, director of the London School, co-discovered Ebola in Zaire in 1976.
Professor Judith Glynn, lead educator on the London course, said: "Many colleagues from the School - both staff and research students -- are now volunteering in Liberia and Sierra Leone with partners including Save the Children and Medecins Sans Frontieres, and providing support, training and advice to the World Health Organisation and other international agencies.
"We hope this course will be of interest to a broad audience, as well as workers in the field, and will also inspire people to learn more about infectious diseases, health systems and public health."