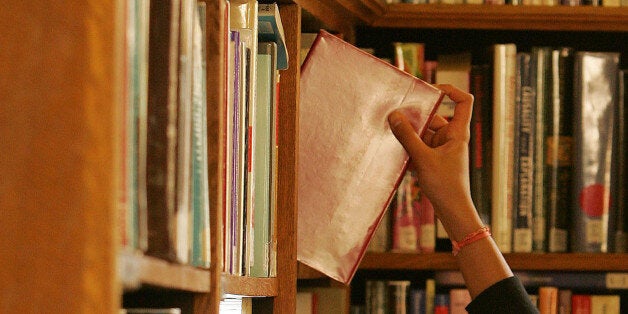 The High Court has declared restrictions on prisoners receiving books from friends and family "unlawful" - to the delight of authors and campaigners. A judge declared that Justice Secretary Chris Grayling went wrong when he introduced the "virtual ban" in November 2013, triggering widespread criticism.
Mr Justice Collins, sitting in London, said he could see "no good reason" for the restrictions "in the light of the importance of books for prisoners". Among those who opposed the ban were poet laureate Carol Ann Duffy, and authors Kathy Lette, Philip Pullman and Tracy Chevalier, who expressed their delight with today's ruling.
The court decision was a victory for Barbara Gordon-Jones, 56, a convicted arsonist with a borderline personality disorder who has a doctorate in English literature. Gordon-Jones, of Tudeley, near Tunbridge Wells, Kent, who also suffers from depression and epilepsy, is serving an indefinite sentence for the protection of the public and is being held at Send prison near Woking, Surrey.
The judge said: "She herself emphasises her love of books, saying she cannot stress how important they are to her. Thus any restrictions on her ability to have available books which are not easily obtainable through the prison library operates particularly harshly."
A Prison Service spokeswoman described the decision as "surprising" and said: "We are considering how best to fulfil the ruling of the court. However, we are clear that we will not do anything that would create a new conduit for smuggling drugs and extremist materials into our prisons."
She added: "Prisoners have access to the same public library service as the rest of us, and can buy books through the prison shop. The judge said the legal challenge was the result of a new Prison Service Instruction (PSI) which amended the Incentives and Earned Privileges scheme (IEP) that had been in place since 1995.
Mr Grayling said in a press release at the time: "The changes we have made to the incentive scheme are not just about taking TVs away from prisoners, they are about making them work towards their rehabilitation." One important aspect of the changes was "a severe restriction on the ability of prisoners to receive items, including books, either sent by friends or relatives or brought in by visitors," said the judge.
He said: "It is difficult to follow why books are included in IEP facilities when their availability to prisoners is regarded to be so important. There is no ban on books in the IEP but the severity of the restrictions clearly may prevent acquisition and possession."
The judge ruled that, since he did not regard access to books through the library service as sufficient, "it is unlawful insofar as it includes books within the IEP". Author Pullman welcomed the ruling and told the BBC: "The ban on sending prisoners books seemed to me strikingly unjust and inhumane. Reading should be a right not a privilege to be withheld or allowed graciously by Her Majesty's government, or anyone else."
The ruling was welcomed by solicitors firm Lound Mulrenan Jefferies, who acted for Gordon-Jones pro bono along with barristers Jenni Richards QC, Victoria Butler-Cole and Annabel Lee. The solicitors said in a statement: "Reading is a right and not a privilege, to be encouraged and not restricted."
Shadow justice secretary Sadiq Khan said: "The ban on sending books to prisoners was always an absurd policy. It had nothing to do with punishing and reforming prisoners but was an example of David Cameron's Government's sloppy policy-making.
"This is a victory for all those who campaigned against the ban and the Government should abandon the ludicrous policy with immediate effect." Mr Khan added: "What's more, the absurdity of this policy has been exposed by judicial review, the very mechanism Chris Grayling is trying to neuter with his Criminal Justice and Courts Bill. Judicial review is a critical constitutional tool by which unlawful actions by governments are exposed."
An Ministry of Justice spokesman said: "Recent reforms to legal aid and judicial review had absolutely no impact on whether legal aid was granted in this case, nor would the reforms impact on the availability of legal aid for this type of case in the future."
Denis MacShane, the former Labour MP jailed for six months for expenses fraud, described today's judgment as "a modest win for common sense". He said he had a suitcase full of books confiscated when he was sent to Belmarsh Prison last Christmas.
"Chris Grayling seems to think that being unpleasant to prisoners is good for society. On the contrary it makes rehabilitation much more difficult," he said. Sarah Turvey, principal lecturer in English, and co-founder of the University of Roehampton's prison reading groups, said: "Any society which is committed to the rehabilitation of prisoners has to welcome the High Court's verdict.
"Books are absolutely critical to widen people's understanding, and there is perhaps no other group of people where this is more important than prisoners." Julian Huppert, Liberal Democrat home affairs spokesman, said: "We need education in our prisons.
"It's vital from the moment people walk through the door they get the help and rehabilitation they need to ensure they don't end up back behind bars. Simon Hughes in the Ministry of Justice has worked hard to make the case for ensuring all prisoners are able to receive the books they need, which Liberal Democrats believe is fundamental to creating a fairer society."
Jo Glanville, director of English PEN, said: "We are delighted at the judgment. This is welcome recognition that books are a necessity and not a privilege. English PEN has seen the importance of reading in prison at first-hand through the direct impact on individuals in our workshops around the country. The Government should overturn the restrictions with immediate effect.
"Its reluctance to address the issue, despite the public outcry and support of leading authors over the past year, has been short-sighted and self-defeating."
Frances Crook, chief executive of the Howard League for Penal Reform, said: "We now call on the Ministry of Justice to relax the ban on sending in parcels completely so that prisoners can receive essentials such as underwear and small gifts from their children. This would help to alleviate distress in prisons at a time when they are in crisis.
"I hope that that the Ministry of Justice will respond to this judgment in a mature way and will not waste further public money by fighting it in the courts. Ministers should implement this decision immediately so that prisoners can get books for Christmas."
AL Kennedy, author and supporter of the Books for Prisoners campaign, said: "This decision allows a system in crisis to be a little more tolerable - it still fails society and operates without regard to logic, or the day-to-day reality experienced by staff and inmates."