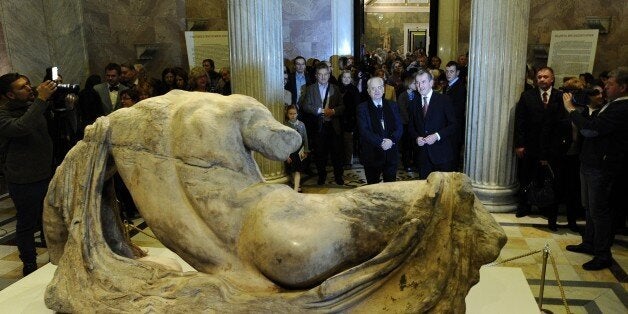 The British Museum's decision to lend one of the Elgin Marbles - or rather the Parthenon Marbles as Greeks prefer to call them - to the St. Petersburg's State Hermitage Museum for its 250th anniversary, has been met with a mixture of indignation and renewed decisiveness on behalf of the Greek government to have them returned.
The headless marble statue of Ilissos, which once adorned the Parthenon, has already been shipped to St. Petersburg in complete secrecy. The statement made by Neil McGregor, Director of the British Museum, that he hoped Greece would be "delighted" as more people will be able to "engage with the great achievements of ancient Greece" has only added fuel to the fire in Athens.
HuffPost Greece spoke exclusively to the Director of the Acropolis Museum Dimitris Pantermalis, who said: "The Acropolis Museum had also asked in the past to host the Parthenon marbles for a long-term period. No progress was made on this request because the British Museum had set a precondition: we would have to recognise that it owns the sculptures."
"We believe that lending the Parthenon Marbles to the Hermitage Museum, without asking for any sort of ownership recognition, sets a global precedent. This should and must apply to Greece too. The Acropolis Museum will repeat its request to host the Parthenon Marbles soon."
Prime Minister Antonis Samaras issued a furious official statement on the issue. He said: "The British Museum's decision to 'lend' one of the Parthenon sculptures to an exhibition in St. Petersburg is a provocative one. This was the last British argument about the 'unmovable' sculptures of the Parthenon. Their other 'argument' about the lack of space for the marbles has been shot down with the creation of the Acropolis Museum."
Samaras finished off his statement with patriotic innuendo. "The Parthenon sculptures were pillaged. Their value cannot be measured. As Greeks we identify ourselves by our culture and history. These can not be cut into pieces, placed on loan or given away."
MacGregor's statement that the museum's trustees would "consider any request from anyone who is prepared to return the object" is indicative of the diplomatic wordplay that is about to take place over the Marbles. The path for their return has opened. But it appears that both sides will be extremely careful about the terminology they are planning to use.
Related