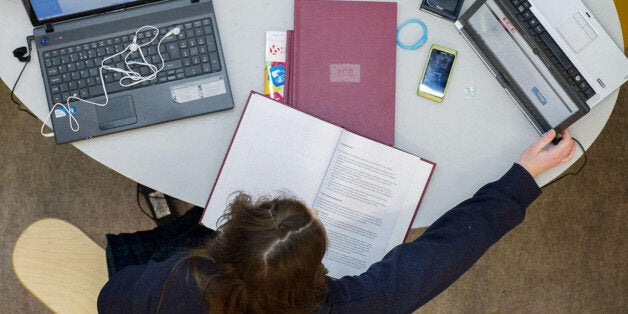 Privately educated teenagers are more likely to want to go to university than those who went to state school, research has found.
And boys are significantly less likely to plan to study for a degree than girls, it suggests.
The University and College Union (UCU), which commissioned the survey, said it was "worrying" that class, gender and schooling still play a large part in whether or not young people consider going into higher education.
In total, more than 2,000 young people were asked for their views on training and education after age 18.
The findings show a clear gap in university plans between private and state educated students.
Almost eight in 10 (78%) private school students said that they would like to go to university straight after school or college, compared to just under two thirds (62%) of those who went to state school and 31% of those at college.
The poll also found differences between rich and poor teenagers, with over two thirds (67%) of those from the highest social grades planning on studying for a degree compared to just over half (52%) of youngsters from the lowest social grades.
And while around three quarters (74%) of the young women surveyed said that they want to go straight to university, only 65% of young men said the same.
The figures reflect the latest UCAS statistics which have shown that 18-year-old women are now a third more likely to enter higher education than young men.
The admissions service has also estimated that the gap between men and women is likely to be larger than the gap between rich and poor applicants within 10 years.
UCU's poll also shows that young people's university plans are likely to change as they get older, with 13 and 14-year-olds more likely to say they want to go on to higher education when they leave school or college than 16 and 17-year-olds.
UCU general secretary, Sally Hunt, said: 'Worryingly, class, gender and schooling still play far too large a part in whether or not young people even consider university, with boys from state schools and the poorest economic backgrounds faring worst."
She added that the report also highlighted that young people are worried about the perceived cost of university and are hindered by a lack of decent advice.
Overall, 12% of the young people questioned said they had received no advice or guidance, the report says.
Professor Les Ebdon, director of fair access to higher education, said: "Following sustained efforts in the past decade, young people from disadvantaged backgrounds are now more likely than ever to get to university.
"Despite this progress, there is still much work to do to narrow the gap in higher education participation between the most and least advantaged. The report is quite right to highlight how important it is for young people to have access to high quality information, advice and guidance to enable them to make informed choices about their future."
A DfE spokesman said: "Our plan for education is to prepare young people for life in modern Britain, and good quality careers guidance is central to that.
"We want them to have access to the best possible guidance so they are aware of all their options, and can make the right choices at the right time.
"In the Autumn Statement the Government committed £20 million to improve careers advice and support for young people and we will make an announcement about these plans shortly."
A Business Department spokesman said: "The Government is committed to providing access to all students irrespective of background. The national strategy for access and student success that we launched earlier this year will help to ensure equal opportunity to enter higher education institutions."
Popular in the Community