FC Basel trolled three English Premier League teams after their match with Liverpool on Tuesday night, posting this picture to Instagram: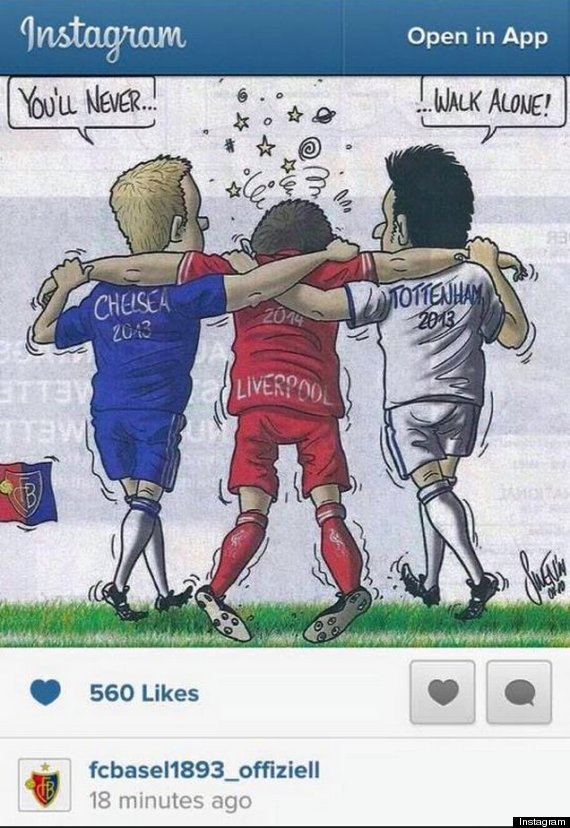 The cartoon features a cheeky poke at Anfield's slogan "You'll Never Walk Alone" with Tottenham and Chelsea players carrying a dazed and beaten Liverpool footballer.
The Swiss team had just held on for a 1-1 draw, putting them through the UEFA Champions League group stage and booting the Anfield boys out.
No strangers to taking points from English sides, Basel beat Chelsea twice in the competition last year and knocked Tottenham out of the Europa League the year before.
An 80th minute free kick from Steven Gerrard failed to save their Champions League hopes, equalising on Fabian Frei's first-half point.
The loss left Brendan Rodgers shaking a phantom hand and walking down the tunnel alone.
The club appears to have deleted the post, following criticism on the social media site.
The Swiss side did show some class last night however, with fans unveiling this Justice For The 96 banner:
Basel banner at Anfield tonight! #JFT96 pic.twitter.com/u3DitobuVY

— Footy Away Days (@FootyAwayDays_) December 9, 2014