It's been a big year for Twitter - the biggest one yet in fact.
The micro-blogging site continues to take the world of online communication by storm and 2014 saw some incredible highlights.
Let's start with the biggie - the Oscars selfie.
If only Bradley's arm was longer. Best photo ever. #oscars pic.twitter.com/C9U5NOtGap

— Ellen DeGeneres (@TheEllenShow) March 3, 2014
Yup, that's a massive 3,367,854 retweets, knocking President Obama himself off the top spot.
In the UK, One Direction continued to dominate Twitter with their incredibly dedicated following. This reminiscing gem from Harry Styles was the most retweeted UK tweet.
4 years. Thank you to everyone who is involved in this. I feel so lucky to be part of it. Everyone who has worked with us thank you..

— Harry Styles. (@Harry_Styles) July 23, 2014
He's also the most followed UK account with his band and fellow members dominating the Top 10.
1) Harry Styles
3) Adele
4) Liam Payne
6) Emma Watson
7) Zayn Malik
8) Coldplay
10) Ed Sheeran
And as for introductions, the CIA's first tweet is hard to beat (although far from enough to excuse recent revelations).
We can neither confirm nor deny that this is our first tweet.

— CIA (@CIA) June 6, 2014
Twitter paints an excellent picture of the year's most talked about topics with the MH370 tragedy and the Scottish Independence vote taking the top two spots in the UK.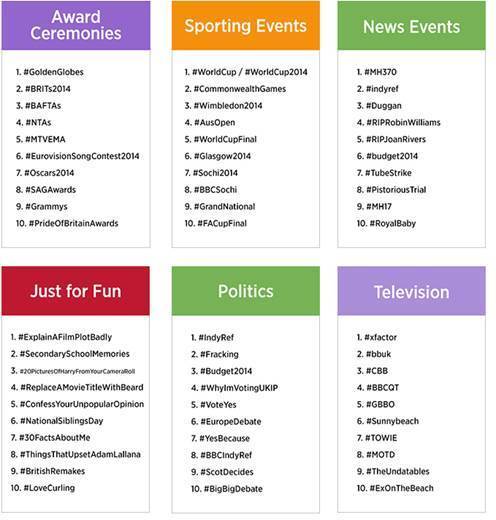 2014 became the year of the selfie with the term mentioned a huge 92 million times on TwitterSome of the best include...
Lukas Podolski's selfies taken as the German team celebrated their World Cup victory.
Selfie 2…:-) pic.twitter.com/RJh7RnXXUw

— Lukas-Podolski.com (@Podolski10) July 13, 2014
Princes Harry and William sent their first ever selfie as they celebrated the launch of the Queens Young Leaders awards at Buckingham Palace.
We're looking for the Queen's Young Leaders. #TheSearchIsOn

http://t.co/VXygkYuUkS pic.twitter.com/CRvRDHxwGt

— Queens Young Leaders (@QueensLeaders) July 9, 2014
Rory Mcilroy Tweets a team selfie from the plane after winning the Ryder Cup.
Flying high with the team after my 4th Major victory!!! NYC here we come!! Thanks for all the support and well wishes pic.twitter.com/zK1q8xnwA8

— Rory Mcilroy (@McIlroyRory) August 11, 2014
Emma Watson shares her graduation selfie with her 15 million followers.
May 25, 2014
Andy Murray and Djokovic's courtside selfie at Madison Square Gardens.
With @djokernole playing at Madison square garden #selfie pic.twitter.com/uiGGimu5XS

— Andy Murray (@andy_murray) March 4, 2014
Ant and Dec mark their National Television award with an onstage selfie with the audience.
Just WOW!!!!!!! pic.twitter.com/LK8l90SxCA

— antanddec (@antanddec) January 22, 2014
Benedict Cumberbatch and Keira Knightley with fellow cast members at the Imitation Games premiere.
Family portrait from the #ImitationGame team #LFF pic.twitter.com/3Om8vgCFpH

— BFI (@BFI) October 8, 2014
The The errant son of the selfie - the photobomb - also featured prominently not least this one...
Ahhh The Queen photo-bombed our selfie!! 😄 👑 #royalty #sheevensmiled #amazing #Glasgow2014 @Hockeyroos @AusComGames pic.twitter.com/ZMtHYFUqHk

— Jayde Taylor (@_JaydeTaylor) July 24, 2014
It wasn't long before other royals were getting in on the act.
Another amazing royal photobomb at #Glasgow2014 !! pic.twitter.com/Bx4kjjz5Ss

— Commonwealth Games (@thecgf) July 29, 2014
Got to love a royal photobomb! pic.twitter.com/Gcrd0eqSVV

— Chris Hoy (@chrishoy) July 29, 2014