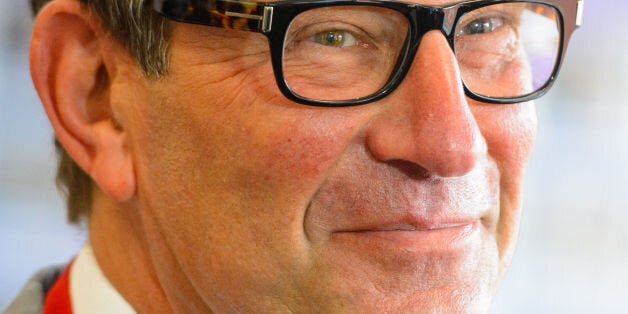 Daily Express owner Richard Desmond has reportedly agreed to donate £300,000 to Ukip, in a massive boost for the party's finances just months before the general election.
According to Sky News, Farage and Desmond discussed the potential donation at a meeting earlier this month, however it is unclear whether the media baron has already handed over the money or just pledged to do so.
Ukip's financial support from Desmond will feed speculation that the the Daily Express could be the first newspaper to throw its weight behind Ukip when the next election draws near.
However, Desmond's financial backing may be controversial for Farage, as the Daily Express has sparked criticism with its strident tone on immigration, having most recently put on its front page a controversial warning about "hidden migrants".
Critics pointed out that under the story's definition Nigel Farage's own children would be classified as "hidden migrants", and also expressed bemusement at Desmond allowing such a story given his maternal grandparents came to Britain from Ukraine.
Writing on The Huffington Post, Lord Stewart Wood, one of Ed Miliband's closest advisers, said the spin on the story was "inaccurate" and "highly offensive".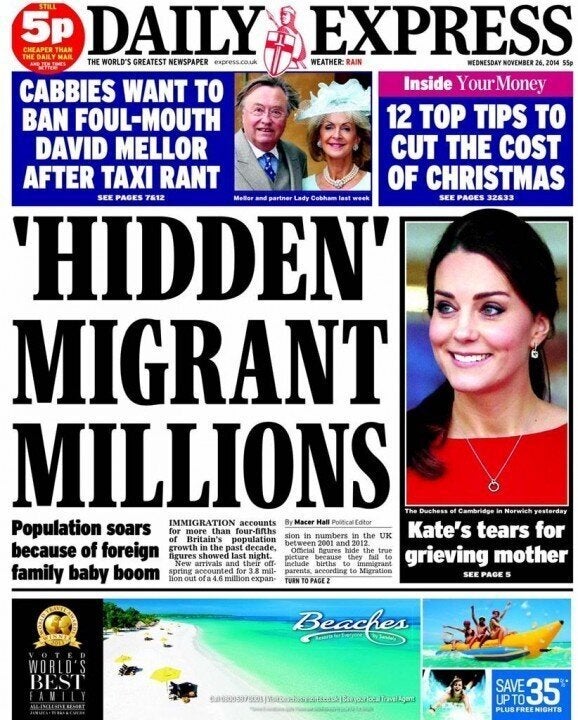 In a letter to Desmond, he wrote: "Your paper has long argued that members of the British public have legitimate concerns about the impact of immigration – a position shared by the Labour Party and Ed Miliband. But suggesting by implication that people who are born and brought up here are somehow un-British or foreign because one or both of their parents emigrated here from abroad surely is not legitimate, but rather is inaccurate and, to many, highly offensive."
The media baron, who owns a suite of adult-TV channels, once donated £100,000 to Tony Blair when he was Labour leader. However, his donation caused embarrassment to the former premier early in his government as he ended up being quizzed by Jeremy Paxman on Newsnight about the morality of taking money "from a pornographer".
See Blair defend taking Desmond's money from 8.50 minutes in...
"These are the people who own Express Newspapers? Then in that case my view is that it's perfectly acceptable to take a donation from them," Blair insisted.
But Paxman told the premier that Desmond also owned a series of adult magazines including "Horny Housewives, Megaboobs, Posh Wives, Skinny and Wriggly", asking: "Do you know what these magazines are like?"
"No I don't," a red-faced premier admitted, adding: "But I do know if someone is able and fit and proper to own one of the major newspaper groups in the country then there is no reason why we shouldn't accept donations from them."
Desmond also owns the Daily Star and its Sunday sister title through his Northern & Shell holding company, as well as Television X and the Red Hot adult channels, and used to own Channel 5 until recently.
Desmond has been cosying up with Farage's party over the last few months, having appointed Ukip peer Lord Stevens as the deputy chairman of Express Newspapers in October.
A recent leader leader column in the Daily Express lavished praise on Nigel Farage's "hugely popular" message.
It went on: "Huge numbers of people are sick of the EU, sick of mass immigration and sick of a political elite that refuses to listen to the electorate."
A Ukip spokesman told the Huffington Post UK: "We do not discuss donations, if we receive them we report them to the Electoral Commission in accordance with legislation."