Amazon customers were able to buy bargain goods for as little as 1p after a software glitch caused the prices to plunge.
The global giant said "the vast majority" of orders placed on its MarketPlace - which allows third-party companies to trade - had been cancelled after the error with the Repricer Express software was spotted.
But not before people took to Twitter to boast of the deals they had done before it was corrected on Friday night.
An Amazon spokesman today said: "We are aware that a number of Marketplace sellers listed incorrect prices for a short period of time as a result of the third party software they use to price their items on Amazon.co.uk.
"We responded quickly and were able to cancel the vast majority of orders placed on these affected items immediately and no costs or fees will be incurred by sellers for these cancelled orders.

"We are now reviewing the small number of orders that were processed and will be reaching out to any affected sellers directly."
One user calling himself Quirky Jezza posted a list of purchase confirmation emails, adding: "All of that in the last hour. I've ordered about 500 things in total tonight.
"I would laugh if any of them arrive :o."
Brendan Doherty, the chief executive of Northern Ireland and New York-based Repricer Express, said its investigation was continuing but the problem had been corrected after an hour. However, it took "a further few hours" to get incorrect prices to revert to the originals, he added.
He said: "Amazon have assured us that seller accounts will not be penalised for this issue. I understand that this issue comes at the most important time of the year for our customers and I am deeply sorry by the disruption that has been caused. We have communicated with Amazon to help minimise orders with incorrect prices being shipped and we encourage sellers to contact Amazon for up to date info on this."
Luckily, though the bug has been fixed it turns out there are plenty of things still available on Amazon for a penny.
Here are ten of the best.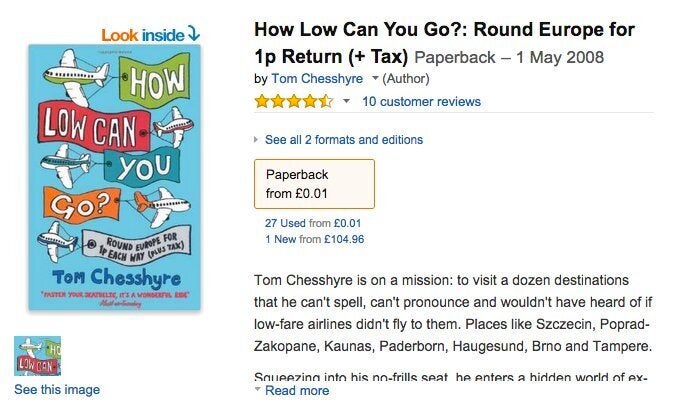 10 Things That Cost A Penny On Amazon
Related