Russell Brand has taken aim at the coverage of the Sydney siege – specifically descriptions of it as a "terror" attack.
Three people – including gunman Man Haron Monis, were killed at the end of the 16-hour stand-off at the Lindt Chocolate Café in the city's centre.
Self-proclaimed Sheikh Monis was well-known to police and the local media and was currently on bail awaiting trial on sexual assault charges.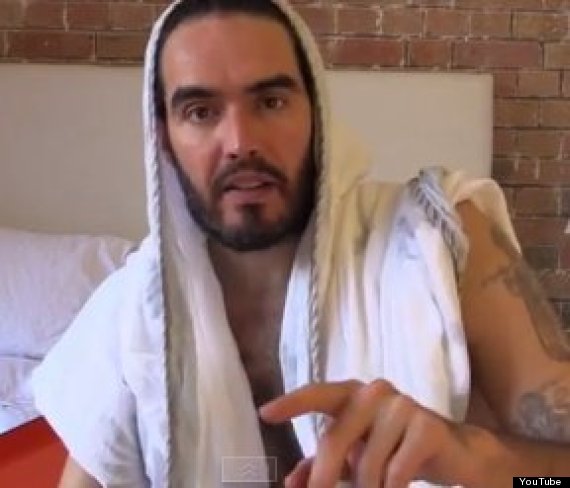 Russell Brand believes labelling Man Haron Monis a terrorist lends 'a certain grandeur to nihilistic and violent actions'
Much of the press referred to the incident as a terror attack and on Tuesday, Australian Prime Minister Tony Abbott described it as a "brush with terrorism".
A day later told the media he wanted answers to some "obvious questions that have been raised in the wake of this terrorist incident."
SEE ALSO: RBS Worker Claims 'Puerile, Prancing Millionaire' Russell Brand Ruined His Lunch
In his latest episode of his online news show The Trews, Brand said of Monis: "This guy is clearly a mentally ill criminal with a long history of mental illness, criminal behaviour and lots of evidence of instability."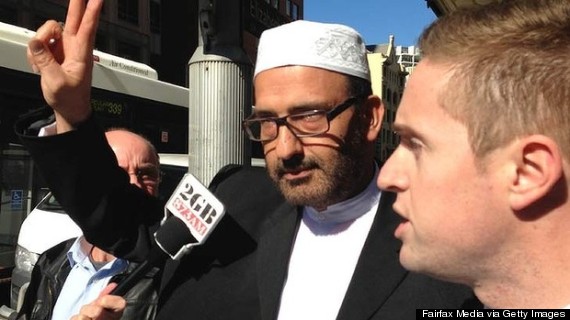 Hostage taker Man Haron Monis, pictured speaking to the press in April
"Terrorism is typically conducted in order to meet an objective. This guy, when he was asked what he wanted, he asked for a flag and a chat on the phone with Tony Abbott. No specific agenda, no specific objective.
"By us labelling him a terrorist as opposed to a dangerous mentally ill person – not that all mentally ill people are dangerous, I'm mentally ill – and by allowing him to set the agenda of 'I'm doing this on behalf of Islam', it gives a certain grandeur to nihilistic and violent actions but what's more interesting that the actions of a mentally ill person is the response of the political establishment."
Tomorrow's @WSJ front page: "Sydney Siege Sparks Terror Fears" #sydneysiege pic.twitter.com/AuZFfXl3ET

— Andrew Peng (@TheAPJournalist) December 15, 2014
Brand's segment was interspersed with cuts from a press conference with Abbot saying: "As the siege unfolded yesterday, he sought to cloak his actions with the symbolism of the ISIL death cult."
SYDNEY SIEGE UPDATE: Terrorists holding up to 12 hostages in Lindt Cafe. Flag being held up reportedly NOT ISIS flag http://t.co/9K3XXEiSFa

— Daily Mail Australia (@DailyMailAU) December 14, 2014
Brand said: "It's convenient for people to enhance or increase fear around ISIL because currently there's an appetite to increase security measures domestically, to engage in foreign military activity in that region of the world for economic and corporate ends. Not for humanitarian ends, not for ideological ends unless that ideology is capitalism.
"Terrorism is continually used as a tool to control a domestic population. I'm not saying there aren't dangerous people out there, but I'm saying a lot of those dangerous people are in government.
Sydney terror siege: Several escape hostage situation in Lindt Chocolat Cafe http://t.co/iVGWHUTdVN pic.twitter.com/HVBFx9waiM

— Metro (@MetroUK) December 15, 2014
Brand also took the opportunity to take a swipe at his old foe Rupert Murdoch, who was roundly criticized for a "gloating" tweet sent amid the tragic denouement of the siege.
The kingpin whose News Corp owns the Australian Daily Telegraph in Sydney, tweeted a congratulatory message to his editors for including the "bloody outcome" in its final editions.
AUST gets wake-call with Sydney terror. Only Daily Telegraph caught the bloody outcome at 2.00 am. Congrats.

— Rupert Murdoch (@rupertmurdoch) December 15, 2014
Brand drily remarked: "Congrats doesn't seem like the right way to comment upon three deaths and a very volatile situation."
Abbott has promised a transparent investigation into why Monis was not on any terror watch list despite having a long criminal history.
"The system did not adequately deal with this individual," Abbott conceded on Wednesday. "Two very decent people are dead, others are injured, others are traumatized because of a madman who was roaming our streets."
Monis was convicted and sentenced last year to 300 hours of community service for sending what a judge called "grossly offensive" letters to families of soldiers killed in Afghanistan between 2007 and 2009. He later was charged with being an accessory to the murder of his ex-wife. Earlier this year, he was charged with the 2002 sexual assault of a woman. He had been out on bail on all the charges.
Just three days before Monis began his deadly rampage, Australia's highest court refused to hear his appeal against his convictions for sending the letters.
High Court documents show that Chief Justice Robert French and Justice Chief Stephen Gageler ruled at 9:50 a.m. on Friday that the full bench of their court would not hear Monis's constitutional challenge to his convictions. At 9:44 a.m. the next business day, a shotgun-wielding Monis walked into the cafe, just a short stroll from the courtroom where the ruling was delivered.
Abbott said the government would publish a report on how the siege unfolded, why Monis was not on the nation's terrorism watch list, and how he managed to obtain a shotgun in a country with strict gun ownership laws.
The prime minister acknowledged it was impossible for security agencies to monitor everyone, forcing them to make judgment calls about who posed the greatest risk for committing violence against innocent people.
"We want to know why he wasn't being monitored given his history of violence, his history of mental instability and his history of infatuation with extremism," Abbott said.
New South Wales state police Commissioner Andrew Scipione said police had asked that Monis not be granted bail, but the court ruled otherwise.
"We were concerned that this man got bail from the very beginning," Scipione said.
Asked why Monis was not on any national security watch list, Scipione noted that the charges Monis faced were not politically motivated.
"Can we, should we, would we? Clearly, we work on a priority-based system so if somebody is on a national security watch list, then we pay particular attention to them," he said. "But on this occasion, this particular individual was not."
The siege began when Monis walked into the Lindt Chocolat Cafe during Monday morning rush hour, trapping 17 customers and staffers inside. He had some of the hostages record videos of themselves reciting his demands: to be delivered a flag of the Islamic State group and to speak directly with Abbott.
He forced some to hold a flag with an Islamic declaration of faith above the shop window's festive inscription of "Merry Christmas."
The end of the Sydney siege