The 73-year-old, her son and a protester dressed as Santa Claus in a gas mask, turned up outside the gates of Downing Street with holding a clear box filled with the poisonous substance.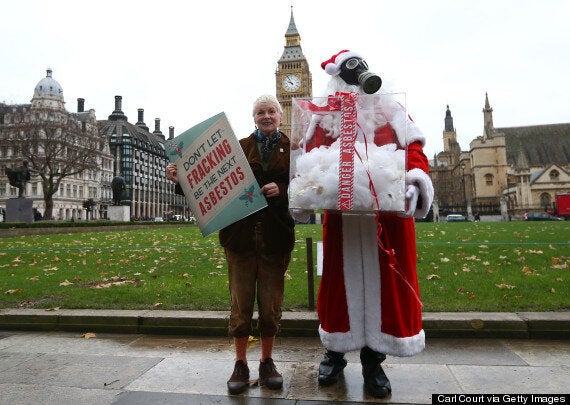 Malcolm McLaren, Corre's father, died of cancer due to asbestos, and his mother Westwood warned that the controversial hydraulic fracturing technique used to extract oil and gas could become "the next asbestos or thalidomide".
After the box of asbestos was rejected, Westwood and her son delivered "independent medical reports" on the consequences of fracking to the PM.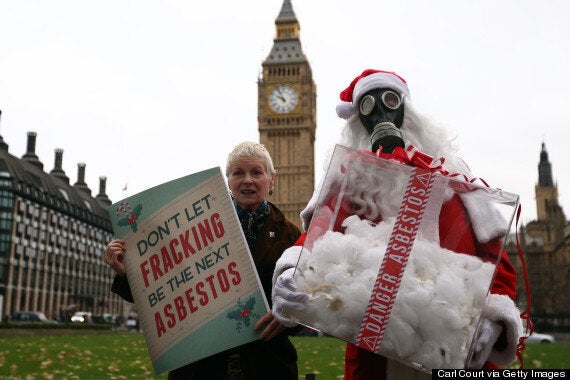 Westwood got to Downing Street - but the "present" wasn't allowed in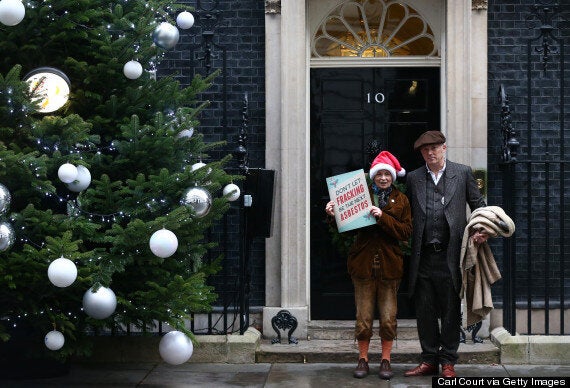 Westwood warned fracking could become "the next asbestos or thalidomide".
Asked if she expected the Prime Minister to listen to their message, Westwood said: "Will David Cameron listen to us? He lost a child, he must have some sympathy, and he's not connecting the dots."
"They link very clearly the chemicals used in fracking industry to some really horrible, serious illnesses," 47-year-old Corre said.
"Birth defects in children, horrible cancers, skin diseases, rashes, nosebleeds, stunted growth, all kinds of things.
"We are lucky to have this information in advance from the terrible situation that his happening right now in the United States.
"We have the opportunity now, and I hope David Cameron takes it, to put an end to what could be something quite disastrous for the UK.
"David Cameron has no democratic mandate to be pushing this through on to the British people. This is something the entire country is going to start waking up to."
The protest came after New York state governor Andrew Cuomo's administration announced yesterday that it would ban fracking after a report concluded that it poses potential health risks.
Corre said that his inspiration for taking a stance against fracking was his father's death from cancer aged 64.
"He died a really horrible death. It was quite something and I wouldn't want to wish that on to anybody or anybody's family."
The protesters claimed that chief scientific adviser Professor Sir Mark Walport warned in his annual report that the Government has not given proper consideration to the potential health risks of fracking.
But Walport denied that the view that fracking could be the next asbestos or thalidomide should be attributed to him.
Rather, it was the view of another author, Andy Stirling, who contributed an evidence document to the annual report.
Sir Mark said: "With regard to fracking, the hydraulic fracturing of shale to obtain natural gas and oil, I fully endorse the report of the Royal Society and the Royal Academy of Engineering.
"Of course, methane is a fossil fuel, but as long as it is burned efficiently and fugitive emissions of methane gas are minimised, it is a less harmful fossil fuel than coal and oil, and is an important way-station on the global journey towards low-carbon energy.
"The scientific evidence is clear that any environmental or geological risks can be managed effectively in the UK as long as operational best practices are implemented and enforced through effective regulation."
Downing Street declined to respond to Ms Westwood's comments about Cameron's son.
Popular in the Community