How much food will you throw away this Christmas?
According to new research, British families will chuck out the equivalent of 4.2 million dinners on Christmas Day alone – that's 263,000 turkeys, 740,000 Christmas puddings and 17.2 million Brussels sprouts.
It equates to an incredible £64million of wasted food.
The sprouts alone would fill 1,000 wheelie bins, while leftover carrots could reach from London to Munich, end-to-end. And unused gravy would fill an Olympic-sized swimming pool.
The poll showed that whoever hosts Christmas lunch spends on average £112 on food for an average of six people.
But it would take the average family nearly four days to eat everything bought just for Christmas Day – so most of it gets thrown away.
Chrimbo criminal, isn't it?
Jon Goldstone, Unilever Foods Director, said: "We were shocked to hear just how much food goes to waste at Christmas.
"The festive season is naturally a time when we indulge with our family and friends but throwing away 4.2 million perfectly good Christmas dinners is a staggering waste.
"Having seen these figures, this year I know I will be putting a little more thought into my Christmas shopping and through our #ClearAPlate campaign we're encouraging others to do the same."
Want to do your bit? Here's some inspiration to turn your Christmas leftovers into fantastically tasty meals for all the family. Waste not, want not.
CHRISTMAS NUTS AND VEG CURRY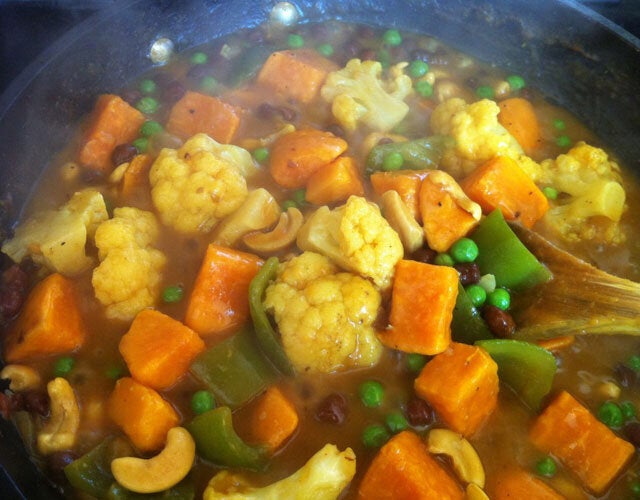 1 tbsp ghee or vegetable oil
1/4 of an onion and a little garlic and ginger, pureed to make the base mixture
1/2 tsp mild chilli powder
Leftover sweet potato, chopped into chunks
Leftover carrots, chopped into chunks
Leftover cauliflower, cut into florets
1 green pepper, deseeded and chopped
1 x 400g can of chickpeas, drained
100g leftover mixed Christmas nuts (cashews, walnuts, peanuts)
1 tsp of cornflour (optional, to thicken the sauce)
200ml low fat natural yogurt
1. Gently heat the oil in a large pan and add the pureed base mixture. Add the turmeric, paprika, ginger and chilli and cook for 2 mins.
2. Add the sweet potato, carrots, cauliflower, green pepper, chickpeas, nuts, stock and coconut milk then bring to the boil. Reduce the heat and simmer for 5-6 mins.
3. If you like a thicker sauce, mix 1 tsp of cornflour with a little water to make a paste. Add this to the curry and gently stir in and cook for 5 mins.
4. Add the peas and most of the coriander, saving a little for garnish, and cook for 2-3 mins.
5. Add seasoning to taste and serve with a spoonful of natural yogurt and coriander to garnish. Serve with spicy rice or chapatis.
SPICY INDIAN PARSNIP AND COCONUT SOUP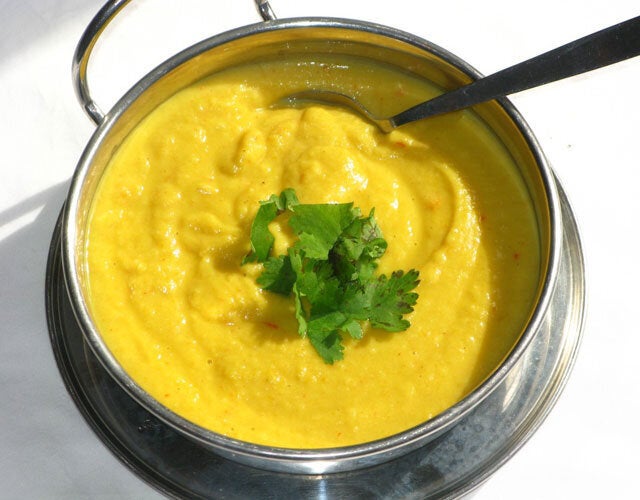 3 garlic cloves, finely chopped
2cm piece of fresh ginger, finely chopped
1 chilli, deseeded and finely chopped
Leftover carrots, chopped into chunks
Leftover leeks, finely chopped
4 - 5 leftover parsnips, peeled and roughly chopped
2 tbsp fresh coriander, chopped
600ml hot vegetable stock
Salt and freshly ground black pepper
1. In a large saucepan, heat the butter and oil and add the onion, garlic, ginger and chilli. Cook for 5-6 mins, until softened. Stir in the spices and cook for 1 minute.
2. Add the carrot and leek, reduce the heat and cook for 2-3 mins, Add the parsnip chunks and half the chopped coriander, followed by the coconut milk and stock.
3. Bring to the boil, reduce the heat and cover and cook for 15-20 mins until the vegetables are very tender.
4. Remove from the heat. Allow to cool, then blitz with a stick blender.
5. If you like, you can transfer the soup to plastic containers and store in the fridge to re-heat a day or two later. It's also good for freezing.
6. To serve, reheat the soup in a pan and sprinkle with the remaining fresh coriander leaves. If the soup is too thick, add more stock or water.
CAULIFLOWER AND CARROT CURRY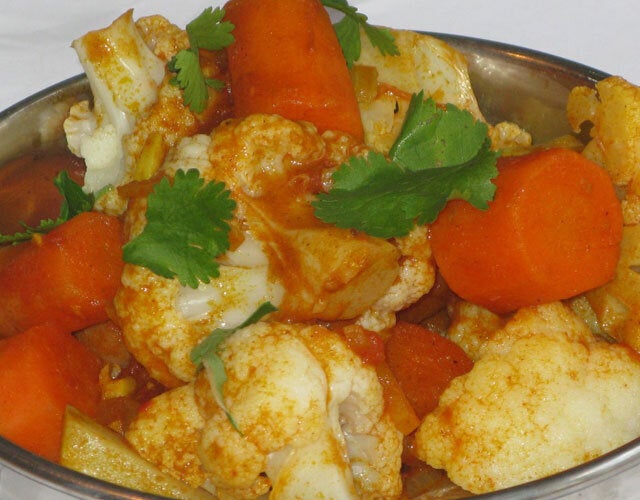 4 tbsp ghee or vegetable oil
Leftover cauliflower florets
Leftover carrots, cut into chunks
2 fresh green chillies, deseeded and chopped
2 cm piece of fresh ginger, peeled and grated
225ml vegetable stock or water
Fresh coriander leaves, to garnish
1. In a large frying pan, heat the ghee or oil. Add the onions and cook until soft and golden, about 8-10 mins.
2. Add the cooked cauliflower, cooked carrots and chillies. Stir-fry for 2-3 mins.
3. Stir in the rest of the ingredients, except the yogurt, garam masala and coriander leaves, and increase the heat. Stir-fry for a further 4-5 mins.
4. Add the yogurt and stir through. Sprinkle over the garam masala and serve with fresh coriander leaves.
HOW MUCH WE THROW AWAY AFTER CHRISTMAS
17.2 million Brussels sprouts
7.4m slices of Christmas pudding