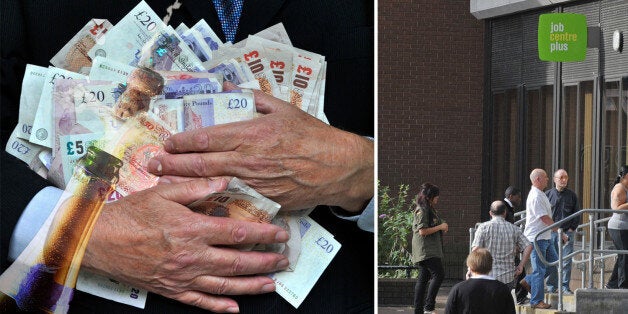 Hundreds of thousands of people are set to spend their second successive Christmas on the dole, according to a new study, as it was revealed top City bosses are set for big bonuses.
Senior City workers expect to see their bonuses increase by 21% this year - despite regulatory pressure to scale back big payouts, according to recruitment firm Astbury Marsden.
That firm predicted that top City bonuses will rise to an average of £124,000, up from £102,000 last year and that better market conditions this year have led to increased expectations of big bonuses.
That news comes as the TUC said 250,000 jobseeker's allowance claimants, and 700,000 jobless people who do not all claim the unemployment benefit, will still be out of work this Christmas.
The union organisation said that although the number of long-term claimants fell in 2014, there was a rise in long-term youth unemployment last month, while the wider ILO measure of long-term unemployment is falling more slowly than the long-term unemployed claimant count.
TUC general secretary Frances O'Grady said: "One Christmas out of work is hard enough, but by the second Christmas your savings will all be gone and your confidence has probably taken a significant hit.
"It's hard to bring some festive cheer to your family in that situation, especially for parents who want to make Christmas special for their children.
"If the government's Work Programme for long-term unemployed people had performed as well as the ministers said it was going to, there would be far fewer people facing a second Christmas on the dole.
"What's more, there has been a worrying rise in the proportion of long-term unemployed people not receiving any help at all.
"The Government should focus on providing long-term unemployed people with proper support to move back into work rather than blaming them for our unequal jobs recovery."
Meanwhile, the Public and Commercial Services union said an estimated £20 million was being withheld from unemployed and disabled people this month under the benefit sanctions regime.
The union, which represents workers in the Department for Work and Pensions, said the average amount being withheld was £250.
General secretary Mark Serwotka said: "There is no evidence that stopping people's benefits improves their chances of finding long-term employment.
"Many are being punished for simply turning up late to an interview or refusing to work for free for a profitable company on one of the government's failing workfare schemes."
The Government maintains its employment policies are helping people find work, especially the long-term unemployed, and highlights the record number of people in work.
A Department for Work and Pensions spokesman said: "The TUC's comments are at odds with the fact that an all-time record number of people are in work, and that full-time jobs accounted for 95% of the rise in employment over the past year.
"Some 640,000 people have now started a job thanks to the Work Programme, a scheme which is helping more people to turn their lives around than any previous efforts."
• The poorest 10% of households pay almost half of their gross income in tax, analysis by the TaxPayers' Alliance research found, with VAT accounting for the biggest share of the bill.
The analysis of Office for National Statistics figures showed that the average gross income, including benefits, in the group was £9,743 but after tax the figure was £5,132.
The figures for 2012/13 showed that for the poorest 10%, some 13.9% of their gross income went on VAT, 7.2% on council tax and 5.6% on alcohol or tobacco duties.
The top 10% of households paid an average 35% of their gross income in taxes, some £37,287 a year, with income tax accounting for 19.1% of the money paid to the Exchequer.
Popular in the Community