Russia has claimed a "secret witness" can prove Malaysia Airlines flight MH17 was shot down by a Ukrainian jet.
Investigators insist a Ukrainian serviceman saw a Su-25 combat jet take off from an airbase in the east of the country and return with no missiles on the day the passenger jet was shot down.
The pilot emerged from his fighter jet looking very frightened, according to the eyewitness.
Story continues after slideshow...
Pro-Kremlin RT reports the claims had been backed up by lie detector tests carried out by Russia's Investigative Committee.
MH17 was blown out of the sky on 17 July. The widely accepted version of events is that a rocket from a Russian-made Buk missile launcher operated by pro-Russian rebels was responsible.
The dubious assertion is the latest attempt to divert blame away from Moscow.
Last month a satellite photo released by Russia purporting to show a Ukrainian jet firing a missile at MH17 was roundly mocked as "preposterous".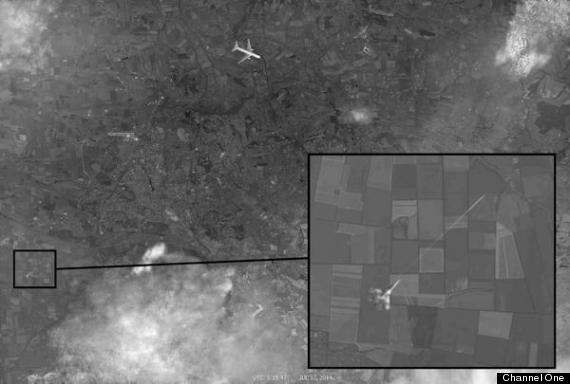 The 'satellite photo' that Russian state media released
The White House it was part of a Kremlin effort to "obfuscate the truth and ignore ultimate responsibility for the tragic downing of MH17".
Keen observers of the situation in the Ukraine insisted it was a fake, saying details such as the cloud pattern showed it actually dated from 2012.
A popular Russian blogger called it "a crudely photoshopped fake" and "just one episode in the information war".
On citizen journalists website Bellingcat, it was claimed the image appeared on a forum in October, which contradicted the claim it originated from an email from someone calling himself "George Bilt" on November 9. It also reported the image was a composite of several images.
SEE ALSO