Having mined a dubious fame for promoting dating 'advice' to men with such choice phrases as "Just show her your penis. If she cries, she's just playing hard to get" and "remember, it's only sexual harassment if she's more attractive than you", the self-confessed "lad" character created by Daniel O'Reillyhad his ITV2 show pulled amid a huge sexism controversy.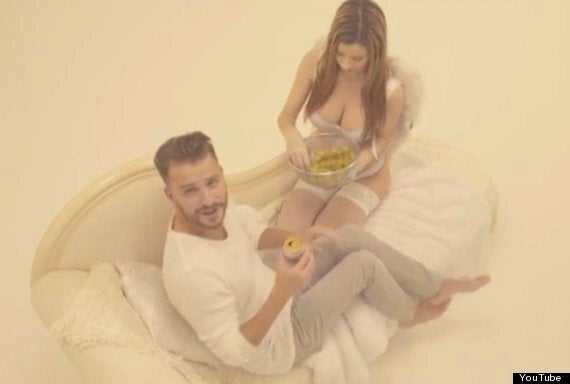 Dapper Laughs has been enjoying himself in heaven, apparently
But in what some may interpret as a Christmas miracle (and others undoubtedly a nightmare), the late Dapper has used the medium of Twitter on 25 December to announce his return.
A video opens with Dapper apparently in heaven, lounging as he is fed grapes by a buxom angel as another strums a harp.
A voice presumed to belong to 'God' booms: "I'm sending you back to earth. You're needed down there. O'Reilly has been crying his little balls off."
A smirking Dapper replies: "Leave it out, I'm having a quality time, I've got everything I need. Couple of Britney Spears, a few sweethearts, the occasional boner."
"I'm not asking you Dapper, I'm telling you…now go forth you silly sod."
Back on earth, a swaggering Dapper adjusts his penis, fires out his catchphrase "proper moist" and confronts a weeping Daniel O'Reilly, still clad in his Newsnight turtle-neck.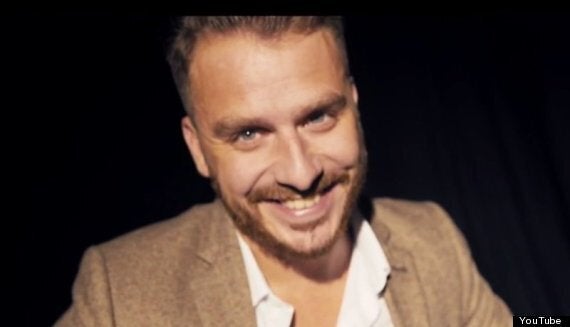 'How do you like me now?' He's back...
O'Reilly asks his alter-ego: "What are you doing here? You're supposed to be dead, I killed you off."
"No, what killed me off was you coming on Newsnight, cockblocking yourself wearing that turtleneck and looking like a French poet," chirps Dapper, moving his hands to simulate masturbation.
O'Reilly continues: "I couldn't handle the pressure any more. You ended up taking over my life. It was too much."
Dapper shoots back: "What's up with you soppy bollocks? Grow a pair, what's wrong? You can give it but you can't take it. You might as well go up there, because my work down here ain't finished you fucking twat."
O'Reilly shuffles off muttering: "Well you're going to ruffle some feathers – so why don't you tone it down a bit. There's no need to wind everyone up… I wonder what God looks like…" as Dapper leers into the camera: "Don't worry, I'll keep it calm."
Reaction to Dapper's triumphant return has been varied, with some declaring it "the best Christmas ever" and uttering messages of "welcome back soppy bollocks", while others erred on the side of "oh for fucks sake, you've ruined Christmas."
At this stage it's not clear quite what medium Dapper's comeback will take, though Huffington Post UK has sought comment from the man himself.
Hence all we can ask is that you watch this space...
The rise and fall of Dapper Laughs

Dapper Laughs: The rise and fall