Nick Clegg is considered the most "gay-friendly" party leader - but the Liberal Democrats are struggling to turn that into votes, a poll has found.
But there was bad news for Nigel Farage who was considered "extremely anti" by three-quarters of gay voters.
He was the only one seen by more people as homophobic than sympathetic to lesbian, gay, bisexual and transgender (LGBT) concerns.
LGBT issues have slipped down the agenda of gay voters - with the economy, the NHS and education all considered more important in choosing which party to back.
That is in some part due to the success in securing same-sex marriage - a reform which Clegg was the first to back publicly.
But it might also help explain why his party has hemorrhaged gay votes - tumbling from 39% at the 2010 general election to just 16.9% now.
The main beneficiaries are the Green Party, whose support has soared from 3.8% to 16.5%, with the Tories also more than doubling backing from 10.4% to 23%.
Labour retain the lead on 31.1% (24.3% in 2010).
In another sign of the struggle the party faces north of the border, however, the proportion of gay voters in Scotland backing the SNP has risen from 18% to 43%.
And Cameron - who personally championed same-sex marriage in the teeth of bitter opposition from Tory MPs and activists - is a more popular choice for Downing Street than Miliband by 36.7% to 28.6%.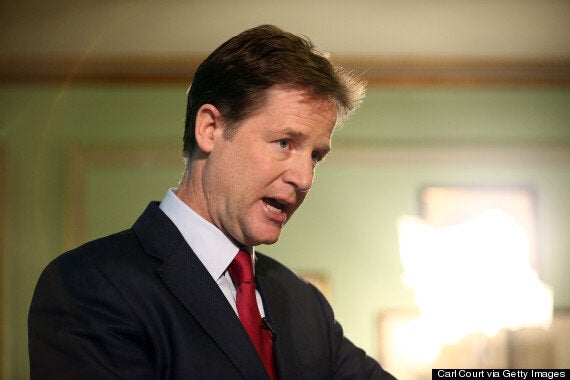 Nick Clegg was the most popular leader among LGBT voters
PinkNews publisher Benjamin Cohen said: "The polling demonstrates that much like the country as a whole, the LGBT community is divided as to which party should govern in 2015.
"However, the community is clear in its rejection of Ukip, with support far below national polling levels and Nigel Farage labelled as the least 'pro-gay' party leader in the UK.
"With almost 85% of gay voters saying that they would not support an MP or candidate who opposed same-sex marriage, anti-gay marriage MPs in swing seats could be losing out on the support of as much as 8% of the electorate."
PinkNews polled 980 lesbian, gay, bisexual and transgender adults from across the UK (including a demographically-weighted panel of 350 voters who have been tracked since 2010) between December 23 and 27.
Popular in the Community