Lenny Henry has responded to predictable "racist" attacks on his guest-editing the Today Programme, focussing on the under-representation of ethnic minorities in British public life and the media.
The programme saw the comedian interview Culture Minister Sajid Javid about why the BBC features so little ethnic minority talent and confront a Ukip MEP about why he belonged to a party that is regularly accused of racism.
Henry also said money should be ring-fenced to promote ethnically diverse talent in the media, saying this could address the high numbers of public school or Oxbridge people in the indsutry.
It triggered a barrage of criticism on social media - little of it constructive - that the show was itself racist for calling for greater representation of non-white people.
At the end, Henry, whose parents immigrated to Britain from Jamaica, discussed racist abuse he had received before and during the show's broadcast.
He said: "This has been the case since I was 14, ever since I've been at school I've been dealing with this. It's not a new thing. I've had to deal with this my whole life."
Regular presenter Mishal Husain asked him whether he believed Britain was becoming more tolerant.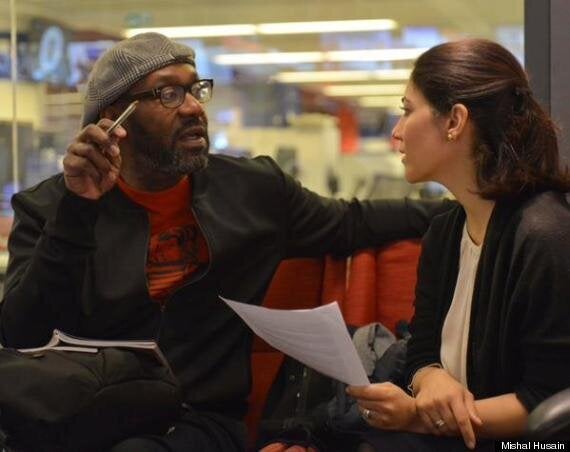 Lenny Henry with presenter Mishal Husain
"There's been a gradual change. There were racist comments on Twitter this morning," he said. "There were racist comments hurled at me the day after the diversity speech earlier this year.
'I'm very aware there's still a way to go. But what's great is there's a tolerance in this country that is extraordinary and to be proud of and I'm proud to be British and my mum was proud to be British too."
Henry interviewed Ukip MEP Amjad Bashir, whom, he suggested, was being "manipulated" by the party and "used a political football" to counter allegations it is racist.
The comedian asked: "Your own father came here as an immigrant, how do you reconcile that with being in Ukip?"
All those presenting the show were of ethnic minorities - Husain was joined by reporter Nkem Ifejika, with Reeta Chakrabarti reading the news, and Jay Wynne presenting the weather. Linda Yueh was handling the business news while Karthi Gnanasegaram presented the sport.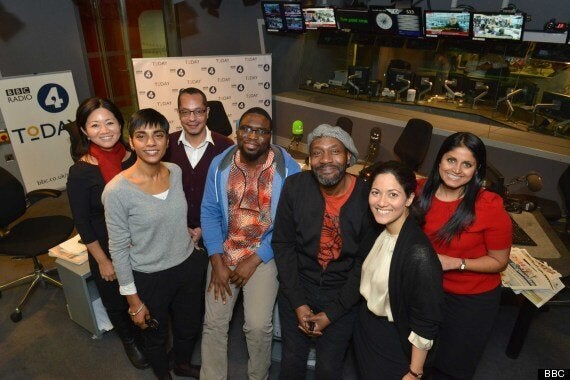 (Left to right) Linda Yueh, Reeta Chakrabarti, Jay Wynne, Nkem Ifejeka, guest editor Lenny Henry, Mishal Husain and Karthi Gnanasegaram
Javid, one of just 27 MPs from an ethnic minority elected in 2010, dismissed Henry's suggestion the BBC's new charter should have a clause in it requiring it to increase ethnic minority talent.
"I wish it was as easy as that, but I don't think something like that in itself would achieve the desired results," the Culture Minister said.
"The concern I would have is when you have an approach where it's about reaching a quota or a certain number and it becomes an official target or requirement then you always run this risk someone might try to fill that just for the sake of filling it.
"I think the problem is more profound. It's not just about having the black face or the brown face - it's about building a sustainable pipeline of talent and naming sure people from all backgrounds, and that background in particular, think of this as a career opportunity for them."
Mr Henry said: ""All I'm saying is people need a break. If the chance to be on that one programme Lenny Henry did and read the news or the sport or whatever, if the chance appears to do that why wouldn't you take it?
"I want to see a diverse media... what's interesting about diversity is it is not just about ethnicity, it's about everything, it's about inclusivity.
"Isn't there something divisive in the status quo? If the status quo is us being divided then we are saying it needs to be re-ordered and reappropiated.
"I'm not saying your programme is going to get broke or Downton Abbey is going to change because you have people of colour or people with disabilities or people with different genders or sexualities are behind the camera.
"I'm just saying give everybody a chance to make that programme."