The news never stops, that's a given. But what we're interested in is what makes you tick – what have you enjoyed reading the most?
Well the figures are in and we can reveal UKIP, the Scottish Independence vote and Dapper Laughs were all up there in the most read topics of 2014, all ranked by external traffic.
Tragedy – including the remarkable life and sad death of cancer teen Stephen Sutton and the plight of children in Gaza also made the grade.
Somewhat surprisingly, a tale about a woman checking her boyfriend's phone only to find footage of him having sex with her dog, was also up there.
Readers, you have some explaining to do.
We kicked off the start of the year with the news the UKIP Councillor for Henley on Thames in Oxfordshire had written a truly bizarre and homophobic letter to a local newspaper.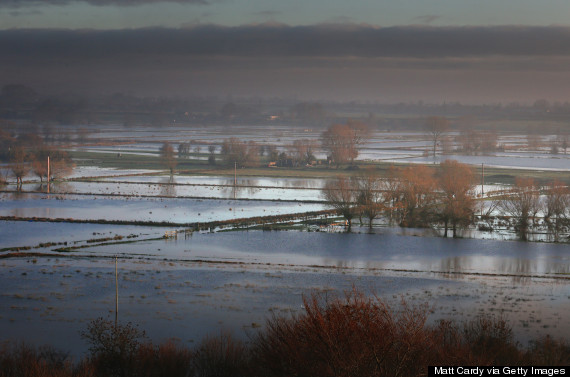 The sun rises over flood water in fields on the Somerset Levels near Langport on January 20 - a clear cut result of gay marriage - according to UKIP councillor David Silvester
David Silvester, who resigned from the Conservative Party over David Cameron's same-sex marriage policy, claimed gay marriage was to blame for Britain's recent spell of bad weather in a letter to The Henley Standard in January.
He wrote: "Since the passage of the Marriage (Same Sex Couples) Act, the nation has been beset by serious storms and floods."
Our report, which was 'liked' 32,000 times on Facebook also saw Silvester ponder: "Is this just global warming or is there something more serious at work?"
Expanding on this rather doom-laden suggestion, he launched into an eyebrow-raising tirade, quoting The Bible, and explaining that acts like gay marriage are to blame for storms, disease, pestilence and war.
"The scriptures make it abundantly clear that a Christian nation that abandons its faith and acts contrary to the Gospel (and in naked breach of a coronation oath) will be beset by natural disasters."
UKIP reacted to the councillor's comments by telling HuffPost UK: "If the media are expecting UKIP to either condemn or condone someone's personal religious views they will get absolutely no response."
No word as to what he made of the storms which followed...
Our most popular story of February was one which presumably served as a cautionary tale for those of us who check our partner's phones.
In this case, one woman did so and found footage of her boyfriend having sex with a dog.
Her dog, to be precise.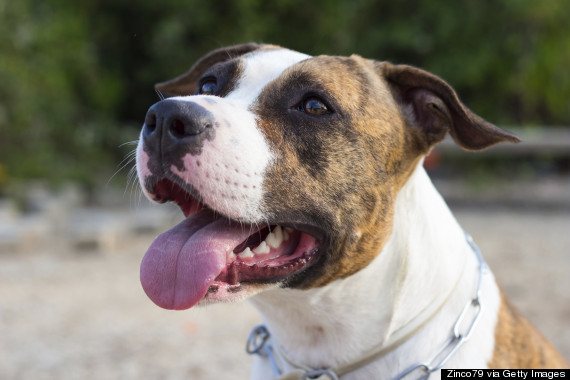 Wayne Bryson admitted having sex with his girlfriend's Staffordshire Bull Terrier (not THIS one)
Wayne Bryson of Louth, Lincolnshire, admitted one sexual offence with an animal and one charge of possession of class B drugs.
The 19-year-old received a four month sentence suspended for two years. He was also placed on the sex offenders' register for seven years and banned from owning animals for two years.
Bryson's girlfriend ended their relationship. And 21,000 of you 'liked' the sordid tale on Facebook, you mucky pups.
March saw our report on a fascinating video laying bare the fluidity of Europe's borders, carved up into smaller and smaller chunks, then merged and broken again over 1,000 years.
The video went viral after Crimea's annexation to Russia appeared inevitable after 97% voted to leave Ukraine to join Russia.
Though controversial, the changing of borders in Europe has rarely been more peaceful.
The time-lapse video of Europe's maps showed the rise and fall of powers on the continent that no longer exist, from the Holy Roman Empire, to the Ottoman Empire, Bohemia, the Nazi occupation and the Soviet Union.
Teenager Stephen Sutton captured the hearts of much of the public after deciding to use his fatal colorectal cancer diagnosis as a vehicle to raise funds for a charity.
Raising the money was number one on his bucket list of 46 wishes including hugging an elephant and his campaign was boosted by the backing of a number of celebrities including comedian Jason Manford.
In April after taking a turn for the worse, the dying teenager had posted a final thumbs up on Facebook, but surprised and delighted his family and friends after he "coughed up a tumour", thus dramatically improving his breathing and leaving him "feeling bloody fantastic".
Sadly the respite was short-lived, though Sutton had raised more than £3m for the Teenage Cancer Trust when he died in May, aged 19.
UKIP mocking was back on the agenda in May, with the hashtag #WhyImVotingUkip unceremoniously hijacked at the expense of Nigel Farage and his merry band of Eurosceptics.
Thought the hashtag was intended to promote the party, the move backfired spectacularly and swiftly descended into merciless piss-taking, like this:
#WhyImVotingUkip Because the weather's really starting to pick up, and I don't want it ruined by gays.

— Vikki Stone (@vikkistone) May 21, 2014
#WhyImVotingUkip because an Oriental gentleman just pushed into the front of the bus queue and got on first

— Nathaniel John (@Nathaniel_John) May 21, 2014
Because Farage is just an ordinary bloke & understands common people like me pic.twitter.com/YtXRWiz4If

— incrediblyQ (@incrediblyQ) May 21, 2014
An astonishing 665,000 people 'liked' our June report on the D-Day landing sites which showcased powerful before and after pictures since the launch of a mission which ultimately led to victory over Nazi Germany during World War Two.
In a mission described by wartime Prime Minister Winston Churchill as "undoubtedly the most complicated and difficult that has ever taken place", D-Day was the beginning of an 80-day campaign to liberate the region which involved three million troops and cost 250,000 lives.
Images created by our picture editor Elliot Wagland marked 70 years since the launch of the mission and show pictures of tourists soaking up the sun on Normandy's beaches, standing in stark contrast to haunting images taken around the time of the crucial invasion.
In July newsreader Jon Snow made an emotional appear for an end to the violence that has caused the deaths and wounding of so many children in Gaza.
Looking visibly moved, the veteran journalist said: "We cannot let it go on. if our reporting is worth anything, if your preparedness to listen and watch and read is anything to go by, then together we can make a difference.
Snow visited the Shifa Hospital in the Gaza Strip where two floors are dedicated to treating children.
He said: "I can't get those images out of my mind. They are the essence of what is happening in Gaza."
Snow's video sparked a huge reaction online, with most thinking it was a moving and honest, must-see piece of journalism. Our report was shared from our Facebook page alone more than 25,000 times.
August saw the Scottish Independence 'No' camp take a fierce mauling on Twitter when its latest campaign backfired spectacularly.
Better Together's campaign video, called 'The Woman Who Made Up Her Mind', rapidly earned it's very own hashtag - #PatronisingBTLady - which remained trending for days, albeit for the wrong reasons.
After it aired on the BBC and STV the ad sparked outrage for it's "sexist" approach to women, with many querying if the video is actually a parody of a 1950s infomercial.
The advert was a bid to win the support of undecided women voters and in just two minutes and forty seconds the 'busy mother' dismisses an independent Scotland as "one big gamble," that has "not been thought through."
Better Together urged women to vote No not only for "the love of our country" but for "the love of our families".
That #patronisingbtlady advert is scandalously bad. What were they thinking??? It's genuinely like a 50's public service broadcast.

— Iain Walker (@IainWalker5) August 27, 2014
We are absolutely disgusted by @UK_Together's latest advert #PatronisingBTLady speaks volumes about how #nothanks see women voters.#indyref

— ShetlandWomenforIndy (@ShetlandWfI) August 27, 2014
Honestly can't believe how disgustingly sexist and patronising that better together video is!

— Ian Gray (@IanxGray) August 27, 2014
In September, The Sun newspaper faced a backlash this morning over its "deliberately inflammatory" reporting of a brutal beheading in North London.
Palmira Silva was found dead outside a house in Edmonton after police received calls that a man was attacking an animal and car with a knife. The "sweet" 82-year-old widow was found "collapsed" at the scene.
The suspect was Tasered and arrested on suspicion of murder at the scene in Nightingale Road by armed officers, some of whom were injured in a struggle.
Scotland Yard have not yet confirmed the motive, but emphasised that the incident did not appear to be terror-related, following the beheading of two American journalists by Islamic State militants in recent months.
The front page of The Sun today is despicable. How on earth is faith or religion related to what happened yesterday? #dontbuythesun #thescum

— Anna Gouldstone (@__AnnaBella__) September 5, 2014
Police "No link to terror"

The Sun "Argh, Must be the Muslims"

The worst front page possibly ever. pic.twitter.com/nUlOacFOyY

— Richard Wilson (@timomouse) September 5, 2014
Deliberately inflammatory front page from The Sun? pic.twitter.com/Tvh9zI9c1M

— #CDFisyours/ Ben (@cardiffisyours) September 5, 2014
The Sun story quoted sources who described the man as a "Muslim convert" who had "recently grown a beard."
The tabloid's article was described as "fear-mongering" by some, with many accusing the paper of inciting hatred against Muslims.
October's most popular story brought the somewhat bizarre news that disgraced entertainer Rolf Harris had had his paints confiscated – because they apparently constituted a fire risk.
Harris, who is serving a five-year, nine month sentence for convictions over a string of indecent assaults, was said to be inundated by inmates queuing outside his cell requesting him to "capture their likeness."
But the 84-year-old has since "had to resort to pencils" because they pose less of a risk to health and safety.
November saw the fruition of a social media campaign to wrench Dapper Laughs – aka Daniel O'Reilly – from the air.
ITV announced they would not continue to air the controversial show after a petition to cancel it was signed by over 50,000 people and a further list of high-profile comedians condemned misogynistic comments made by him.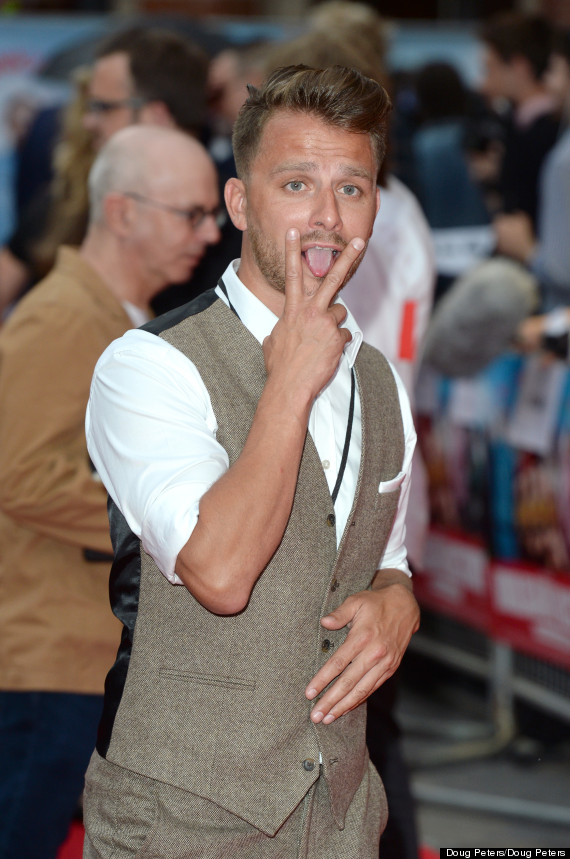 Daniel O'Reilly's character Dapper Laughs is no more
The character, famous for his dubious "dating advice" to men, including the material "Just show her your penis. If she cries, she's just playing hard to get" and "remember, it's only sexual harassment if she's more attractive than you."
O'Reilly was also criticised after footage emerged of him telling a female audience member she is "gagging for a rape".
It is an about turn for the broadcaster who had previously defended O'Reilly's divisive take on comedy, and as our highest performing story in November it's clear our readers supported the move.
Crowning the year was a remarkable encounter between a heavily pregnant woman and a group of Abort67 demonstrators, who were showing graphic photographs of aborted foetuses outside a London clinic in December.
Squaring up to one of the protesters, the woman vehemently defends the right to choice, informing them: "You don't know why people's are doing what they're doing.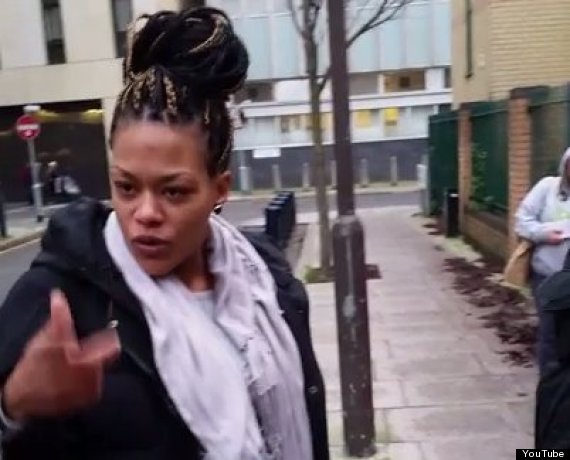 'Making women feel guilty is so wrong, so fucking wrong'
"Many people have been abused, you don't know what their reasons [are]. This is just so wrong on so many levels.
Turning on her heel, she adds: "Making women feel guilty is so wrong, so fucking wrong."
More than 23,000 people on our Facebook feed agreed with her. Here, here.