Police investigating the deaths of three men from a suspected batch of "poisoned" ecstasy pills have charged a 19-year-old man and bailed two others in connection with the drugs.
The arrests follow the deaths of two young men in Ipswich on Christmas Eve and New Year's Day and a third man in Rendlesham, Suffolk, who are thought to have taken the red triangular pills marked with a Superman logo.
Police are offering a 'drug amnesty' with no charges for anyone who surrenders the red tablets to a police station, A&E hospital department or fire station, to get the dangerous pills off the streets.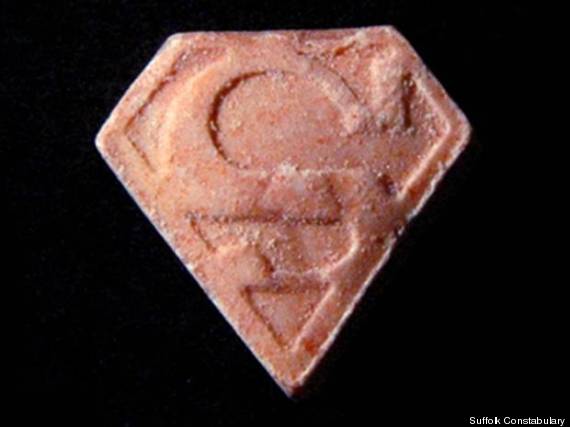 Police are urging people who have the pills to hand them in
Superintendent Louisa Pepper from Suffolk police said: "Please don't be worried about any sort of prosecution because we genuinely just want the drugs off the streets. We view this particular drug as especially dangerous and want to prevent further deaths and save lives."
Officers are linking the first two deaths, of a 22-year-old and a 24-year-old, and investigating a possible connection with the third man, aged 20.
The death of a man in Telford, Shropshire, is also being linked to the rogue drugs.
READ MORE:

Three Held Over 'Fatal' Ecstasy Tablets
Adrian Lubecki, 19, of St Matthews Street in Ipswich, has been charged with being concerned in the supply of controlled drugs (ecstasy) and possession with intent to supply a class B drug. He was remanded in custody to appear at Ipswich Magistrates' Court tomorrow.
A 20-year-old man and a 26-year-old man from Ipswich, arrested on suspicion of being concerned in the supply of controlled drugs, have been released on police bail pending further investigation. Both are due to return in mid-February.
A fifth man, also believed to be a victim of the pills and found on New Year's Day, was taken to hospital and is making a recovery, Suffolk Police added.
Police are urging anyone in possession of the pills marked with the distinctive logo to hand them in.