Florida's ban on same-sex marriage ended at midnight on Monday – and gay and lesbian couples wasted no time getting hitched in emotional overnight ceremonies in the US state.
These moving pictures capture joy and emotion, with some courts issuing marriage licenses immediately so that weddings could be held overnight following district judge Robert L. Hinkle's ruling that a ban on same-sex marriage was unconstitutional.
Seventy percent of Americans now live in the 36 states where gay marriage is legal after Florida's 19.9 million people were given the right.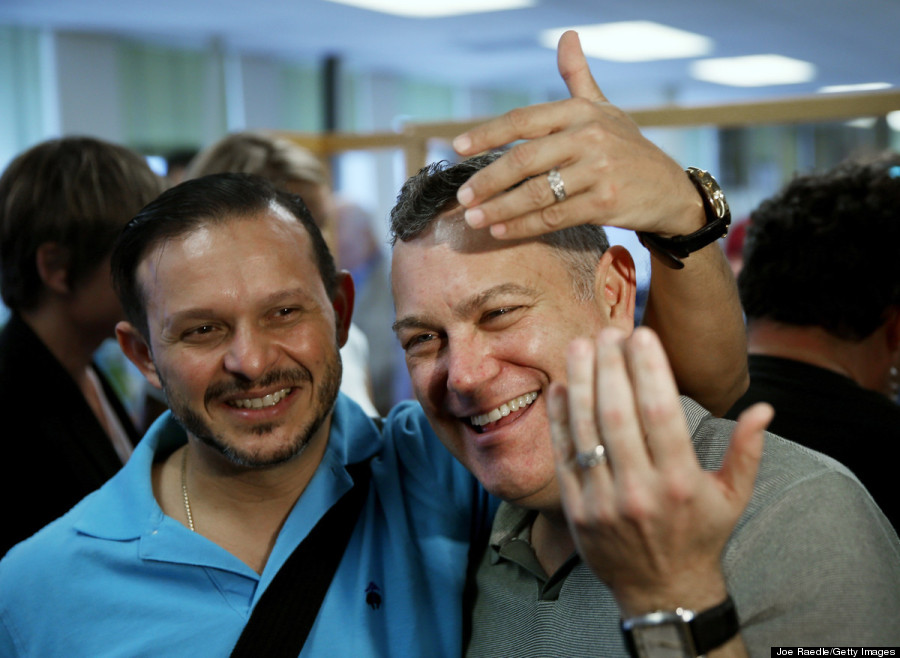 Juan Talavera (L) and Jeff Ronci show off their wedding rings
One Miami judge even decided not to wait until the ban was officially lifted; Sarah Zabel presided over Florida's first same-sex marriages on Monday afternoon.
READ MORE:

Equalities Minister Nicky Morgan Now Supports Same-Sex Marriage
"It's been a long time coming. We're just so excited and so happy," said Cheryl Grieb, moments after she married Patti Daugherty, her partner of 22 years, at the Osceola County Courthouse in Kissimmee, near Orlando.
Dressed in matching white trousers and shirts, the couple stood under a canopy of lace and ribbons as a 'countdown clock' marked the seconds before midnight.
That wedding was followed by 27 more in the county in the early hours of the morning.
Outside the courthouse, about 20 protesters held signs reading "God says male and female should be married" and "Sodom and Gomorrah," but same-sex marriage supporters ignored them.
Florida's attorney general Pam Bondi is still appealing for the ban - which was approved by voters in 2008 - to be upheld but the US court rejected her attempt to forbid weddings until a final ruling is made on her appeal.