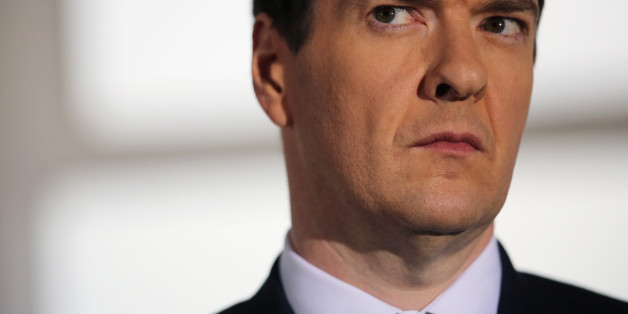 Dan Kitwood via Getty Images
George Osborne may be forced to start cutting into the government's schools budget after the general election, confidential briefing notes photographed on Monday have suggested.
This comes after David Cameron repeatedly refused to rule out further cuts to the military, declining to pledge to stick to a Nato commitment for defence spending to remain at 2% of GDP.
The politically awkward prospect of a future Tory government having to cut into the education budget was raised after photographer Steve Beck captured briefing notes held by William Hague - who was speaking alongside Osborne at a press conference - on how to answer questions about its future.
Todays tory press con william hague checks his answers !! pic.twitter.com/xCV2Q0Ztfn

— Political Pictures (@PoliticalPics) January 5, 2015
Explaining how ministers should respond to the question "Will you cut the schools budget in the next Parliament", it read: "Of course there will be difficult decisions in the next Education budget in the next Parliament.
"In this Parliament, we've shown that we can protect the front line by making the Education budget more efficient and effective.
"We can only have strong schools by staying on the road to a stronger economy. But putting the economy at risk because Ed Miliband doesn't have an economic plan, Labour would put our schools at risk.
If pressed, ministers were advised to add: "There will be decisions for future spending reviews."
Any move by Osborne to cut the education budget will be particularly controversial as coalition ministers have so far protected its funding, alongside other ring-fenced budgets like the NHS and international aid.
See more on the 2015 General Election here

Treasury Costing Labour's Spending Plans 'Doesn't Make Sense', Ex-Official Warns

George Osborne Hates 'Dodgy Dossiers'... Except When He Used One To Attack On Labour
Meanwhile, Labour's shadow chancellor Ed Balls has been forced to admit that he cannot guarantee to reverse the public sector pay freeze or council cuts brought in by the coalition.
He said: "I am not providing any more money for 2015-16 over and above. At the time this was announced, I said it was a mistake of Jeremy Hunt to reject the pay review bodies but I also … said I can make no commitment now to find additional money to pay for that … We've talked about the £2.5bn Time to Care fund [to fund new NHS staff] but I think the priority next year for us is going to be putting money into more doctors and nurses rather than pay."
The Labour frontbencher suggested this as he restated his pledge not to spend more than the coalition in 2015-2016, and furiously disputed a Tory dossier claiming to have found a further £21 billion of extra spending in Labour's plans.
Labour fought back with its own dossier titled "The Tories' Smear Analysis of Labour Party Policy", in which Balls said that when Labour shadow ministers criticise certain public sector cuts, this does not mean they will be reversed in 2015-16.