An aide to a Conservative MP has apologised for sending a tweet calling the Islamic Prophet Muhammad a "child abuser" and an "evil bastard".
Mark Calway, aide to Tewksbury MP Laurence Robertson, wrote the message on Friday afternoon as French police pursued the gunmen linked to the attack on the Charlie Hebdo magazine in Paris.
In a tweet seemingly addressed to radical Muslim preacher Anjem Choudary, Calway wrote: "your so called prophet was a child abuser and paedo, He should be exposed for the evil bastard he was."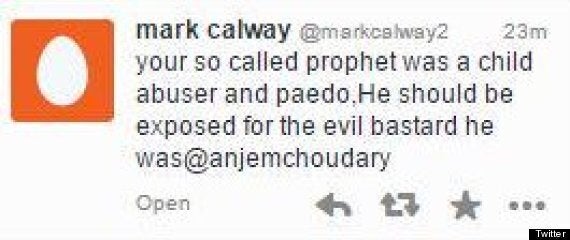 Speaking to the Huffington Post UK, Calway confirmed he had sent the tweet, but added: "It was nothing to do with the party or the boss [Robertson]. I've got nothing else to say."
Other people on Twitter reacted with shock to his message, with users condemning his "vile, wrong and disgusting" message.
Calway later issued an "unreserved" apology "for any offence which the tweet caused" and deleted his message.