High winds have brought another day of disruption to Britain's transport networks as warnings remain in place for fierce gusts, snow and ice over much of the weekend.
In Scotland, where record-breaking winds of up to 113mph yesterday lashed parts of the country, there was continued disruption to a number of rail and ferry services.
Deteriorating weather conditions, including heavy snowfall and ice overnight, were said to be hampering efforts to repair the electricity network in northern and western Scotland, where thousands of homes remain without power.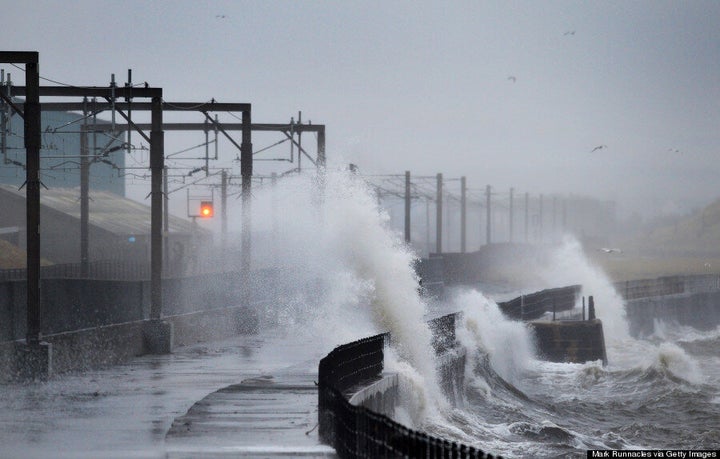 Record-breaking winds battered Scotland
Lifeboats and helicopters searched for the pair throughout the night but have not found them.
Strong winds also caused severe problems on roads in Yorkshire and the north-east of England as a number of lorries were blown over, blocking carriageways.
The Met Office has yellow "be aware" weather alerts in place for all of Scotland, the north and Midlands of England, and Northern Ireland until midday tomorrow for snow and ice. Wind warnings are in force in places until this evening.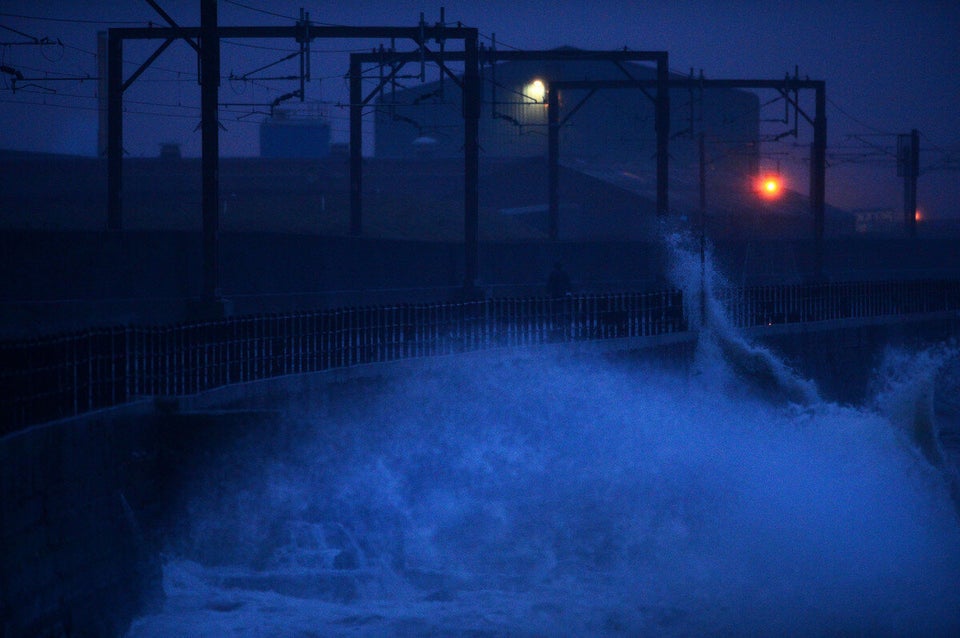 Winds batter UK
Orkney and Shetland were given an amber wind warning until noon today, urging people to "be prepared" for gusts of up to 100 mph.
The bad weather has toppled power lines and uprooted trees, and yesterday forced ScotRail temporarily to suspend all train services over safety reasons.
The train operator reported more than a dozen route issues today, particularly on northern and coastal services.
This included severe disruption on the Kilmarnock to Ayr service, Inverness to Kyle of Lochalsh and the Glasgow to Oban, Fort William and Mallaig services.
National Rail said trains between Edinburgh and Glasgow Central via Carstairs will divert and not call at Motherwell today.
Ferry operator Caledonian MacBrayne listed around two dozen services facing weather-related disruption or cancellation on its website.
North Yorkshire Fire & Rescue said they were called to a series of HGV-related incidents on the A1, including one at Baldersby, near Ripon, where they rescued a 75-year-old man who was taken to hospital with minor injuries after his truck blew over.
A spokesman said they were also called out to similar incidents at Allerton Park, near York; Dishforth and Boroughbridge - all on the A1.
Crews also dealt with another lorry which had its sides and roof blown off on the A1 at Leeming Bar and where the driver had to be led to safety.
Police were forced to close the road at more than one location during the night, causing long tailbacks.
Further north, Northumbria Police asked drivers to take extra care after a jack-knifed lorry blocked the A1 near Stannington Service in Northumberland.
Emergency services also dealt with a number of other wind-related incidents, with firefighters called to a number of reports of dangerous buildings in the Harrogate and Ripon areas as well as a fallen tree in Staveley which had blown onto power lines.
In Leeds, fire crews were called to a number of incidents relating to dangerous structures.
The trans-Pennine A66 route has been closed to high-sided and vulnerable vehicles between Brough and Bowes.
North of the border, Scottish Hydro Electric Power Distribution (SHEPD) said it has restored supplies to 73,000 customers following the recent hurricane winds.
But 32,000 customers remained without power today.
The firm said the worsening weather brought heavy snowfalls and ice overnight, making some roads impassable and access to the network difficult.
Where it was safe to do so, engineers worked through the night to restore power supplies, the company said.
Alan Broadbent, director of engineering, said: "Our electricity network was battered continuously by hurricane winds for eight hours on Thursday night and during much of Friday.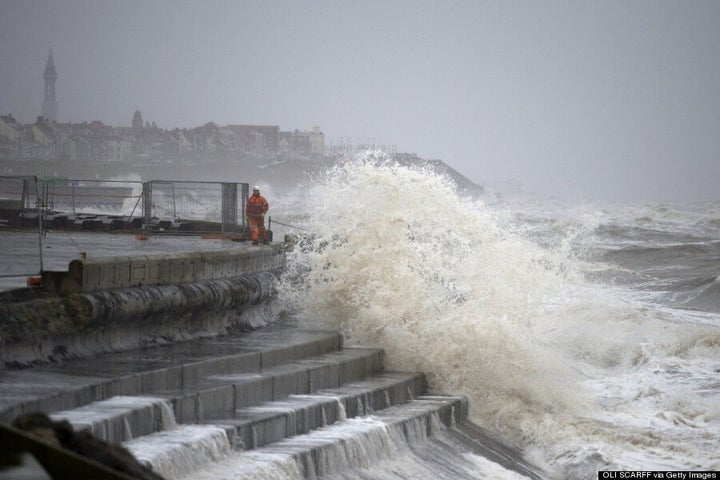 A construction worker on the sea front in Cleveleys, near Blackpool
"This has weakened it in places, which caused more power cuts overnight.
"I know an apology may not be much comfort for our customers who have been without power but I would like to reassure them that we are doing all we possibly can during extremely treacherous, challenging and severe weather conditions."
The affected properties are in Buchan, Dingwall, Dunoon, Elgin/Huntly, Fort William, Inverness-shire, Oban, Perth, Shetland, Skye, the Western Isles and Wick.
In the Western Isles - Lewis, Harris and North Uist - special contact centres have been set up for people to access the emergency services after the bad weather knocked-out the 999 telephone service in some parts.
A gust of 113mph was recorded at Stornoway on Lewis yesterday, the strongest since records at that site began in 1970, while winds of 76mph were recorded at High Bradfield, in South Yorkshire, and in Aberdaron, Gwynedd.
Sleet and snow is expected to hit large swathes of Britain.
Met Office forecaster Alex Burkill said: "As we go through Saturday morning a band of squally rain will move south eastwards and that's going to bring brighter but much colder conditions behind it.
"Some showers are likely to be heavy and may well fall as sleet or snow, particularly in Scotland, Northern Ireland and the north of England, and some of the showers could bring significant accumulations, particularly over higher ground.
"We could widely see 2cm to 4cm (up to 1.5ins) of snow, and perhaps 8cm (just over 3ins) on the highest ground.
"As it moves south it will leave colder conditions, so after a mild night temperatures will really tumble to 4C or 5C (39.2F-41F)."
Numerous flood alerts and warnings remain in place for much of Scotland. Warnings are also in place in the north east, north west and south east of England.
The ferocious gales were stirred up by an extra-powerful jet stream triggered by plunging temperatures in the United States hitting warmer air in the south.
In Crowborough, East Sussex, more than 1,000 households suffered power cuts.
A UK Power Networks spokesman said the cause of the power outage was still under investigation but that they were trying to reconnect people as quickly as possible.
He said: "Due to a high voltage fault in the Crowborough area at 9.08am, power was interrupted to 1,063 customers.
"We have so far restored power to 203 customers and our engineers are working as quickly as possible to restore the remaining customers, who we hope to have back on soon.
"UK Power Networks apologises to any customers affected."
Popular in the Community