Chocolate lovers are outraged after it emerged that Cadbury "secretly" changed their Creme Egg recipe earlier this year.
The sticky white and yellow centre is still the same, but Kraft have swapped from Cadbury Dairy Milk chocolate to a "standard cocoa mix" for the outer shell.
As if that's not enough, Kraft, who bought Cadbury in 2009, are now selling Creme Eggs in packs of five instead of six, but at the same price.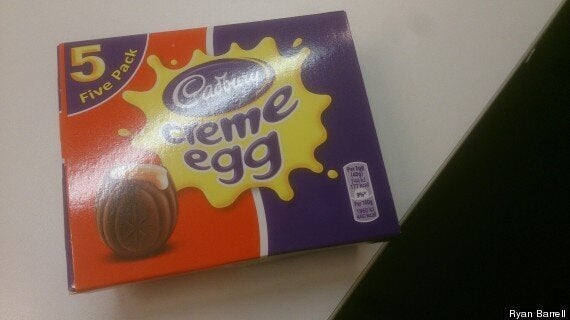 Does this make you angry? You're not alone...
So we decided to have a taste test and see just how different it is.
Mixed reactions from the HuffPost team
A spokesperson for Kraft told The Sun: "It's no longer Dairy Milk. It's similar, but not exactly Dairy Milk. We tested the new one with consumers. It was found to be the best one for the Creme Egg, which is why we've used it this year.
"The Creme Egg has never been called the Cadbury's Dairy Milk Creme Egg. We have never played on the fact that Dairy Milk chocolate was used."
Cadbury issued the new boxes with a changed in the recommended retail price, dropping from £3.05 to £2.85.
Some shops have used the RRP, but many are still charging £2 - the same price they charged last year for a six pack.
Alterations to the number of eggs in a multipack have also prompted a backlash, with many retailers charging the same price.
Sainsbury's are offering the five-pack for £2, but you can still buy 3 individual eggs for £1. That's great maths.