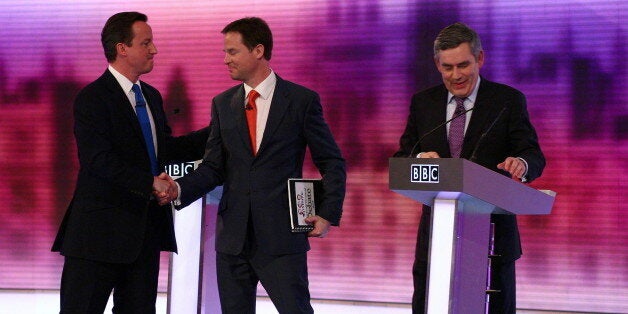 David Cameron was met with a wall of Labour MPs clucking like chickens on Wednesday, as he faced accusations of running away from the TV election debates.
This morning Ed Miliband, Nick Clegg and Nigel Farage joined forces to increase the pressure on the prime minister to sign up for televised general election debates. The Labour, Liberal Democrat and Ukip leaders have sent letters to Cameron warning that it would be "unacceptable" for him to block the clashes.
They are demanding Cameron - who last week made clear he would not participate unless the Green Party was included alongside Ukip - be "empty chaired" by broadcasters if he does not give ground.
Speaking during prime minister's questions in the Commons today, Miliband accused Cameron of making "pathetic" excuses to try and avoid the debates.
And the Labour leader quoted from Cameron in 2010, when the then leader of the Opposition said it would have been "feeble to find some excuse to back out" of that year's election debates.
"It's not for him, it's not for me, it's not for any party leader to decide who is in the debates it's up to the broadcasters," Miliband said. "When he says he doesn't want to take part because of the Greens, nobody believes him. However he dresses it up everyone knows he is running scared."
Cameron said it was not fair to include the Lib Dems and Ukip but not the Green Party. "Why is he so chicken when it comes to the Greens?" he asked Miliband. "I am all for these debates taking place, but you can not have two minor parties without the third minor party."
However Miliband said he would happily debate "anyone the broadcasters invite" onto the stage. Cameron's critics suspect the prime minister wants Green Party leader Natalie Bennett involved as she has the potential to split the centre-left vote in the same way Farage divides the centre-right.
Earlier today Lib Dem Danny Alexander, Chief Secretary to the Treasury, accused the Conservatives of "wriggling and looking for any excuse it can" to get out of taking part. He told BBC Radio 4's Today programme: "David Cameron, if he wants to put the kibosh on these debates, should pay a high political price for that."
Farage also insisted there was no regulatory barrier to broadcasting without Cameron. "It is pretty clear that from the BBC's own editorial guidelines, you would be within your rights to hold these debates whether Mr Cameron turned up or not," he told Today.