Joanne Mjadzelics, the former girlfriend of paedophile rocker Ian Watkins, has been cleared of indecent images charges at Cardiff Crown Court.
The prosecution alleged the former prostitute was obsessed with the Lostprophets singer and would do anything to fuel his depraved desires. Joanne Mjadzelics has been cleared of all charges over child sex images. She addressed the press outside Cardiff Crown Court on Wednesday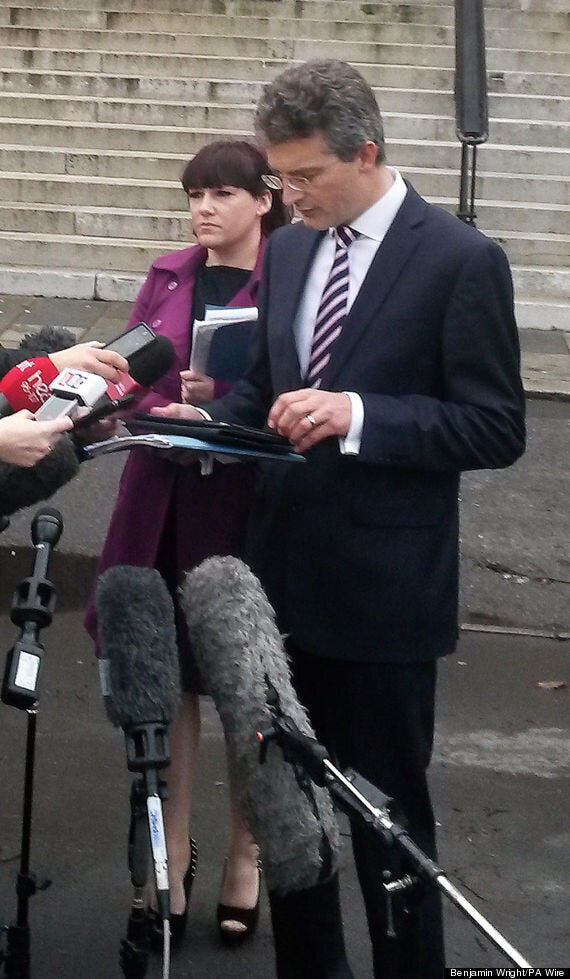 After more than 14 hours of deliberations, the jury at Cardiff Crown Court cleared her of four counts of possessing indecent images of a child, one of inciting Watkins to send her illegal photographs and two of sending pictures to Watkins.
The court heard that Mjadzelics embarked on a three-year campaign to try and bring Watkins to justice.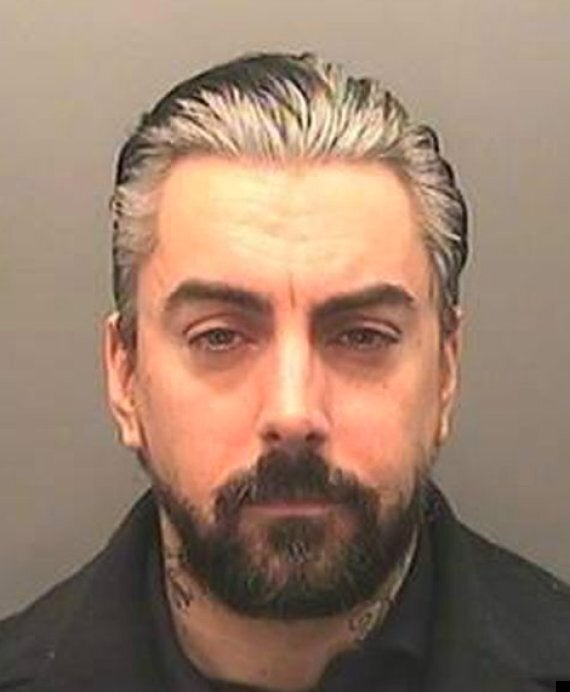 Watkins was jailed in December 2013
Mjadzelics said she was prepared to go to extraordinary lengths to entrap the disgraced singer after saying her complaints about him were not taken seriously by police.
The 39-year-old mother-of-one insisted the lurid chats as well as her apology to Watkins for threatening to report him were all an act to collect evidence.
Mjadzelics wept after being told by Judge Eleri Rees she was free to go.
Outside court, a tearful Mjadzelics thanked her legal team for believing in her when "no one else did".
Her trial heard she reported Watkins to police and social services in 2008, 2009, 2011 and 2012 to raise the alarm over his child sex crimes.
Speaking to reporters, she said: "It's been me against the world, really. Me protecting the kids when everyone else called me liar, psycho - everything else - lie after lie.
"Let's just see how many kids could have been saved if the police had done their job.
"I've nothing to say to the police. This was a vicious prosecution."
Her solicitor Dale Harris said the jury's verdict confirmed his client had a legitimate reason for her actions.
He said: "This was a spiteful prosecution of a woman who, over a four-year period, single-handedly and doggedly pursued a campaign to force the sleeping authorities to wake up to the reality of the appalling crimes against children she feared Ian Watkins was committing.
"In December 2008, Mjadzelics first reported Watkins to both South Wales Police and to social services.
"But instead of taking her claims seriously, the police rejected them and dismissed her allegations as those of a disgruntled ex-partner with mental health issues.
"The initial flawed inquiry infected every subsequent report she made to the police."
The Crown Prosecution Service said while it respected the jury's verdict, it still was right to pursue the case against Ms Mjadzelics in the first place.
Catrin Attwell, Senior Crown Prosecutor, said: "The full circumstances surrounding this case have been aired in court.
"The jury considered the matter for a considerable period of time and found Joanne Mjadzelics not guilty of the possession and distribution of indecent images of children. We of course respect that decision.
"Our role is to consider the evidence gathered by police investigations and decide whether there is a realistic prospect of a conviction in court.
"When making charging decisions, we are required to comply with the Code for Crown Prosecutors, which sets out the evidential and public interest test that criminal cases need to meet.
"It should be noted that any decision by the CPS does not imply any finding concerning guilt or criminal conduct."
South Wales Police said the investigation into bringing Watkins to justice - Operation Globe - which also saw Ms Mjadzelics arrested and charged, had been "extremely challenging and complex".
Deputy Chief Constable for South Wales Police, Matt Jukes, added: "Operation Globe is still continuing and we will work tirelessly to identify victims and help them seek the justice they deserve.
"During the trial, police actions prior to the most recent investigation were discussed.
"In 2012 South Wales Police initiated its own review into the sequence of events prior to the arrest of Ian Watkins.
"We identified that there were issues of concern and voluntarily referred the matter to the Independent Police Complaints Commission who is currently carrying out an investigation into these issues.
"We are committed to reviewing cases in this way and have already completed further reviews into supervision within public protection and our intelligence processes to improve our identification of risk."
Mr Harris added he hoped the focus of public attention would now shift to the "actions and inactions" of the authorities concerned.
He said: "As the court heard, in private, the police thanked her for bringing Watkins and his accomplices to justice.
"In public, however, they shunned her and, instead, they prosecuted for the efforts she made to ensnare him.
"Watkins is currently serving a 35 year extended sentence of imprisonment for the most serious sexual offences against children.
"His two female abusers received sentences of 14 years and 17 years for abusing their own babies.
"There have been many who, ignorant of the facts, have been quick to rush to judgment about Miss Mjadzelics.
"Let us not forget there is an ongoing investigation by the Independent Police Complaints Commission into the alleged misconduct on the part of a number of police officers across several forces areas.
"It will then be for others to judge whether children could have been spared the horrific abuse to which they were undoubtedly subjected had the police taken seriously the concerns of Miss Mjadzelics some six years ago."
Related