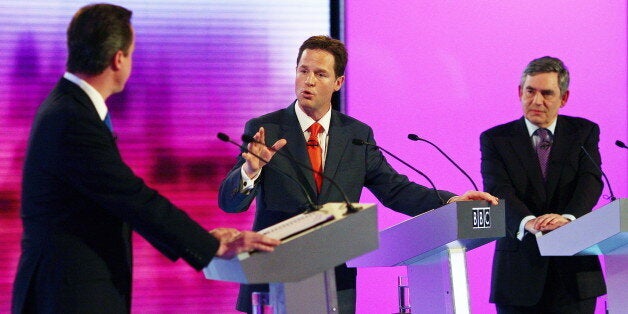 Broadcasters need to "develop a bit of backbone" in order to prevent David Cameron from dodging the TV election debates, Nick Clegg has said.
An alliance of TV channels have proposed three debates - one head to head between Cameron and Ed Miliband, another also involving Clegg, and a third with Ukip's Nigel Farage thrown into the mix.
However the prime minister has said he will only take part if the Green Party is also invited. And yesterday Downing Street said it also wanted to ditch the three-way debate between Cameron, Miliband and Clegg.
Cameron's demand that Green leader Natalie Bennett be included has been widely mocked by the other parties as an excuse designed to get out of participating in the debates entirely.
Speaking on LBC radio this morning, Clegg said the prime minister had been making "one excuse after the next" to avoid debating him, Miliband and Farage.
"This teary-eyed compassion the Conservatives have suddenly discovered for the Green Party is one of the more specious excuses I've seen," he said. "I think David Cameron has put himself in a slightly laughable position."
The deputy prime minister repeated his call for the broadcasters to empty-chair Cameron should he try to force a change in the format.
"I really do hope the broadcasters, I hope they develop a bit of backbone on this, because they shouldn't be bulled by the Conservatives throwing their weight around," he said.
Looking back to the 2010 debates, which saw Clegg's popularity skyrocket and trigger a brief period 'Cleggmania', the Lib Dem leader said: "I rather enjoyed debating him last time, I thought I did rather well."
This morning George Osborne has insisted Cameron is "up for" televised general election debates - but only if the format is right.
Speaking on ITV's Good Morning Britain, Osborne said the broadcasters had got it wrong. "David Cameron wants to take part in the TV debates, he has taken part in them before," he said.
"He has said very clearly the Green Party should be involved if you've got all the parties. He's made it pretty clear that that is what he'd like to see. It's only fair.
"He wants to get the format right. I think most people watching this say 'We'll either watch all the parties taking part in this debate, or let's have a head-to-head between the two people who could be Prime Minister, David Cameron and Ed Miliband'.
"The broadcasters, they seem to have come up with neither of those plans. We're just saying come up with a good plan, of course we want to take part.