A London-based filmmaker and journalist has released a stunning video showing his quest to take selfies with sharks.
Aaron Gekoski took the incredible snaps while diving at Aliwal Shoal reef off the coast of Umkomaas, South Africa, as part of a video series highlighting the plight of endangered and threatened species.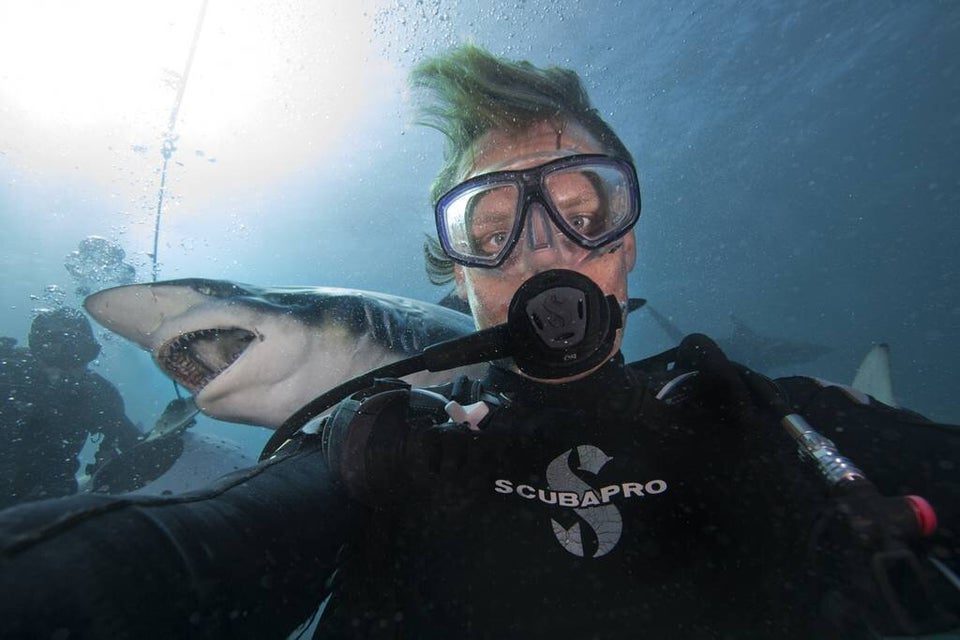 Aaron Gekoski Takes Extreme Selfies With Sharks
"At one point it all kicked off and I got hit in the face by a tail. I also got a face full of claspers - which is what we call shark genitalia. That was unpleasant," he told The Evening Standard.
"At another point, one of the sharks got spooked and made a grab for my camera. I could have lost my fingers with that one.
"Myself and Chris Scarffe, my colleague and filmmaker, have made hundreds of films but we thought it was time to reach a bigger audience.
"I watched loads of videos online featuring animals - pandas sneezing and cats with heads stuck in bread - many of which were very popular and thought I needed to harness the power of social media.
"The selfie has been huge for the past two years - so I thought it would be a great way to highlight the plight of the shark in a modern way.
"Whilst sharks are one of the most feared animals on Earth, they in fact have a lot more to be scared of than we do and are now on the brink of extinction. We wanted to highlight that it's not me in danger, but the sharks themselves.
"I was still glad to get back in the boat at the end though."
Gekoski's series can be found at EpicTV.