In the 10 years since he started making documentaries, Ross Kemp has been embedded with soldiers in Afghanistan, negotiated his way between Hutu and Tutsi tribesmen in central Africa, and talked his way out of a gunpoint threat in Papua New Guinea, an incident which will be shown in full in the new series.
Despite this mixed catalogue of good and bad, it's the generous gestures that bring Ross to his knees.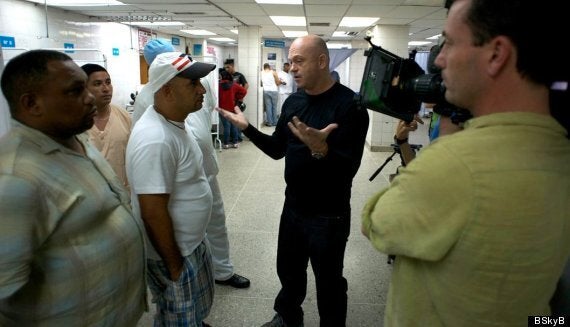 Ross admits he often feels inadequate in certain situations, but doesn't attempt to hide it
He describes watching a doctor at work in the less than basic surroundings of a Congo hospital, a man who's been attacked himself in the nearby warzone, yet is painstakingly attending to a child.
"I have to admit I'm feeling inadequate in that situation, and that connects with the audience. I can't pretend," says Ross. "From all the things I've seen, I'd like to thing the good outweighs the bad."
Series 4 of 'Extreme World' includes Ross making a trip to the Ukraine, as well as travelling to Northern Ireland, looking at the area's development in the 15 years since the Good Friday agreement.
He's also staying closer to home, inspecting the state of some of Britain's most famous coastal towns. As he reflects, "We've been looking under the carpet of other countries, so it seems only fair we look under our own."
And what's he found under there? Well, as he explains it, the prospect of many of the nation's formerly glamorous holiday spots is pretty grim. Ross has just returned from Blackpool, from where he reels off depressing statistics about the male mortality rate, the number of children in care, the problems experienced in these towns with trying to find an economy, post the advent of the package holiday.
"I wouldn't train for three years and work for 10 in the trade if I hated it," he chuckles. "And I've done some growing up in the past decade. But the truth is, no one's asked me."
'Ross Kemp Extreme World' Series 4 begins on Thursday 22 January at 9pm on Sky1. Watch the trailer below...
Related