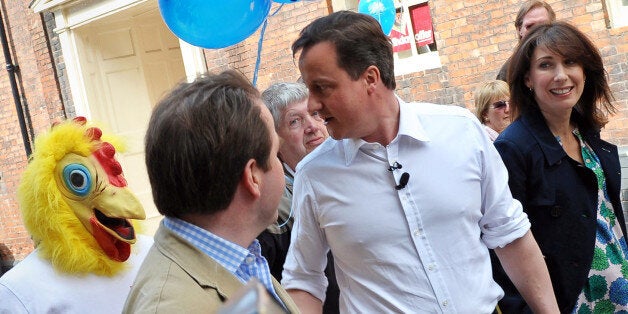 David Cameron has delivered a crushing verdict on the food served up by Gordon Ramsay by suggesting he would rather go to Nando's.
The prime minister appeared to snub the offerings of the celebrity chef in favour of the high street chicken chain when asked to select where he would take world leaders for a meal.
Cameron made his choice after being reluctantly tested on his "coolness" by Capital Xtra's Andre Morgan, who put a series of scenarios to him.
Asked whether he would take his international counterparts to eat at a Harvester, a Gordon Ramsay establishment or Nando's, he replied: "I've been to a Gordon Ramsay restaurant, I've been to Nando's and I've been to a Harvester.
"I think Nando's is the best value for money. I had a very good Nando's in Bristol."
Cameron famously posed for a selfie with another Nandos customer in May.
Cameron was also asked to make a choice between three reality television programmes - Keeping Up With The Kardashians, Big Brother and Love & Hip Hop, he opted for the later.
"I've just dropped the microphone in shock at that question. I'm not a Big Brother fan. I have watched it. I haven't quite got into why everyone's interested in the Kardashians, so I'm not doing very well on that one.
"So, maybe I'll try the hip hop show. That sounds a bit better. I like watching cooking programmes, I find that more relaxing."
Pressed over whether he would prefer Jay Z, Iggy Azalea or Tinie Tempah to come up with his campaign soundtrack, Cameron rejected them all and plumped instead for Bryan Ferry's Let's Stick Together - insisting "that's the message for the election".