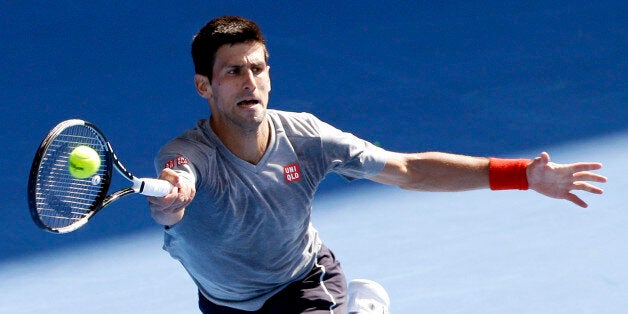 The 2013 Wimbledon tournament is best remembered (by Britons at least) for the shredding of one of tennis' most notable records –- the end of long a wait for a British men's champion at the All England Club, a moratorium that stretched back to the 1930s.
These sessions were not a religious exercise for the Serbian (who is a devout member of the his country's Orthodox Church), but part of what he describes as his "holistic approach to tennis and life" -- one in which meditation sits alongside yoga, specific eating habits, a set sleeping pattern and, of course, intensive tennis training.
In recent years, Djokovic has not only developed into one of the greatest players ever to pick up a racket, but has become something of an emblem for how mindfulness and wellbeing are being incorporated into top-level competitive sport -- an approach that has made the four-time winner favourite to land a fifth title at the Australian Open later this month.
If the 27-year-old from Belgrade has reached the apex of the sport through a rounded approach to life, his start in the game was down to one person, Jelena Gencic, the coach who expertly nurtured the young Serbian's talent in the mountain resort of Kopaonik. Djokovic explains Gencic's influence -- "one of the most important figures in my life" -- in one of three films made for Jacob's Creek ahead of the tournament in Melbourne.
Yet Gencic was more than just a coach, "looking after every aspect" of the fledgling tennis star's "professional and private life", a role Djokovic tells HuffPostUK that extended to what grades he received in school, to what music he was listening to, to how much he slept –- early preparation for the all-inclusive attitude that has become his mantra.
Novak Djokovic Birthed From Serbia
Before tournaments, Djokovic uses breathing techniques to help him "align with his thoughts" and "stay composed" –- an act he calls an essential part of any athlete's preparation for competition. This is particularly necessary in tennis, he argues, as the solo player is the one that has to "handle all the pressure and expectations".
Renowned for hitting the same assured strokes regardless of the pressure (a psychological aspect of the game most professionals battle with), Djokovic uses breathing to "reach the highest level of self-control", though he's quick to point out this is just "one part of the puzzle".
"Lifestyle, training, how you approach life... it's all-important," he says.
Novak Djokovic Shaped by Jelena
Nutrition is another aspect that has played a huge role in the making of a winner.
Writing in his 2013 book "Serve To Win", Djokovic detailed how he felt before his intolerance was diagnosed: "Every time I took a big step toward my dream I felt as though a rope were around my torso pulling me back. Physically I couldn't compete. Mentally I didn't feel I belonged on the same court as the best players in the game."
His diet was subsequently overhauled, resulting in seven Grand Slam singles titles and more than 129 weeks ranked as world number one by the ATP. Djokovic now has a strict diet of organic food; he even tries to prepare many of his meals himself.
Novak Djokovic Inspired by Dreams
Sleep too is regimented, with the player aiming for "between 8 – 10 hours a night for recovery and revitalisation, especially while competing".
"It's hard to generalise about the formula for success," he says, "but I believe the holistic approach is the best possible approach you can have [to sport]. However, it's also the most complex, requiring a lot of time to understand who you are, what your character is and the features of your character you need to strengthen."
He concludes: "This is important to be not only the best possible athlete, but also the best possible person."
The Jacob's Creek 'Made By Films' show Djokovic revealing never before told stories about his life, celebrating the people, places and passions that have made him the tennis champion he is today.