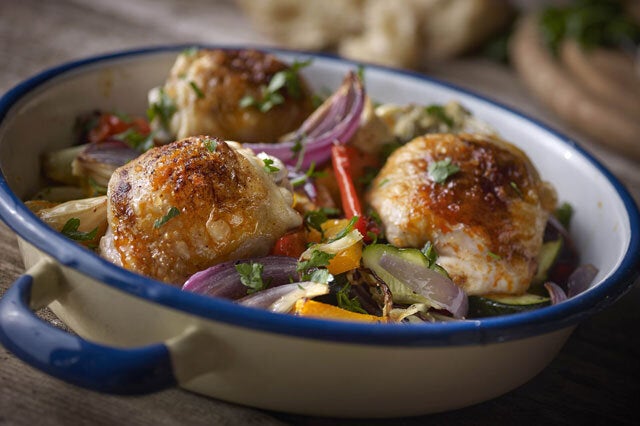 Paprika chicken and herby roast vegetables
Cook this dish in corn oil as it has a neutral flavour, a high smoke point and is great option for shallow frying.
Serves:4
Ingredients:
4 tbsp corn oil
4 chicken thighs, skin on
4 garlic cloves, crushed
2 red peppers
2 yellow peppers
2 medium courgettes, cut into large chunks
2 bulbs fennel
2 red onions, quartered
2 butternut squash, peeled and chopped
Smoked paprika
Sea salt
Freshly ground black pepper
Drizzle of extra virgin olive oil to taste
30g flat leaf parsley, to serve
Instructions:
1. Heat your oven to 200C/400F and place a baking tray into the oven to pre heat for 5 mins.
2. Coat all the vegetables with corn oil then season well with salt and pepper, mix in the crushed garlic and place everything evenly on the pre heated baking tray.
3. Rub a little oil onto the skin of the chicken thighs and sprinkle with sea salt and smoked paprika. They should stick to the oiled skin.
4. Lay chicken on top of vegetables, place tray into the oven and roast for 20/25 mins.
5. The chicken skin will be crispy and in the bottom of the tray will be lovely chicken and vegetable juice.
6. Serve the chicken on top of the vegetable pieces, sprinkle with chopped flat leaf parsley, drizzle with a little of the juices from the bottom of the tray. Finally drizzle with a little olive oil to taste and serve
Recipe courtesy of www.whichcookingoil.org, a website that helps people discover which oil is best for their diet, their family and the foods they like.