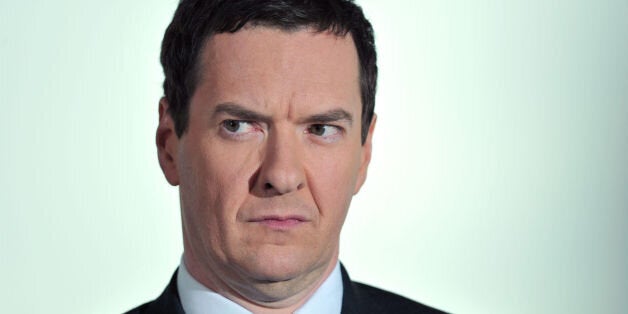 George Osborne's struggle to sort out the public finances has become even harder as new figures show that both borrowing and debt is still rising.
Despite the chancellor's promised to "deal with our debts" in 2010, the Office for National Statistics has confirmed that the size of the national debt has risen by £86.3 billion over April to December 2014.
Meanwhile, the level of public borrowing rose from £12.4bn in November to £13.1bn in December, more than the £9.7 billion that was widely expected.
The £13.1 billion borrowing in December is higher than the £10.3 billion last year, with the difference entirely accounted for by the UK's £2.9 billion European contribution, recalculated because the economy was performing better than had been thought.
This will be partially made up for by a refund and rebate totalling £2 billion, not likely to be recorded in the public finances until the next fiscal year.
Labour's shadow chief secretary to the Treasury Chris Leslie MP said: "These figures show George Osborne has broken his promise to balance the books by this year and national debt is still rising.
"His failure on the deficit is because falling living standards over the last five years have led to tax revenues falling short. This government is now set to have borrowed over £200 billion more than planned."
The ONS show how borrowing is still rising
Adam Kirby, director of the campaign group Balance the Books, said: "Claims to be tackling the deficit ring hollow while ours is still twice the eurozone average. Now, by the time of the Budget in March, net public debt will have broken through the £1.5 trillion mark, or over £24,000 for every single child, adult and pensioner in the UK.
However, the figures do contain cause for optimism for the coalition, as the £86.3 billion borrowed over April to December 2014 is £0.1 billion less than was borrowed over the same period last year.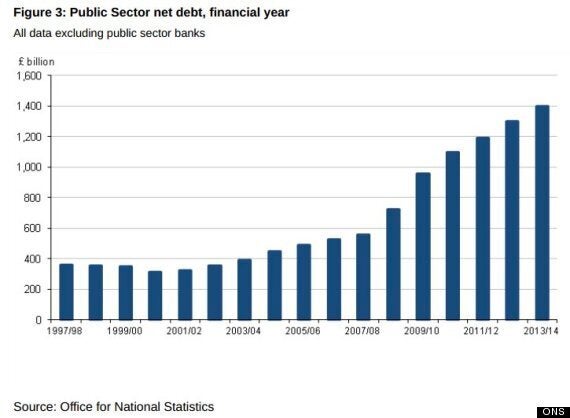 The ONS chart how the national debt is still soaring
Economists have suggested that the chancellor will be waiting for the public finances to improve next year as self-assessed tax payments from top rate taxpayers kick in.
"This reflects the fact that a substantial amount of bonus payments were delayed until April/May 2013 to take advantage of the top rate of income tax cut being cut from 50% to 45% in April 2013," said Howard Archer, chief UK economist at IHS Global Insight.
The Treasury said that the figures showed the government's plan was "working", adding: "The job is not yet done and the risks in the global economy are growing so the only way to deliver economic security is to carry on working through our economic plan."
Related