Toby, currently starring in 'Black Sails' on AmazonPrime, tells HuffPostUK:
"They're a bit too young, so they wouldn't care about 'Downton Abbey' just yet. Being a Bond villain is still pretty cool in their eyes."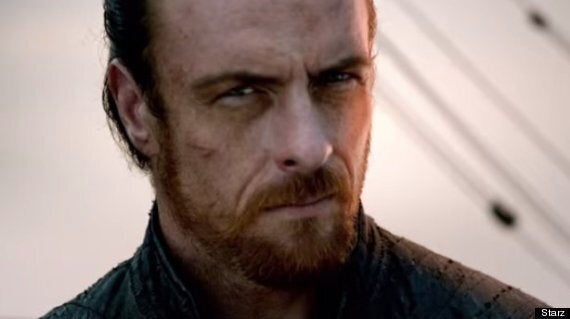 Toby Stephens plays Captain Flint in the Amazon Prime epic 'Black Sails'
Toby and the rest of the 'Black Sails' cast and crew spend seven months of the year filming in Capetown, a beautiful part of the world which he is sad he never actually gets to see.
"It's brutal," he laughs. "Here we are in this stunning city, and all I know is the inside of the studio. I honestly don't get to see anything. One day I might come back here on holiday."
And he's clear on what he misses most about Britain, and his home in Spitalfields, London.
"It's weird, because I miss everything about London, I deeply hanker after it," he admits, "and then I'm back for a week, and I realise how expensive it is, and how angry everyone is all the time. But I do miss those really grey days, and I love a bit of rain."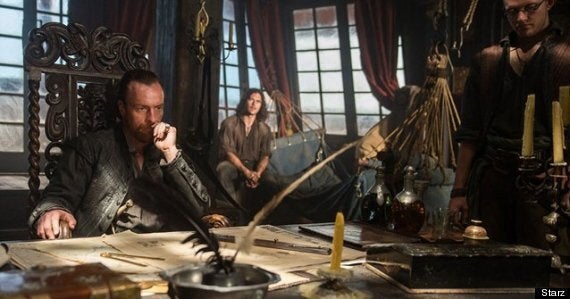 Captain Flint is "like someone Clint Eastwood would have played," says actor Toby Stephens
Despite being faraway from home, Toby is clearly delighting in his role of Captain Flint, on 'Black Sails', whose second series debuts on Amazon Prime today. 'Black Sails' has been previously nominated for four Annual Primetime Creative Arts Emmy Awards. The show follows Flint and his crew as they aim to survive in the Bahamas while battling thieves and marauders. Luke Arnold plays John Silver, with the series set about 20 years before 'Treasure Island'.
"It's not just a pirate show," says Toby, who's spent as much time on stage as he has on film and screen. "It's like a gritty western, and Flint's like someone Clint Eastwood would have played.
"You want to know what he's thinking, you're never sure if he's good or bad, and he can be both, he's cut from this new style of interesting, unknowable anti-hero. I still haven't figured him out fully, which is great."
'Black Sails' returns with Series 2, available on Amazon Prime Instant Video from today. Watch the trailer below...