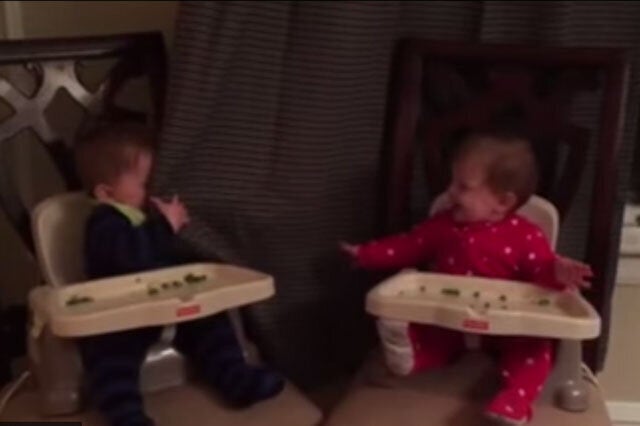 As every parent knows, peek-a-boo is simply the sweetest FREE gift of a game that just keeps on giving.
And if you're in any doubt about that assertion, just take a look at this super-cute video of nine-month-old twin brothers who entertain each other silly with just a pair of curtains and a sense of innocent mischief.
In the video, which has been viewed on YouTube 100,000 times, one of the brothers wakes up from an afternoon snooze to see his cute sibling waiting to play.
Then, using only a curtain as a prop, the twin starts a game of now-you-see-me-now-you-don't – much to his bruv's delight.
For two straight minutes, the boys chuckle and giggle as Twin 1 vanishes and appears, vanishes and appears, vanishes and...well, you get the point.
Don't take our word for it. Just watch and enjoy.
Story continues after video...
In the first part of the video - which has been viewed 10 million times -the daughter pulls a white towel from her father Bradley Bailey's face, he yells 'peek-a-boo' and she dissolves into giggles.
But then Dad interrupts their game to shave off his beard – without telling his little girl. He then returns to the sofa to resume their game - but not for long.
Before Brad can even utter his first 'peek-a-boo!' his daughter takes a sneaky peek beneath the towel - and what she sees there fills her with horror.
Brad says: "Peek-a-boo." But he's met with shocked silence before she became hysterical - clearly thinking her fluffy-chinned Daddy had been replaced by a bald-faced stranger. Oh dear!