Nottingham University students are fuming following the decision to close a popular course with immediate effect - after officials said they couldn't find a replacement for a former lecturer.
On Christmas Eve, current students were informed by letter their BA Creative and Professional Writing course would cease taking applications. Prospective students have been given a new application place on their UCAS form.
The controversial decision to shut down the creative writing course coincides with the announcement of Nottingham's bid for UNESCO City of Literature status. Now, students, alumni, and teachers alike are up in arms protesting against it.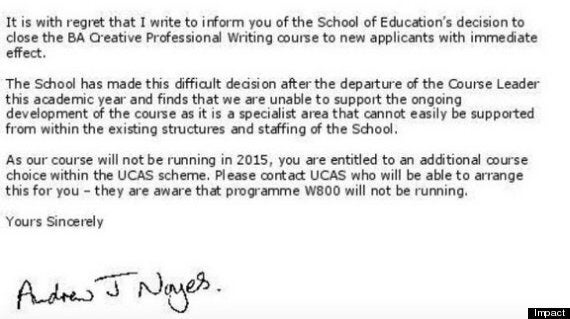 The confusion over lack of a concrete reason has led to demand for a better explanation from university officials. Nicola Valentine, the departing Course Leader, condemned the school's lack of communication, having found out about the closure of the course she had taught for four years via Facebook.
She publicised her response to the University's statement on the Uni of Nottingham CPW BA Supporters page, "The University has had almost six months' notice of my departure; ample time to replace me. In fact, two of the current tutors have already been appointed to manage the course, based on what I've heard. So, it really wasn't so hard to find a replacement."
In a statement, a spokesperson for the The School of Education cited "shifting patterns of recruitment and recent changes in staffing" as the reason behind the closure, but insisted that it "remains committed to creative writing". Final graduates will complete the course in 2017.
On 23 January, the School of Education held a meeting with students to explain the reasoning behind the closure. Professor Andrew Noyes led a Q&A session which left attendees even more disappointed. Following students' very public protests on social media, the most Noyes would say in terms of justification was "the course does not have a strong fit to the school".
However, many do not feel that is a good enough reason, as one student vented to Nottingham's student newspaper, Impact, "If the Head of Chemistry leaves, are they going to close the Chemistry course too?"
Kim Jamison, a current third year student, said she felt Valentine had consistently been unfairly blamed for the closure, "[Noyes] scapegoated Nicola, as she had been scapegoated in the letter to UCAS applicants."
She added the university should "expect backlash" as they had "made the wrong choice".