Muslim student societies are campaigning against the government's proposed counter terrorism and security bill, which they say will restrict and invade the lives of students across the UK.
They join numerous university societies across the country which are pushing through emergency motions urging their unions to make a stand against the bill.
Read More..
Under Part 5 of the proposed bill, the government will place a statutory duty on universities, schools, NHS Trusts and even nurseries to implement measures to prevent radicalism by monitoring student activity.
Home Secretary Theresa May, who is co-sponsor of the bill, insists the policy will "help prevent people from being drawn into terrorism" adding "where organisations consistently fail, ministers will be able to issue directions to them - which will be enforceable by court order".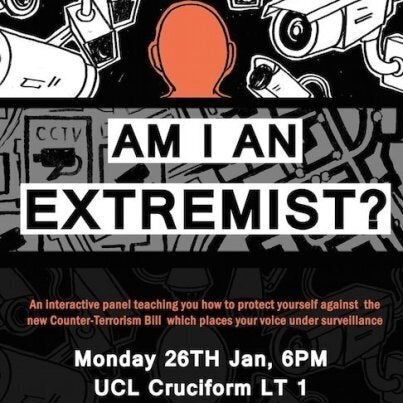 A poster advertising a panel discussion hosted by UCL's Islamic student society
The Federation of Student Islamic Societies (FOSIS) maintains the government's attitude to extremism in universities is both "misguided and extremely dangerous" as it limits freedom of expression on campuses. There are also fears the law will disproportionately target Muslim students, leading to further stigmatisation and alienation.
Speaking to HuffPost UK, Ibrahim Ali, vice president of FOSIS described the bill as a form of "policing our thoughts", and asked "Where do you draw the line?
"In an environment where Muslim students already feel like they are under increased surveillance, the measures outlined in this bill will only serve to reinforce those concerns."
Having worked in policy research for seven years, Ali said it was the quickest he has ever seen a bill pushed through parliament; it's already nearing the end of the committee stage in the House of Lords a mere six weeks after its first hearing.
"I worry that, in light of recent events in Paris, politicians who would previously have made major amendments to the bill, are now being too hesitant to do so," Ali adds.
In response, students across the country are acting fast to spread awareness of the restrictions they fear it will have on their freedom of speech.
FOSIS's main aim at the moment is to increase publicity and awareness of the bill, having taken to Twitter with the #studentnotsuspect campaign.
The group is also encouraging people to pose with placards asking the same questions that the bill's monitoring of radical extremism would include, such as "Have you ever felt anxious in class?", "Have you ever questioned Western media reporting?" and "Have you ever felt a desire for political or moral change?"
Story continues below gallery..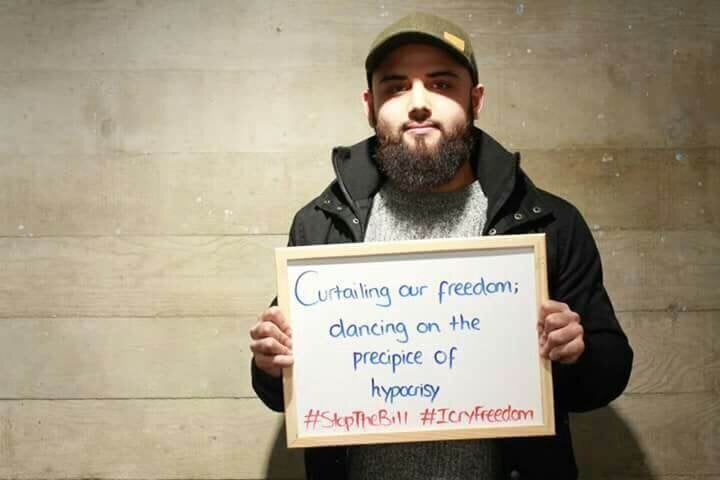 #righttoexpress campaign
FOSIS say these questions highlight the "flawed misunderstanding of radicalisation" the bill embodies, as Ali fears it will "not capture the people it is intending to" but, instead, restrict and invade the lives of the "everyday Joe" on the street and in schools.
Societies at UCL, LSE, Queen Mary's, SOAS, KCL, Cardiff and Kingston University are all submitting emergency motions to their student unions over the next week urging them to make a stand against the bill. LSE 's student Islamic Society has been urging members and supporters to visit www.stopthebill.co.uk to sign a nationwide petition. They have also successfully gathered more than 350 signatures for an emergency motion to be passed condemning the legislation.
LSE student union general secretary Nora Buckley-Irvine told us: "The bill will change the nature of university indefinitely. Requiring universities to monitor their students and report them to the police, without their knowledge or consent, on the basis that they may be 'at risk' of radicalisation, is both arbitrary and Orwellian.
"If this bill passes, we will see our universities becoming the apparatus of the police and the state. It's a disgrace."
She described the university's protest action as "historic", showing "how pressing an issue the [government's] PREVENT agenda is to students, and particularly our Muslim students, who are undeniably targeted in this by Theresa May."
A group of vice chancellors from universities including Portsmouth, Essex, Winchester and Regent's University, wrote to The Times to express their "profound concern" about the bill's "consequences for UK universities...concerning freedom of speech and academic freedom".
They said universities are already supporting the PREVENT Strategy but that new enforcement could easily be 'counterproductive, causing mistrust and alienation."
The letter urges: "The new statutory duty should not apply to universities and they should be exempt, as proposed for the security services and judicial bodies. This would safeguard the unique status of universities as places where lawful ideas can be voiced and debated without fear of reprisal."
Professor Aldwyn Cooper, vice chancellor of Regent's University London, told HuffPost UK: "Regent's is a truly international university where we encourage the exchange of ideas and want informed debate between people from different cultural backgrounds to flourish. The Government's proposals risk undermining freedom of speech on university campuses and require a serious rethink."
Human rights group Liberty argues the bill "opens the door for unprecedented direct political involvement in the running and operation of these institutions".
"[We are] concerned that the general duty to prevent people from being drawn into terrorism in clause 21 of the Bill may be used as a basis to require reporting from teachers and others."
The PREVENT strategy has been in place since 2010 in numerous forms, including toolkits and DVDs provided in schools to help teachers discuss terrorism. However, in this new consultation document, May is pushing to make obligatory the methods of student monitoring which are currently "opt-in" for local authorities, as staff would be expected to "challenge extremist ideas which can be used to legitimise terrorism".
A government spokesperson said in a statement: "We are not expecting teachers and nursery workers to carry out unnecessary intrusion into family life but we do expect them to take action when they observe behaviour of concern. It is important that children are taught fundamental British values in an age-appropriate way."
The Counter Terrorism and Security Bill also includes numerous sections relating to travel restrictions, proposing new powers to exile and seize passports. There are plans to monitor Internet usage which would see the government allowed to "retain relevant internet data" on individual users. The bill will be discussed again in the House of Lords on Wednesday.
Popular in the Community