Dippy the dinosaur, the huge cast of a diplodocus skeleton in the entrance of London's Natural History Museum, is being kicked out.
The iconic Dippy has stood in the central hall for 35 years and has become an unofficial mascot of the museum, beloved by its five million annual visitors. He has his own Twitter account and regularly chats with fans about dinosaur-related news.
Fans are devastated at the decision to replace him with a "more relevant" blue whale skeleton from Summer 2017. A "Save Dippy" petition and Twitter account have been started to campaign for his reinstatement.
The whale skeleton will now be the first display that visitors see when they walk into the building - whereas Dippy's future is unclear.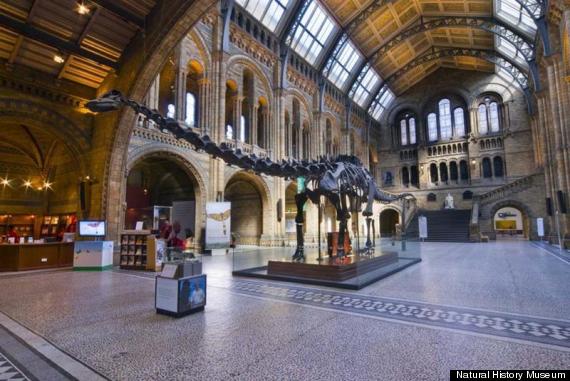 Dippy has been in the museum's central hall since 1979
Dippy has spent over a century in the museum but his fate is undecided - the museum only said that it was "exploring how the Diplodocus cast can be enjoyed by an even wider audience longer term."
Dippy told The Huffington Post UK that he is "looking forward to a new adventure" but dinosaur lovers were inconsolable. He hinted that he would be living outside on future - perhaps the much-loved relic is going on tour.
@LouiseRidley After nearly 110 years of being indoors, it'll be nice to put my head outside again. I'm looking forward to a new adventure.

— Diplodocus carnegii (@NHM_Dippy) January 29, 2015
The museum says the 25-metre long blue whale skeleton is a "necessary change" because, as the largest animal in the world, it "reminds us of the scale of our responsibility to the planet" and draws attention to issues like extinction and sustainability.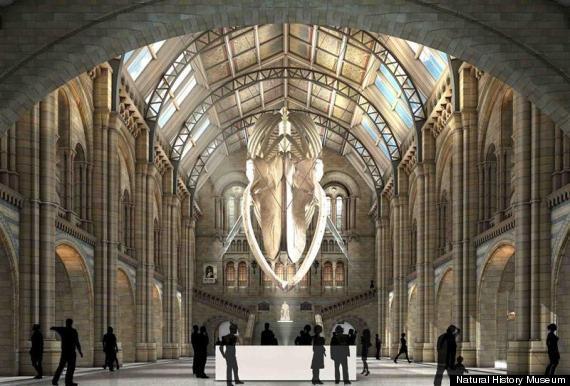 Dippy will be replaced by a blue whale skeleton and people are not happy about the impostor
But this was no consolation to Dippy's many heartbroken supporters. Hashtags including #DippyGate and #SaveDippy were used as they vented their frustration:
Dippy is retiring - I think I might cry! #savedippy

— nicola randall (@nicrandall) January 29, 2015
I feel like as soon as the Natural History Museum gets rid of 'Dippy,' my childhood will officially be over..

— Sabrina (@skyam) January 29, 2015
Are the Natural History Museum out of their minds?? My four year old is about to take part in her first protest #savedippy#dinosaurs

— Jane Merrick (@janemerrick23) January 29, 2015
WHAT! National History Museum is moving Dippy the Diplodocus skeleton from its prime position in the entrance hall.. blue whale moving in

— Lucy Tobin (@lucytobin) January 29, 2015
@NHM_London BOO! You cannot get rid of Dippy!! He is truly iconic - wonderful as the Blue Whale is, it just does not cut it!

— Guy Rickards (@LSHMWAH) January 29, 2015
Which would win in a fight between a dinosaur and a whale? #SaveDippy

— Morenike 2015 (@MorenikeAdebay0) January 29, 2015
I'm actually pretty pissed off about this. Whales are great and all but dinosaurs are DINOSAURS #savedippyhttp://t.co/jnd9VLjzG4

— ian leslie (@mrianleslie) January 29, 2015
Feeling torn between sentimentality and professional understanding http://t.co/TwJ7PDHq7c#dippy

— Katherine Hebert (@K8Hebert) January 29, 2015
I cannot believe they are moving #"Dippy" poor kids going in to the museum and not seeing him! It's just wrong!

— josephine horman (@2013Horman) January 29, 2015
Dippy has been in the Natural History Museum for 109 years.
His original fossil bones were discovered in the Western US in 1898. The cast was given to the museum by the Carnegie Museum of Natural History in Pittsburgh, after King Edward VII saw a drawing of the skeleton and asked for a copy.
The blue whale - a real skeleton rather than a cast - will be "suspended dynamically from the ceiling" in his place.
In tribute to Dippy, let's revisit some of his recent best tweets:
Forget bear or bull markets - this is a diplodocus market. RT @katie_martin_FX: Diplodocus formation in USDRUB. pic.twitter.com/lDQ1tUsocA

— Diplodocus carnegii (@NHM_Dippy) December 2, 2014
@jug_23 I could have told you that.

— Diplodocus carnegii (@NHM_Dippy) December 2, 2014
The thought was there.RT @HARRISONonline: Last night it seems I tried to feed a dead dinosaur... #EDA2014@NHM_Londonhttp://t.co/ndexm40mPI

— Diplodocus carnegii (@NHM_Dippy) October 7, 2014
Thanks all for your birthday wishes and support today. Only another ~149,999,893 years to go 'til I'm as old as my original fossil bones :-)

— Diplodocus carnegii (@NHM_Dippy) May 12, 2012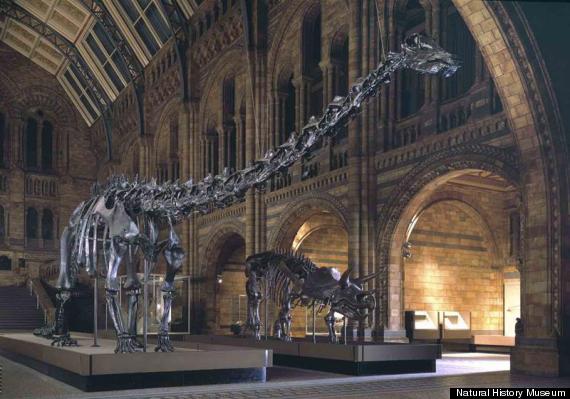 Dippy with a Triceratops when he arrived in the hall in 1979