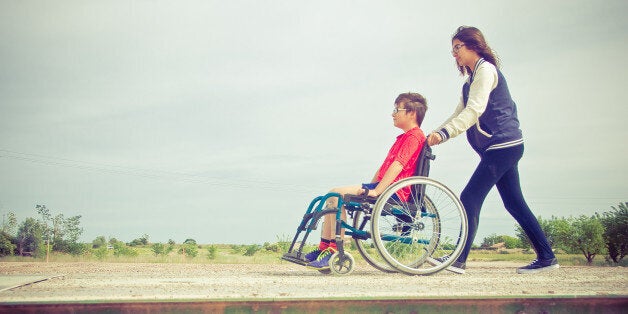 Young carers are more worried about the future, their families and being bullied than their peers who don't have such responsibilities, shocking new research has revealed.
Nearly half of unpaid carers aged between 8 and 15 said they feel stressed, with 20% saying they feel helpless.
Emily, a 21-year-old who has recently graduated, has been caring for her mum since she was 10. Her mother has a rare disease called prion disease, also known as transmissible spongiform encephalopathies, a group of progressive neurodegenerative conditions. She can no longer walk or talk and needs constant care.
Emily said she found being a young carer isolating when she was younger, as "it meant that I wasn't able to do some things my friends were doing". However, her family support meant she could leave home and go to University of Sheffield. Emily has now finished uni and is back at home in her carer role.
More than half of those surveyed by Carers Trust said that being a young carer made them feel proud and 42% said that it made them happy. However, the research also shows a quarter of the young carers group don't have enough people to talk to and 28% said they would like to talk to other young carers online.
As a result of this research, Carers Trust is launching a new online community and website for this age group called Babble which will provide friendship and support online for young carers under 18.
On the website, young carers can chat to each other in a safe online space and share their experiences. They will also have access to help and advice, email and chat sessions with the Carers Trust Online Support Team who are all qualified youth and community workers or professionally qualified social workers.
Emily added: "Something like Babble would have helped me because my friends didn't understand my mum's illness or my caring role and it would have been great to have something like that where I could talk to other people who understood."
Dr Moira Fraser, Interim Chief Executive of Carers Trust, said of the research: "This is the first time we've been able to compare young carers' feelings to other children and young people. It shows just how much Babble is needed to combat the risk of isolation and to make sure these young people are as happy and supported as they can be".
Young carers have already given positive feedback about the Carers Trust Online Support, a service that Babble will expand massively: "I think, including me, lots of people don't want to make a fuss that they're a young carer and sometimes just want a normal life which is why the online service is good. I use it and it's very helpful."