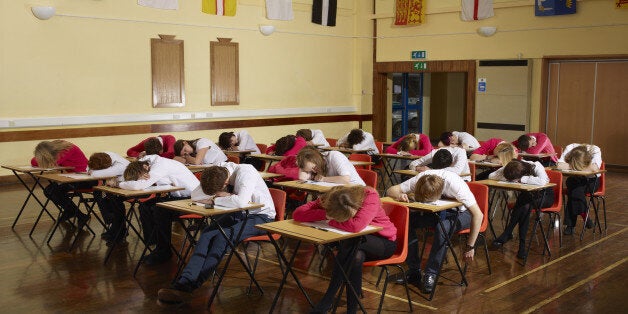 The number of secondary schools considered to be under-performing has doubled in the wake of a major overhaul of the exams system, official figures show.
More than 300 schools fell beneath the Government's floor target this year after failing to ensure that enough pupils gained five good GCSE grades and made decent progress in the basics, according to an analysis of new league tables.
The Department for Education (DfE) insisted that the rise is down to two key reforms - a decision that only a teenager's first attempt at a GCSE would count in the annual performance tables, and a move to strip poor quality vocational qualifications out of the rankings.
Read More:
But the increase is likely to cause concerns among school leaders, who have voiced fears that schools will be considered failing not just due to changes in the system but also"volatility" in last summer's GCSE results.
The new league tables, published today, are based on data provided by the DfE and show how every school and college in England performed at GCSE, A-level and other academic and vocational qualifications in 2014.
They also indicate that dozens of secondaries, the majority of them private schools, have seen their results plummet to zero because some combinations of English GCSEs and some IGCSEs do not count in the rankings this year.
State secondaries are considered to be below the Government's floor target if fewer than 40% of their pupils gain at least five C grades at GCSE, including English and maths, and students are not making good enough progress in these two core subjects.
In total, 330 schools fell below the benchmark this year, up from 154 last year.
Schools that fall below the threshold could face action, including being closed down and turned into an academy, or being taken over by a new sponsor.
However the DfE insisted that the floor standard is one of a number of factors that schools are judged on and falling below the benchmark does not automatically mean that a school will face intervention.
It also said that the two major changes to the exams system - which schools were told about around 18 months ago - do not affect pupils individual exam results.
Education Secretary Nicky Morgan said: "For too long pupils were offered courses of no value to them and schools felt pressured to enter young people for exams before they were ready.
"By stripping out thousands of poor quality qualifications and removing resits from tables some schools have seen changes in their standings.
"But fundamentally young people's achievement matters more than being able to trumpet ever higher grades. Now pupils are spending more time in the classroom, not constantly sitting exams, and 90,000 more children are taking core academic subjects that will help them succeed in work and further study."
Mrs Morgan added that the Government has "raised the bar" and that schools are already rising to the challenge.
Earlier this week the Association of School and College Leaders (ASCL) claimed that the Government floor targets are "pretty much irrelevant" this year due to the upheaval in the exams system.
ASCL general secretary Brian Lightman warned against judging the nation's schools on one set of exam results, saying too much has changed compared with 2013 to draw accurate comparisons from year to year.
Last summer's GCSE results showed a sharp drop in English grades, with 61.7% of entries scoring A*-C, down 1.9 percentage points from last summer. This is believed to be the biggest drop in the qualification's history. Maths saw an opposite result, with 62.4% of entries gaining an A*-C grade, up a massive 4.8 percentage points on 2013.
These are key subjects in the Government's floor target, and a lower-than-expected English result could push a school below the benchmark.
An analysis of the data indicates that this year's top school for GCSEs was King Edward VI Five Ways School, an academy in Birmingham. It entered 155 pupils for GCSEs and equivalent qualifications and all scored at least five C grades, including English and maths. It also had the highest average points score per pupil at 685.5.
The most improved school was the Charter Academy in Southsea which saw has seen its results rise from 39% of students getting at least five Cs including the basics in 2011 to 83% achieving this standard in 2014 - a 44% rise.
The latest figures also show stark differences between local authorities.
The top performing area, with 73.8% of state school pupils scoring five or more A*-C grades including English and maths was Kensington and Chelsea.
This was followed by Trafford (72.2%), Sutton (72.1%), Kingston-upon-Thames (70%) and Buckinghamshire (69.5%).
At the other end of the scale, just over a third (35.4%) of pupils in Knowsley reached this key benchmark, along with 44% in Bradford and Blackpool, 44.6% in Nottingham and 44.7% in Kingston-upon-Hull.
Deputy Prime Minister Nick Clegg said some schools appear to have been "caught out" by the change in the way standards were measured, but believed they would quickly adapt to the new system.
He told LBC radio: "When you change the measurement of school performance, you always get a dip and change in the relative standing of schools, and I think what happens is that some schools just aren't aware that the benchmark against which they are measured has changed, and then they adapt quickly and catch up.
"What we are seeing is partly a reflection not of schools slumping in the education they are providing kids, but that they are just not attuned yet to the new way in which they are being measured."