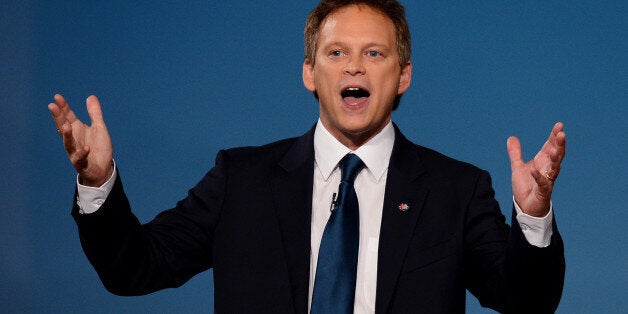 Tory chairman Grant Shapps seemed to suggest he both supported the minimum wage and wanted it scrapped, after being asked whether he agreed with new MEP Amjad Bashir's call to scrap a range of fundamental workers' rights.
In response to the Huffington Post UK's question on Friday, Shapps said: "No, I don't agree with the minimum wage. I think it has created a basis upon which people cannot slip below, I believe in the minimum wage."
Shapps' answer was derided by Channel 4 journalist Michael Crick as "confused", as he went on to indicate that the European Social Chapter, which governs workers' rights to things like equal pay and parental leave, needed to be looked at.
"I certainly think things like the social chapter need review and I believe Britain needs much more flexibility over these things," he said.
The Tory chairman later clarified that he had meant to say that he did not agree with Bashir's stance on the minimum wage, rather than the concept itself. He did not indicate whether he shared Bashir's keenness to limit other rights like paternity leave and maternity leave.
Shapps has previously expressed frustration about how hard it was for bosses to fire their employees, after telling reporters in 2013 that a future Tory government would stop them having to invent "disingenuous reasons" to get rid of their staff.
Bashir, who left Ukip last weekend to join David Cameron's party, has listed a series of employment rights on his website as rules that he wanted to scrap as they make it "impossible to employ", including the national minimum wage, the working time directive, and holiday entitlement.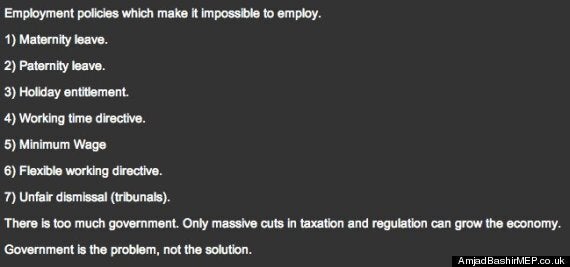 The employment rights Bashir had in his sights on his website
"There is too much government. Only massive cuts in taxation and regulation can grow the economy," Bashir wrote.
The former Ukip MEP's comments have since disappeared from his website, with it now listing a series of holding pages since he joined the Tories.

Shapps told reporters that Bashir's defection had been "successful", adding: "I welcome anybody, regardless of where they've been in the past… with the exception of extreme parties".
The Tories' reaction to Bashir's defection was fiercely mocked by the political blog Guido Fawkes, as the new MEP told them that he was banned from commenting on any of controversial allegations facing him.
Bashir's defection saw a series of "serious allegations" emerge, with Ukip mocking the Tory chairman for his seeming relaxedness about accepting him into the party's ranks.
Ukip's video mocking Shapps over Bashir's defection
The Tory MEP was accused of having unanswered questions about finances and employment, as well as having hidden the controversial past of a former business partner.
A senior Ukip source admitted to the Huffington Post UK that the party admitted it had "fucked up" by failing to vet Bashir sufficiently, but mused that it was "Cameron's problem now".
Mujeeb Bhutto, a friend of Bashir, was jailed for seven years by a UK court in 2005 over his role behind a high-profile kidnapping in Karachi the year before. He also took a £56,000 ransom payment in Manchester, BBC Newsnight reported.
The Huffington Post UK understands that Bashir managed to avoid telling Ukip officials about his friend's past before he was elected MEP for Yorkshire and the Humber in the 2014 European elections.
"In July 2013, it became apparent that Amjad's business partner had served a prison sentence for extremely serious offences - kidnap and extortion - and this was not disclosed," a senior source said. "They [still] knew before Bashir went onto the [candidates] list, we all knew, but head office made the call to turn a blind eye."
Bashir has also come under attack over footage that has emerged of him purportedly meeting with Pakistani group MQM, which Canadian courts have ruled meets the legal definition of a terrorist group.
Ukip tried to take the sting out of the defection, before it was made public, by announcing that Bashir had been suspended from the party for "extremely serious" allegations, including unanswered financial and employment questions.
Speaking to the Telegraph, prime minister David Cameron said he was "absolutely delighted" that the MEP was making the switch.
A Ukip spokesman said evidence obtained by the party in its investigations had been forwarded to the police. The spokesman said: "The UK Independence Party has a zero-tolerance policy and takes the matters at hand extremely seriously.
"Ukip will not tolerate anyone abusing their positions in the party, as we have a firm commitment to differing ourselves from the existing political classes. As a result, Mr Bashir's involvement with the party was suspended today with immediate effect pending further investigations."
Bashir has insisted in a TV interview that allegations levied against him are "nonsense", adding: "They [Ukip] don't want my defection to be seen as a major event."