A wave of anti-austerity fervour continues to sweep through southern Europe, as tens of thousands of people marched through Madrid on Saturday in a show of strength by the new left-wing Spanish party Podemos.
The fledgling radical leftist party hopes to emulate the success of Greece's Syriza party in the Spanish general election later this year. Podemos supporters from across Spain converged onto Cibeles fountain Saturday before packing the avenue leading to Puerta del Sol square.
State broadcaster TVE said that hundreds of thousands were at the march, but no official attendance figures were provided. Podemos ("We Can") aims to shatter the country's predominantly two-party system and the "March for Change" gathered crowds in the same place where sit-in protests against political and financial corruption laid the party's foundations in 2011.
The party's rise is also greatly due to the charisma of its pony-tailed leader, Pablo Iglesias, a 36-year-old political science professor.
"We want change," Iglesias told the crowd. "I know that governing is difficult but those who have serious dreams can change things."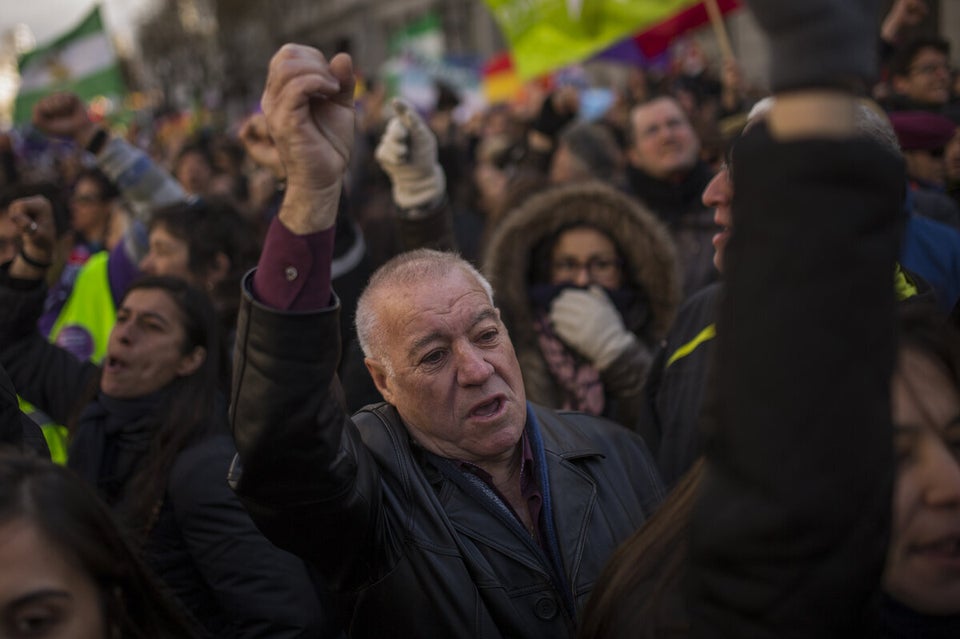 Podemos Rally
Senior party member Rita Maestre told The Associated Press that their aim was to show that Podemos is the instrument for change. "We called the demonstration in the hope of lighting the torch."
In roughly a year, Podemos has leap-frogged from being the dream of a handful of university professors and activists to a political party.
Opinion polls show the party could possibly take the No.1 spot in upcoming elections and thus trigger one of the biggest political shake-ups in Spain since democracy was restored in 1978 after decades of dictatorship.
"The two-party framework has suffered a change, it now really does seem like a third political force can achieve government, so yes, I think it can have a great impact," said literature student Alicia Sanchez, 20.
Popular in the Community