Childhood obesity is a national problem with a third of schoolchildren classed as overweight.
The news this week that the rate of obesity is slowing down is, of course, welcome.
But the solutions to tackling the issue long-term are complex and costly – but we parents can make a difference.
I recently tried to do my bit by setting up an after-school Cookery Club at my sons' primary school.
As a housedad who cooks for and with his children every night, I thought I could make a contribution.
I'd teach every child who wanted to learn from Years 5 and 6 the basics of cookery via the creation of healthy, tasty meals they already enjoyed eating (albeit, all too often, in processed form, with all the nutritional villains of sugar and salt contained within) or wanted to eat (but their parents didn't have time to cook-from-scratch for them).
Twenty four kids came forward – a decent percentage from a roll call of 60 – so with the Deputy Head, we popped their names into a hat and drew out three lots of eight, who I would then teach in chunks of four weeks per group.
There were some dietary challenges – a couple of children were vegetarian, a couple halal, one had lactose intolerance, another a nut allergy – but with some planning and organising groups according to dietary needs, we overcame them.
What was most important was that they were enthusiastic to learn and learned where their food comes from and how to prepare it in a quick, simple, healthy way – without the need for additional salt or sugar to make it delicious.
Perhaps you could give them a go with your own kids – and with their friends too.
FIRST OF ALL, TEACH THEM THE BASICS...
• Read a recipe all the way through before you start.
• Make sure you have all the ingredients before you begin a recipe.
• Always wash your hands before you start any recipe.
• Use separate chopping boards for fruit and vegetables.
• Keep your cooking area clean and keep a cloth or kitchen towel handy to mop up any spillages.
• Store raw and cooked food separately.
• Keep meat and fish in the fridge until you need them and always take care to cook them properly.
• Wash your hands after handling raw eggs or raw meat.
• Check the use-by date on ingredients.
AND NOW FOR THE RECIPES...
These are the 10 best from the Housedad Cookery Club.
ROAST CHICKEN AND BEAN SALAD
400g read-cooked roast chicken, shredded
10 cherry tomatoes, halved
Handful fresh chives, finely chopped
1 crisp lettuce, such as Cos, leaves separated
2-3 spring onions, finely sliced
6 tbsp extra virgin olive oil
1 garlic clove, finely chopped
Freshly ground black pepper
1. Soak the broad beans in hot water for five minutes, then use a colander to drain. Set aside.
2. To make the dressing, put all the ingredients in a screw-top jar, season with black pepper, cover with the lid and shake.
3. Put the chicken, tomatoes and half of the dressing in a bowl. Sprinkle in half of the chives and season with the pepper. Gently mix in the beans and olives.
4. Spoon the chicken mixture on top of the lettuce. Drizzle with the remaining dressing and sprinkle over the spring onions and remaining chives.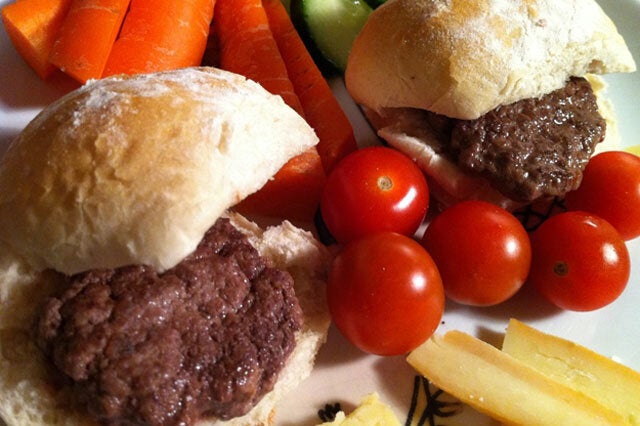 50g Parmesan or Cheddar cheese, freshly grated
Half onion, finely chopped
2 tomatoes, thinly sliced
1. Prepare a baking sheet with a sheet of greaseproof paper. Use your hands to mix all the ingredients for the burgers (beef, cheese, breadcrumbs, oil, garlic, onion, egg and oregano).
2. Form the mixture into balls about the size of walnuts and then flatten them out on the greaseproof paper-lined tray. Chill the meatballs in the fridge for a few minutes. Wash your hands well after handling raw meat.
3. Fry the burgers in the oil on a medium heat. Turn over after 5 minutes. Put a fork in the meat, if the juice is clear, then they're done.
4. Carefully cut the rolls in half. Fill each roll with a cooked burger, a tomato slice, a lettuce leaf and tomato ketchup.
This sauce is clever for two reasons. First, there are lots of ways to use it – poured over pasta, or over meatballs, or stirred into couscous, or as a healthy alternative to ketchup. Second, it's packed to brim with veggie goodness. It's also perfect for freezing into handy portions.
200g butternut squash, peeled and diced
50g frozen peas, defrosted
400g can chopped tomatoes
1 tsp hot chilli powder (optional)
100ml double cream (optional)
1. In a saucepan of boiling water, cook the carrot, squash and peas for 7-8 mins, until tender. Drain in a sieve, then return to the pan.
2. Add the baked beans and puree with a hand blender until smooth.
3. Return the pan to the heat. Add both the canned and fresh tomatoes and bring everything to the boil. Reduce the heat and simmer for 4-5 mins until the fresh tomatoes are soft and pulpy.
4. Remove the pan from the heat and puree again until you have a beautifully smooth sauce. Add the chilli and cream to make the adult version.
Use any vegetables you like as long as they are crunchy and colourful. Serve with rice or you could use pitta pockets instead.
2 chicken breasts 1 tbsp cornflour
1 tbsp Chinese Shaosing rice wine
2-3 carrots, peeled and cut into batons
1 courgette, topped and tailed and cut into batons
Half red pepper, deseeded and cut into batons
Half yellow pepper, deseeded and cut into batons
2-3 tbsp hoi sin sauce, from a jar
To serve: 1 cup basmati rice, boiled in 2 cups water for 9-10 mins, until tender; or fill pitta pockets or tortilla wraps.
1. In a bowl, mix the cornflour, rice wine and soy sauce together with a teaspoon until they form a batter.
2. Put the chicken breasts on a chopping board and, using a sharp knife and the 'claw' technique, slice the chicken into 1 cm-thick strips.
3. Add the chicken breast strips to the cornflour batter and, using a spoon, thoroughly coat the chicken. This is called 'velveting' which protects the chicken from getting burnt and dried out. Set aside until you're ready to cook.
4. On a separate chopping board, use a potato peeler to peel the carrots and then use a sharp knife cut them into thin strips. Next, trim off the ends of the courgette and cut it into strips. Now, using a teaspoon, remove the seeds from the pepper halves and cut them into strips. Transfer the chopped vegetables to a plate.
5. You're now ready to cook. Turn the hob on the oven to High. Add 1 tbsp sunflower oil to a wok or large frying pan and heat until smoking.
6. Remove the chicken strips from the cornflour batter and drain off any excess.
7. Holding the handle of the frying pan or wok, add the strips to the hot oil – taking care not to touch the pan or to get splashed. With a wooden spoon, stir-fry the chicken for 2-3 mins until the chicken is almost cooked through.
8. With a metal spoon, carefully remove the chicken from the pan and transfer to a clean bowl.
9. Wipe the pan clean and add the rest of the oil. Stir-fry the vegetable strips for 2-3 minutes.
10. Now add the Hoi Sin sauce and continue to cook for 3-4 minutes until the vegetables become tender.
11. Next, return the velveted chicken to the pan. Add the Hoi Sin Sauce and cook until bubbling, approx. 2 mins.
12. Serve on a bed of basmati rice or in pitta pockets or tortilla wraps. Eat and enjoy!
You'll need a large naan bread for each 'pizza', then follow these stages:
1. Preheat oven to 180C/Gas 4. Line a baking sheet with parchment paper.
2. Lay a naan bread on a work surface.
3. Using a spoon, spread a layer of your favourite base sauce. Choose from:
4. Next, add your cheese:
. Now choose your toppings. Choose from:
6. Put your Naan Bread Pizzas on the baking sheet and bake in the oven for 12-15 minutes.
7. Serve with salad leaves.
1 large onion, peeled and sliced
2 tbsp tikka masala or korma paste
200ml very low-salt vegetable stock
½ butternut squash, peeled, deseeded and cubed
250g green beans, trimmed and cut in half
1 red pepper, deseeded and chopped
Pack of baby sweetcorn Fresh coriander leaves, to garnish
Serve with basmati rice and naan bread
1. Heat the oil in a large pan and fry the onion over a medium heat for 5 minutes until softened.
2. Stir in the masala paste and cook for 1 minute. Turn down the heat and pour in the coconut milk, stirring.
3. Slowly pour in the stock. Add the butternut squash and bring to the boil. Then lower the heat, cover and simmer for about 10 minutes.
4. Add the beans and chopped pepper to the pan and cook, covered, for another 5-10 minutes until the squash is tender. Garnish with coriander.
5. To make the rice, put wash a cup of rice until the water runs clear. Add to a deep saucepan. Add 1 cup of water. Simmer for 5 mins. Turn off the heat and cover with a clean tea towel. Fluff up with a fork and serve.
Makes enough for 4-6 portions
80g cheese, grated (e.g. mature Cheddar, Gruyere or Gouda)
1. Melt the butter in a saucepan.
2. Stir in the flour and cook for 1-2 minutes.
3. Take the pan off the heat and gradually stir in the milk to get a smooth sauce. Return to the heat and, stirring all the time, bring to the boil.
4. Simmer gently for 8-10 minutes and season with salt and white pepper.
5. Stir in cheese and allow to melt. Don t re-boil the sauce or it will become stringy.
1/2 onion, finely chopped
1 tbsp fresh chopped flat leaf parsley
2 cloves garlic, finely chopped
1 tsp Italian herb seasoning
Salt and freshly ground black pepper
A little vegetable oil for frying
1. Put the chicken, egg white, water, onion, parsley, garlic, herb seasoning, breadcrumbs and seasoning into a bowl and mix together. Add the chicken and mix together with a fork. Don't over mix. Shape into small patties.
2. Heat a little oil in a frying pan and add the burgers. Cook over a medium heat for about 4 mins each side until cooked through and golden brown. Serve on buns with salad.
STICKY CHICKEN AND VEGGIE WRAPS
4 chicken breasts, sliced into strips
1 tbsp sunflower or vegetable oil
1 tsp Worcestershire sauce
1. In a bowl, mix all the ingredients for the sauce and set aside.
2. Add the oil to a large frying pan and bring to a medium heat. Cook the chicken breast strips for a couple of minutes each side then add half the sauce.
3. Cook for a further minute until the sauce bubbles. Transfer the chicken to a plate.
4. Serve the chicken strips on tortilla wraps with sliced peppers, sliced cucumber and sliced tomatoes.
5. Drizzle over the remaining sauce. Wrap and eat.
500g waxy potatoes, such as Charlotte
2 small onions, finely sliced
Red pepper, finely chopped
1. Finely slice the onions and chop the red pepper, removing the seeds. Cut the potatoes into roughly ½ cm slices.
2. Heat a knob of butter in a medium (about 24cm) frying pan over a low heat and cook gently for 10 – 15 until starting to go brown, add the peppers and cook for a further 5 mins.
3. Put the potatoes in a steamer over boiling water for 10 - 12 mins to soften. If you don't have a steamer, put in a saucepan, cover with boiling water and simmer gently for around 8 - 10 mins until just cooked through and drain well.
4. Break the eggs into a jug and beat with a fork, season with a generous grind of pepper and a pinch of salt. Use scissors to snip the chives into small pieces and stir in.
5. Heat the grill. Add a little more butter to the frying pan and add the potatoes. Pour over the egg mixture. Cook for 15 mins until almost set and golden brown underneath - you can use a fish slice to lift the omelette up and check.
6. Put the frying pan under the grill. Make sure the handle is outside the oven as it will become very hot and can burn. Cook for a further minute or two and serve.