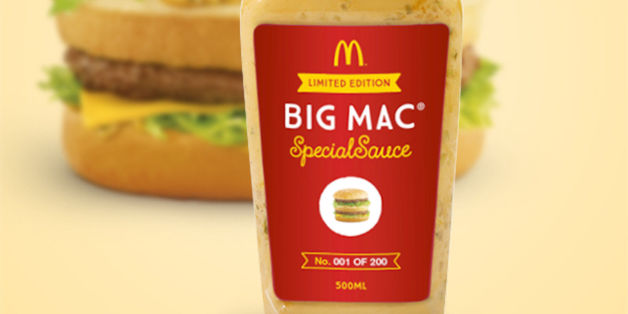 McDonald's/eBay
A 500ml bottle of McDonald's Big Mac 'Special Sauce' is currently fetching more than £12,000 in an eBay auction.
The fast food giant released the formerly secret sauce as a limited edition run of 200 bottles, each one numbered 1 - 200.
A very special number one bottle is being auctioned off on Australian eBay to raise money for Ronald McDonald's House Charities, with bidding already at $23,100 AUD (£12,019.56).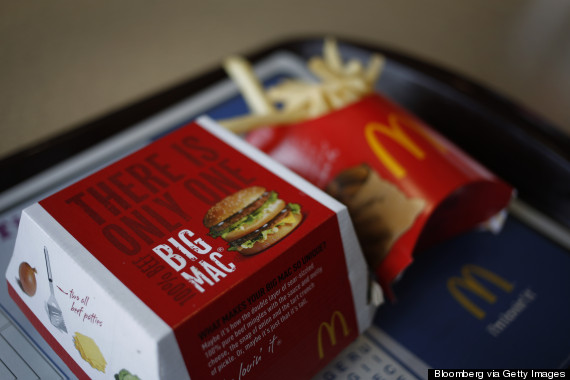 The 'Special Sauce' has been unattainable for years
There's still eight days to go on the bidding, so we could be looking at a million dollar bottle battle here.
Maccy D's in Oz will also be offering up the sauce in dippable pots, so you can dunk your fries or McNuggets in it.
The mayonnaise-based condiment is only available to buy in Australia, but we've got the recipe so we can knock some up at home.
Soybean Oil (Antioxidant (330)


Water


Relish [Pickles, High Fructose Corn Syrup, Sugar, Distilled Vinegar, Preservative (202), Thickener (415), Flavourings]


Mustard [Water, Distilled Vinegar, Mustard Seed, Salt, Sugar, Colours (150d, 100), Spice]


Salted Egg Yolks


Distilled Vinegar


Onion


Thickeners (1442, 415, 405)


Spices


Sugar


Salt


Hydrolysed Protein (Corn Gluten, Soy, Wheat Gluten)


Preservative (211)


Colours (160c, 150d, 100)


Emulsifier (433)


Garlic


Antioxidant (385)
Right. Ok. Well, we've got a bit of garlic and some water.
There's also this lovely video to show you how to put your Preservative 211 and assorted Thickeners together.
"Big Mac sauce is one of the most iconic McDonald's ingredients and people often ask us where they can buy it; so we're excited to be the first country in the world to offer tubs of Big Mac sauce to our customers," McDonald's Australia's Chief Marketing Officer Mark Lollback said.
"I know of people who love adding our special sauce to all types of food so it's going to be interesting to see what Aussies choose to add a spot of Big Mac sauce to over the next month."
The release of the much-sought-after condiment coincides with a range of viral marketing strategies by the worldwide restaurant chain, which include a healthy hipster-style café opening Down Under, videos showing how their food is made, and allowing people to pay with 'Lovin' in the US.
READ MORE: