A London bus has had its roof torn off after a collision with a tree on Kingsway, central London.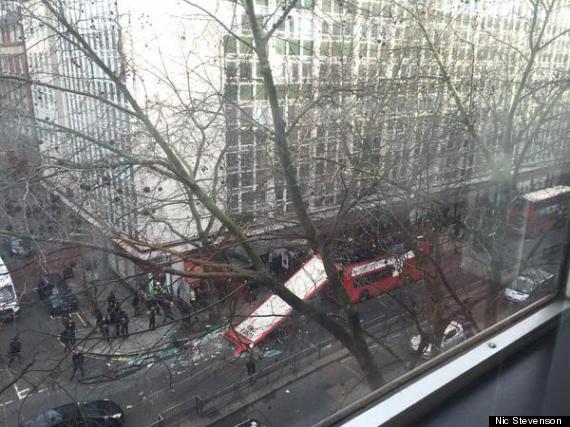 Photo courtesy of Nic Stevenson
Four people were injured in the incident, three passengers and one motorist. All were treated at the scene and none are thought to be seriously injured.
We are at the scene of an accident on #Kingsway Holborn. A bus has lost its roof. Thankfully only minor injuries. pic.twitter.com/40o8WM89b2

— London Fire Brigade (@LondonFire) February 2, 2015
The vehicle was a route 91 bus traveling down Kingsway near Aldwych.
Witness Alex Beattie said on Twitter: "Saw it happen. Hit a tree and roof peeled right off.
"Everyone seemed ok. Police car next to it when it happened."
The story continues below the pictures...
Glass littered the road with the remains of the roof hanging precariously off the back.
A 91 bus on Kingsway in Central London lost its roof and parts of upper deck about half an hour ago. (photo via FB) pic.twitter.com/UnInk3OD9v

— Adam Malczak (@Adam_Malczak) February 2, 2015
A bus lost its roof in London Southampton Row. pic.twitter.com/k4zSRASs5E

— Daniel Feather (@dfeather) February 2, 2015
TOP STORIES:
BREAKING:: Roof of bus torn off after double decker hits tree in central London http://t.co/r32tJAoy9L pic.twitter.com/XD39DjEgdk

— Evening Standard (@standardnews) February 2, 2015
London #BusCrash "@ethanameade: Roof off the 91 bus just ripped off on Kingsway, next to #LSE pic.twitter.com/Sj0GbPTYR4"

— Kierra Liew (@KierraLiew) February 2, 2015
The roof of a bus just got torn off when hitting a tree outside work! #London #holborn pic.twitter.com/0Fmgnhg5XK

— Terry Lucy (@terrylucy) February 2, 2015