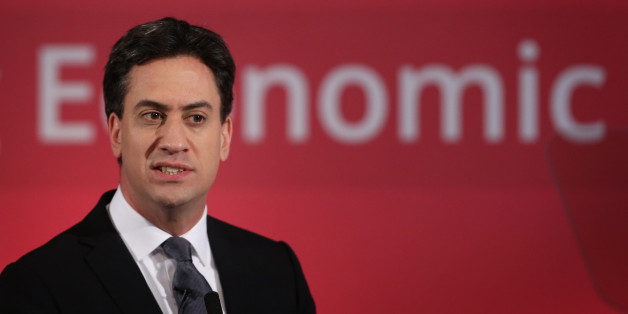 Peter Macdiarmid via Getty Images
Fresh from slapping down Boots' Monaco-based boss Stefano Pessina, Ed Miliband now has three more business critics: Lord Stuart Rose, Sir Ian Cheshire and Sir Nigel Rudd.
Why would these three be so keen to defend Pessina, who warned that a Miliband victory in May could be a "catastrophe" for the country? As Labour MPs point out, they are all intimately linked to the Tories.
What Tory press don't want you to notice about 'business leaders' attacking @Ed_Miliband They're all Cameron cronies http://t.co/7oOqh3bn96

— Angela Eagle (@angelaeagle) February 3, 2015
Lord Rose, formerly head of Marks and Spencer, led the new attack by business leaders on Miliband, writing in the Daily Mail that his "steady drum-beat of anti-business policies" marked a return to 1970s-style Labour policies.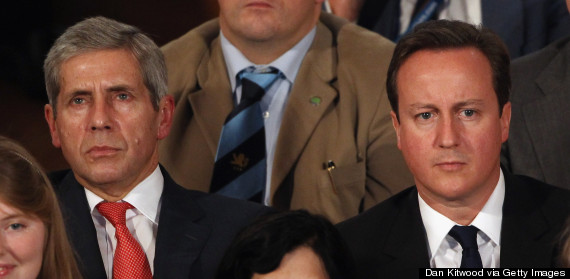 Stuart Rose with David Cameron at the Tory 2010 conference
The Tory peer, who was brought in by health secretary Jeremy Hunt last year to advise on the NHS, said Pessina was "perfectly entitled to speak out".
Lord Rose is so close to David Cameron that he personally, according to reports, helped his wife Samantha get an exclusive £65 polka-dot frock to wear at the Conservative party conference after it sold out at M&S within days.
The Tory peer, who has attended party fundraisers, ordered staff to search the retailer's 600 stores in order to help the Tory leader's wife get the dress she wanted.
This may explain why the Daily Mail was so coy about Lord Rose's exact political allegiance, waiting - as Labour's Stewart Wood and Tom Watson note - until the 18th paragraph to say so in their splash.
Tory donor Lord Stewart Rose attacks Ed Miliband. The Mail mention his political affiliation in the 18th paragraph of their splash story.

— tom_watson (@tom_watson) February 3, 2015
Tuesday's Daily Mail front page:

Man who saved M&S savages Ed

#tomorrowspaperstoday#bbcpaperspic.twitter.com/jq2EGsYAh7

— Nick Sutton (@suttonnick) February 2, 2015
The Daily Mail splash on Stuart Rose's attack on Ed Miliband first mentions that he is a Tory peer in the 18th paragraph of the article.

— Stewart Wood (@StewartWood) February 2, 2015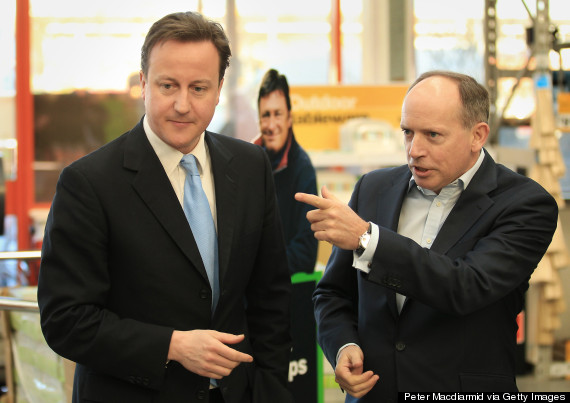 Sir Ian Cheshire tours a B&Q store with David Cameron
Former B&Q chief Sir Ian Cheshire, who was given a knighthood by David Cameron last year, told The Telegraph that "personal attacks [by Ed Miliband] are pretty unattractive".
Sir Ian advises Cameron as a member of his business taskforce and will reportedly advise the government on the civil service.
He went on: "It has got to be legitimate for business leaders who are involved in big business in the UK even if they are not UK citizens to have a view on the likely impact of elections because this is a national debate."
Sir Ian helped Cameron last year by wading into the Scottish independence debate, warning that independence could force B&Q to put up prices.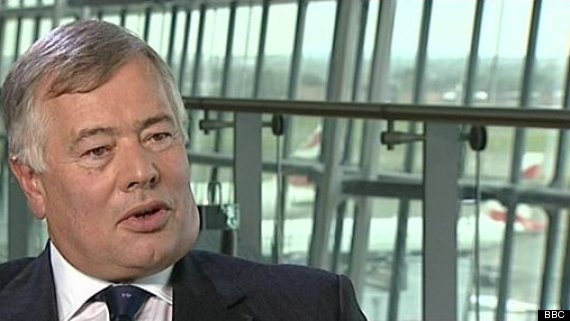 Heathrow chairman Sir Nigel Rudd
Heathrow airport chairman Sir Nigel Rudd, who is a Tory donor, accused Miliband of trying to "stifle debate", adding: "We should listen to all opinions especially people who have created as many jobs and are as astute as Stefano Pessina."
Rudd has given the Tories £5,500, so may have an interest in being helpful to Cameron.
See more on General Election 2015
The trio's links the Tories show why Labour MPs are so irate about their intervention.
Labour MP Sheila Gilmore told the Huffington Post UK that their attacks were "nonsense", adding: "I suspect it's no coincidence that they've chosen to attack Labour on the eve of the election, given their connections to the Conservative Party."
Ann McKechin, member of the Commons business select committee, told Huff Post UK: "The recent comments made by a number of Tory supporting businessmen are only a crude and inaccurate election attack on Labour rather than being truly focused on the interests of business and growing our economy."
Labour is preparing itself for a rough ride. Ed Balls predicted earlier this week that the anti-Labour "rhetoric" would not end with Pessina figures.
"In the next three months we are going to have a number of people brought forward by the Conservatives...saying 'Don't vote Labour'," he said.
It looks like the Tories will keep relying on friendly business figures to attack Labour, as long as the papers fail to prominently report their political allegiances.