The force is coming to Madame Tussauds, with today's announcement that their London showroom will be presenting a brand new 'Star Wars' exhibition, bringing to life some of the series' most powerful screen moments.
Ahead of JJ Abrams' reboot release in December, the exhibition will arrive in May, and will cover two floors of the historic centre for wax figures, to include walk-in sets, special effects and 16 characters in all from the much-loved series, including favourites Luke Skywalker, Princess Leia, Han Solo, Yoda and, of course, Chewbacca.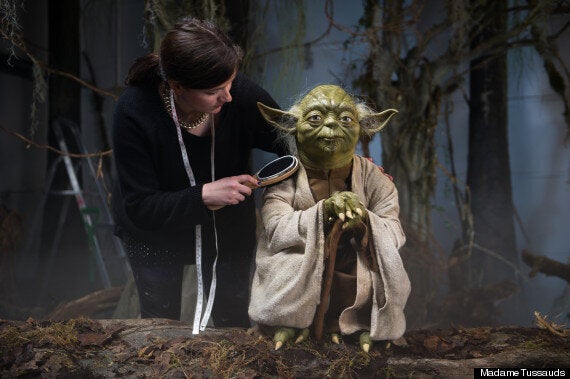 Yoda prepares for his closeup at Madame Tussauds in London
Visitors will be able to follow in Luke's footsteps, all the way into Yoda's swamp in 'The Empire Strikes Back'. And they'll be able to feel the fiery lava of Mustafar as Anakin Skywalker turns to the dark side in 'Revenge of the Sith'. Jabba's throne will also be on show, as will the flight deck of the Millennium Falcon.
The cost of visiting this exhibition, which will form the finale to the rest of the Madame Tussauds exhibits, will be included in the usual ticket price. Fans can click here to sign up for ticket info, plus news and updates.
And, just in case you'd forgotten, the new film arrives on Boxing Day in the UK.