700 hours of delays for motorists stuck in morning rush hour
5,135 miles of tailbacks across the country
M25 between J20 and J25 worst affected with stationary traffic for 14 miles
2,814 traffic hotspots causing tailbacks of 1,901 miles in Greater London
Large landslip near Harbury Tunnel will keep line between Banbury and Leamington Spa closed for 'weeks'
A dusting of now covered much of Britain this morning, with temperatures reaching a bone-chilling -11C (12.2F) in some areas.
Weather warnings for snow and ice remain in place for much of the UK, with commuters warned of icy conditions.
Rail and road travellers suffered a morning of misery with signalling problems, broken down trains and "congestion", especially in the South East.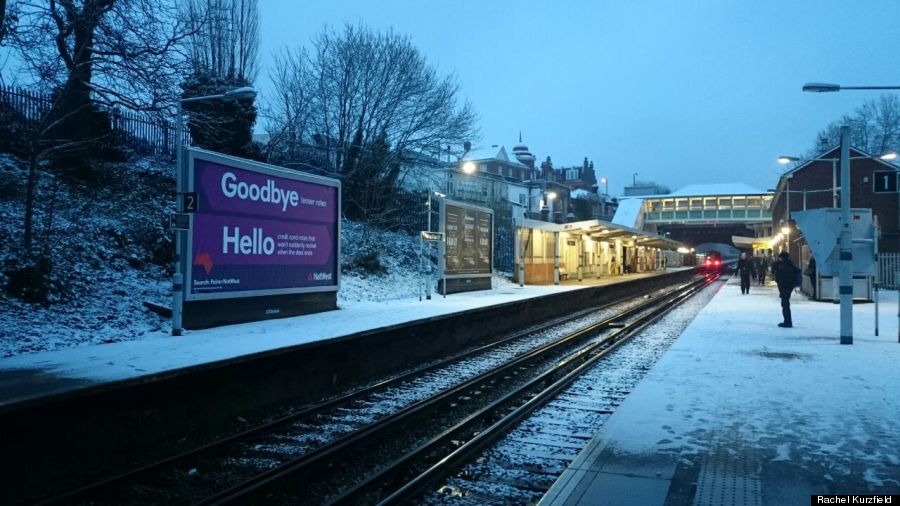 It was a quiet affair at Streatham Hill station on Tuesday morning
Some trains were cancelled, while others were delayed on routes including the West Coast Mainline between Northampton and London Euston.
Meanwhile, it was estimated that traffic jams led to around 700 hours of delay for motorists in the morning rush hour.
Union leaders blamed cuts in maintenance for the problems which have hit rail services since the start of the year.
Manuel Cortes, leader of the Transport Salaried Staffs Association said: "Tens of thousands of commuters are suffering in freezing weather because we are seeing cuts in maintenance staff to meet cuts imposed on Network Rail by Whitehall bureaucrats.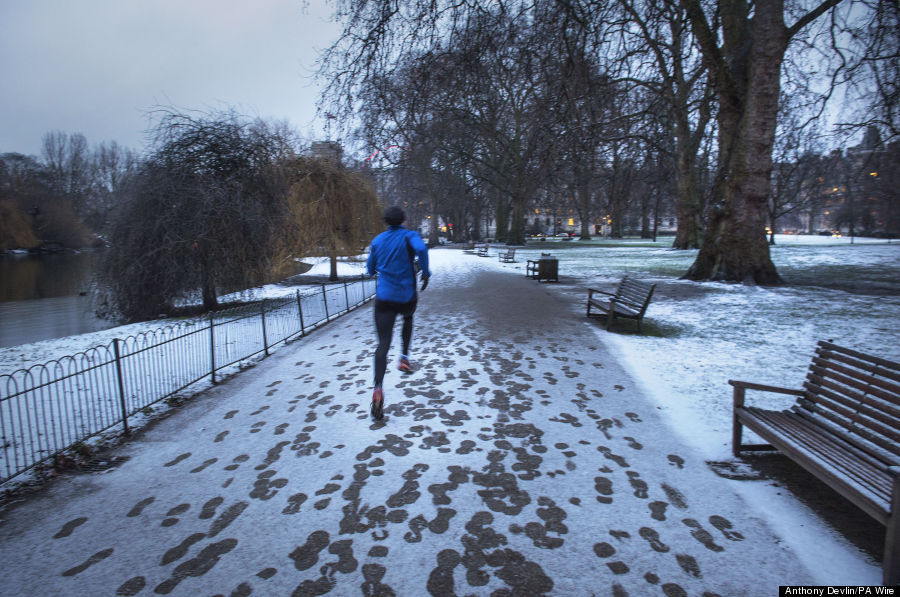 Temperatures have reached -11C in some areas
"Despite record passenger numbers on the network, NR is cutting maintenance workers after the ORR cut almost £2 billion from its budget up until 2019.
"The left hand does not seem to know what the right hand is doing. The only people to suffer seem to be the poor old passengers."
SEE ALSO:
Mick Cash, leader of the Rail, Maritime and Transport union said: "RMT has warned repeatedly that cuts to maintenance and staffing have left our railways ill-equipped to deal with routine conditions and the slightest hint of adverse weather tips us into chaos.
"Those who have ignored those warnings are wholly responsible for the disruption, cancellation and delays hammering rail and tube services this morning.
Workers have woken up to #LondonSnow. How can #commuters cope? http://t.co/lVNdXKdCaa [JB] pic.twitter.com/z7meJ0LOEz

— NatWest Business (@NatWestBusiness) February 3, 2015
"All the Government hot air about building rail resilience has been exposed again as just that. Passengers and staff alike are caught in the poisonous cocktail of cuts and privatisation and the only answer is public ownership."
Signalling problems in the Bletchley area mean there will be disruption "until further notice", London Midland said, advising passengers to travel only if it is essential.
In a statement the company said: "London Midland is working closely with Network Rail to resolve the issue and we apologise if your journey is affected."
While Virgin Trains have since said some signalling has been restored it added that cancellations may still occur.
There were major problems on the roads during the rush hour this morning caused by ice and snow.
Who had a snowy cycle to work today? I did! #LondonSnow pic.twitter.com/tZP4q7IJQF

— The Cycling Bug (@TheCyclingBug) February 3, 2015
At 08.50 there were 7,096 separate congestion hotspots causing 699 hours of delay, according to TomTom Traffic.
There were 5,135 miles of tailbacks across the country - over 2000 miles more than the average total jam length during a winter Tuesday morning peak of 3,076 miles.
In the Greater London area alone, there were 2,814 traffic hotspots causing tailbacks of 1,901 miles - nearly four times the Tuesday morning average of 501 miles, it was found.
The worst affected road was the M25 between J20 and J25 towards Hatfield, with stationary traffic for 14 miles causing delays of up to 100 minutes, according to TomTom's Traffic data.
There were also delays of 100 minutes on the A43 between Kettering and Northampton.
In Scotland, there were 220 congestion hotspots causing tailbacks of 164 miles in the Edinburgh and Glasgow areas. On a normal Tuesday rush hour, there would be 89 miles of delays in and between the two cities.
RAC spokesman Simon Williams said: "Our patrols were are dealing with 20% more call-outs than normal in Cumbria, Newcastle, Leeds, York and Hull as motorists struggle with treacherous conditions brought about by lying snow freezing overnight.
"Widespread snow in London and the South East has given motorists a first real taste of winter. Nationally, we saw 75% more battery problems brought about by the cold overnight temperatures yesterday, a 46% rise in frozen handbrakes as well as a 30% increase in keys locked in vehicles, perhaps a result of drivers de-icing windows and leaving the keys inside - never a good start to the day."
Darron Burness, head of the AA's severe weather team, says: "By 9am, we had rescued more cars stuck in snow and ice than for the whole of yesterday. While the snow appears to have caught quite a few people off-guard, there really is no excuse for being ill-prepared and for not driving to the conditions.
"It's often too easy to blame the forecasters and local authorities - they can be between a rock and a hard place - but drivers need to take responsibility.
"On the whole, the gritters were out in force last night and it was mostly local roads that caused problems. As well as the usual bumps and scrapes this morning, our patrols report some people recklessly speeding and tailgating on icy roads, which is simply asking for trouble. Gentle manoeuvres are the key to safe driving on snow and ice."
Other rail problems included delays of up to an hour between Cambridge and Stansted Airport because of a broken down train at Great Chesterford; delays of up to 20 minutes between Virginia Water and Weybridge in Surrey because of a signalling problem, while a similar issue at Faversham caused delays of up to 90 minutes between Ramsgate / Canterbury East and Gillingham.
A Network Rail spokeswoman said: "There have been no significant weather-related delays on the network today."
Meanwhile, NR said a large landslip near Harbury Tunnel will keep the line closed between Banbury and Leamington Spa for several weeks.
Specialist engineers were assessing the landslide, which is still slowly moving, to determine the scale of the problem.
NR chief executive Mark Carne said: "This is a massive incident and I am making sure we have all the resources we need to tackle this problem. Our safety precautions ensured the railway was shut before there was any risk to passengers.
Looking forward, our focus is on making sure the site is safe before our engineers move any of the affected earthworks.
"We know just how important this key route between Birmingham and London is for both passengers and freight. This is a very deep cutting, built back in Brunel's days, which we have been repairing for some time.
"I can assure passengers whose journeys are being disrupted that we will do our utmost to restore their services as soon as possible. However, it may take several weeks to stabilise it before we can start some services."
NR said it will be working closely with train operators on alternative services and will give a clearer idea on timings within the next two weeks.
London Midland resumed normal service from mid-morning after the problem was resolved at around 8am.
While some snow fell in London overnight, the coldest weather was reserved for areas which saw less snow and clearer skies. Snow outside the Houses of Parliament on Tuesday
The village of Dalwhinnie in the Highlands endured -11C, and it was just a few degrees warmer in Katesbridge Co Down where the mercury plummeted to -8C (17.6F).
The snow is unlikely to fall in great volumes or lie, said Met Office forecaster Kirk Waite, but he added the cold weather could bring about tricky driving conditions.
"We are not really expecting much in the way of accumulation as it will be mostly a light snowfall," he said. "But the cold weather will create some potentially difficult travel conditions through rush hour with a risk of icy patches." A jogger in London's St James' Park
Gritters were out in force in Hertfordshire with salting trucks already on their second run by 4.30am.
Later today it will struggle to get above 6C (42.8F) in parts of England, including London, Waite added.
Aha, that explains why it's so frigging cold in the house this morning! #LondonSnow pic.twitter.com/xXvANo0CDl

— Coral Summers (@coralsummers) February 3, 2015
Good Morning! Get Rdy for disruption. Take care, be safe, oh & have a hot chocolate! 😉 #lovelondon #londonsnow pic.twitter.com/v8vmhOWgiA

— Faye (@foofi73) February 3, 2015
The cold front will move eastwards tomorrow, with the eastern coasts of Scotland and England still seeing snow showers as well as a strong northeasterly wind.
Higher ground in the North York Moors and Lincolnshire Wolds could see up to 3.9ins (10cm) of snow, according to the Met Office, with a yellow 'be aware' warning remaining in place throughout the day.