Jews are "collateral damage" in Ukip's newly declared opposition to the non-stun slaughter of animals for religious reasons, one of its senior MEPs has said.
Agriculture spokesman Stuart Agnew said the policy was not "aimed" at Jewish shechita slaughter but at "others" - implying halal Muslim slaughter, which has been the greater focus of public anger at the alleged cruelty of not stunning animals before killing them.
He told The Jewish Chronicle: "This isn't aimed at you – it's aimed elsewhere – it's aimed at others.
"You've been caught in the crossfire; collateral damage. You know what I mean."
The party adopted the policy on Monday night following a meeting of its ruling national executive committee.
Agnew told The JC he had opposed it, saying: "We are a democratic party and I couldn't get enough support. They didn't like my tolerance of non-stunning.
"They have decided to override me on this occasion. I'm not going to say they were wrong."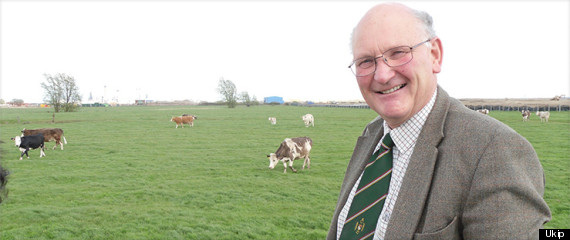 Ukip MEP Stuart Agnew
He added: "There are more votes to be gained, and I expect that's what they were looking for. We'll have lost the Jewish vote for sure, they won't support us now for sure – we won't get any now.
"But we might gain votes elsewhere – and that's what they're after general election votes. It's an emotional issue."
Announcing the policy, a Ukip spokesman said: "Animal and veterinary science has long concluded that cutting the throats of animals whilst they are fully conscious can cause significant distress and pain.
"We see no reason why religious groups should not take into account the concerns of animal welfare when carrying out slaughter."
The controversy surrounds legal exemptions for religious purposes - which David Cameron vowed to uphold in a speech last year to the Israeli parliament.
In response to a petition calling for it to be banned, the government said it "encourages the highest standards of welfare at slaughter and would prefer to see all animals stunned before they are slaughtered for food" but also "respects the rights of the Jewish and Muslim communities to eat meat prepared in accordance with their religious beliefs".
SEE ALSO:
The Ukip spokesman added: "It's about time someone stood up for the rights of the silent majority in the ethical treatment of animals instead of bowing down to those who shout the loudest.
"We respect religious groups' desire to carry out slaughter in the UK according to how they define and read their scriptures. What we do not allow however is for the rights and demands of groups within those religions to override the UK's compassionate traditions of animal welfare.
"There are a significant number of UK consumers that would prefer not to eat meat killed by religious slaughter. So, Ukip will also write into law that all animal meat produce will have mandatory labeling - providing clearly both the method of production and slaughter - giving people greater transparency and choice.
"Ukip's forthcoming manifesto on animal welfare will be the strongest of any major political party in the UK."
The policy was met with dismay by campaign group Shechita UK, which said both leader Nigel Farage and Agnew had previously supported the Jewish community's right to continue the practice.
Campaign director Shimon Cohen said: "Citing weak, agenda-led science, Ukip has become the first major political party in the UK to call for a ban on religious slaughter.
"This latest move is opportunistic and a disappointing shift from Ukip's previous position, when both Nigel Farage and Stuart Agnew publicly advocated their support for shechita."
Mr Cohen added: "By joining the campaign to prioritise 'animal welfare' over the rights and beliefs of the UK's faith communities Ukip has returned to the fringes of mainstream politics."
Ukip's announcement came as secretly-filmed footage was circulated that showed workers at a halal slaughterhouse hacking at sawing at animals' throats, lifting them by their ears and kicking them in the faces.