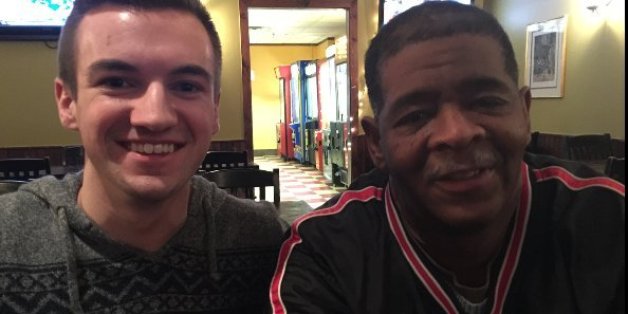 GoFundMe
A 19-year-old has helped raise almost $130,000 (£86,500) to help a man who walks 21 miles to work every day on two hours sleep a night.
Evan Leedy was touched when he read the story of James Robertson hiking almost a marathon on his daily commute.
Robertson, 56, begins his day at 8am and doesn't get home until 4am, after travelling most of his journey to and from work on foot.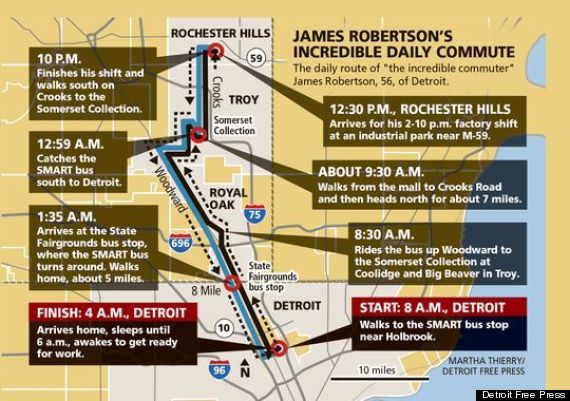 A broken down car and awkward bus routes force Robertson to walk most of his commute
The factory worker can't afford a new car on his $10.55 an hour salary, and has been making the massive trek every day for 10 years to keep a perfect attendance record.
Leedy decided to ask members of the public to donate money to put an end to Robertson's horrific daily walk.
The student's original goal was to crowdfund $5,000 for bus fare, but it quickly reached enough to purchase a vehicle.
"I initially set the goal for $5,000 just to get him something, bus fares and taxi rides," Leedy said.
"I went to go get ready and an hour later we had $2,000 donated already.
"Within four hours we had over $10,000. I bumped it up again and by the end of the day we had over $30,000."
Now the GoFundMe campaign has reached $129,000 and local car dealerships have offered to give him a free vehicle.
The money raised will go to helping the 56-year-old in any way he needs, Leedy says.
"I set our attendance standard by this man," Todd Wilson, Robertson's manager, told The Detroit Free Press.
"I say, if this man can get here, walking all those miles through snow and rain, well I'll tell you, I have people in Pontiac 10 minutes away and they say they can't get here - bull!"
Robertson says: "I sleep a lot on the weekend, yes I do."
His six-hour 21-mile trip would take just 30 minutes by car.
You can donate to the campaign here.