As teenagers, most of us spent our time worrying about crushes, clothes and (occasionally) homework. But for Kellie, it was a very different story.
At the age of 15 she began to notice her long, thick hair was rapidly thinning. Understandably, it was a very distressing time.
Now a 28-year-old mother, Kellie is set to feature on Channel 4's Body Shockers where she undergoes treatment to aid her hair loss.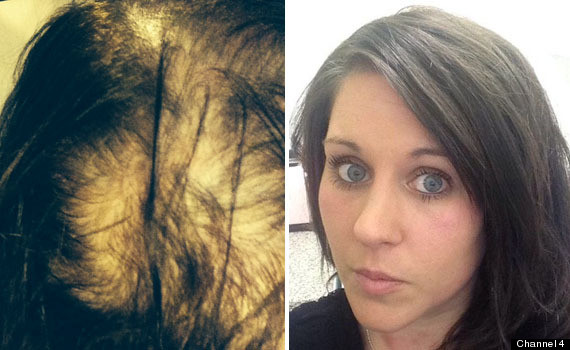 Like lots of other girls of her age, hair was extremely important to Kellie when she was 15. She went to see her doctor for help soon after noticing it was thinning.
The doctor contributed the hair loss to her age and teenage hormones, effectively telling Kellie to "wait it out".
Although Kellie waited well beyond her teenage years, her hair continued to get worse.
"I was so conscious of my hair loss and trying to cover it up, it became a massive part of my morning routine," Kellie said.
"I would continually keep coming back to my hair, however, I never left the house feeling satisfied and felt rubbish for the rest of the day.
"My hair loss was never far from my mind which had a big effect on my confidence."
SEE ALSO:

Tips For Women On Overcoming Hair Loss Or Thinning Hair

Why Being Bald Hasn't Stopped These Women From Being Bold...
Kellie was prescribed a selection of medications by a local dermatologist for the condition. Sadly, the drugs seemed to do very little to help.
At the age of 25, the condition of Kellie's hair deteriorated even further after giving birth to her son.
She was referred to a specialist in London who after several tests, concluded that Kellie had low iron levels and prescribed her Minoxidil. But yet again, the medication made little to no difference.
The breakthrough finally came when Kellie booked a consultation with Simone Thomas - a clinician who had suffered from hair loss herself.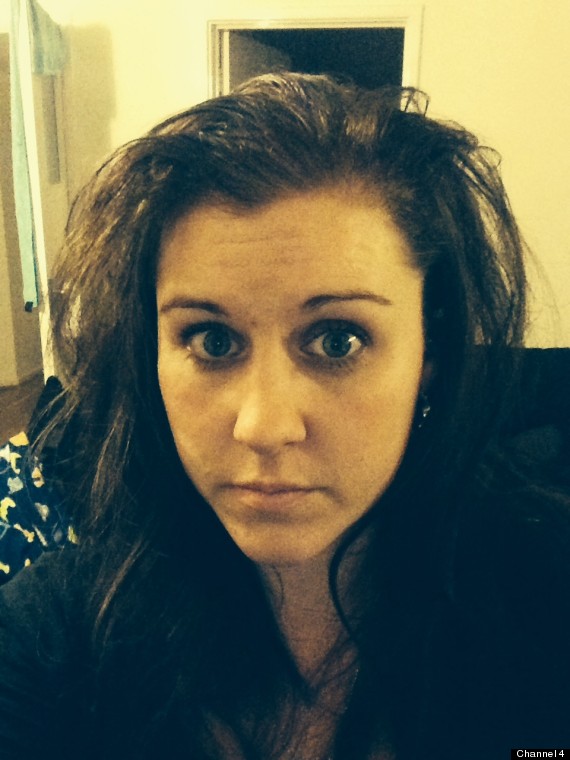 Just before the treatment
"Meeting Simone was amazing," Kellie said. "I had been to loads of consultations for my hair loss but never truly felt that they understood me.
"That was totally different with Simone, knowing she had suffered from hair loss herself I could instantly relate to her and trusted her.
"For the first time I felt like I was not the only one with hair loss. We spoke for over an hour and I finally got the answers I had been wanting for 10 years."
Kellie found that it was likely her hair loss had started when she had worked as an assistant in a salon, where she would frequently change her hair styles, trying different colours every other week and applying a mass of products to her hair.
However, when she started to lose her hair, Kellie stopped going to hair salons as she was worried that the hair stylists would ask her questions about her hair and cause her embarrassment.
Simone helped Kellie to whittle down the long list of products she had been using to try and prevent her hair loss (many of which were actually doing the opposite).
Instead, Kellie now goes to Simone for a Nioxin Dermabrasion.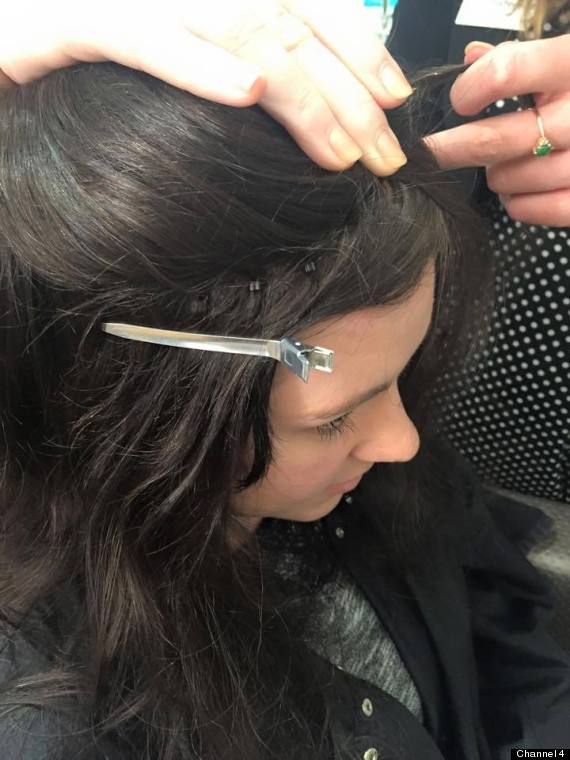 During the process
Commenting on the treatment, Simone said: "Nioxin is massaged into the scalp and works to help rejuvenate the scalp helping to provide a foundation for thicker and fuller hair to grow.
"The results so far have been fantastic. Kellie has been a pleasure to work with and I am so pleased to have been able to help."
For Kellie's transformation on Channel 4, Simone also provided her with a specialised Hair Volumizer System to help with her hair loss in the short term and boost her confidence.
"The system is absolutely amazing and has totally changed my morning routine. I no longer worry about having to cover my hair loss in the mornings as the system does that for me," Kellie said.
"It makes me feel so much more relaxed for the rest of the day and gives me more important time to spend with my son."
For more information on Nioxin visit www.nioxin.com. For more information Simone Thomas and Hair Loss Bournemouth visit hairlossbournemouth.co.uk